by Tom Gaylord
Writing as B.B. Pelletier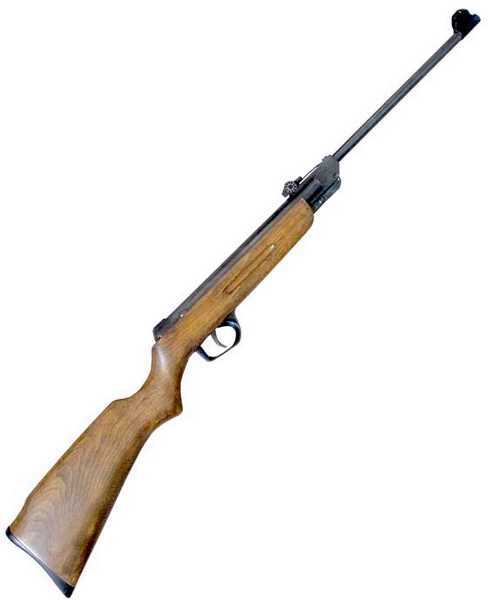 The El Gamo David is a lower-powered breakbarrel from the 1960s or '70s.
This report covers:
Godfather's Gold Gun Giveaway
Description
Stock
The markings
Sights
What is it?
El-cheapo or full of value?
Discussion
Summary
Godfather's Gold Gun Giveaway
Well, the winner has been selected. Reader Decksniper won the Godfather's Gold Gun. Let's all congratulate him. Now on to today's report on the El Gamo David.
The what? The David? Yes, the David. Several weeks ago I snagged this breakbarrel off an eBay auction. At first I thought it was a Spanish version of the El Gamo 300 that I reviewed for you in 2014, but it's not. This is an air rifle we have never seen in the U.S. As far as I know, this is the first time this air rifle has been written about in our country.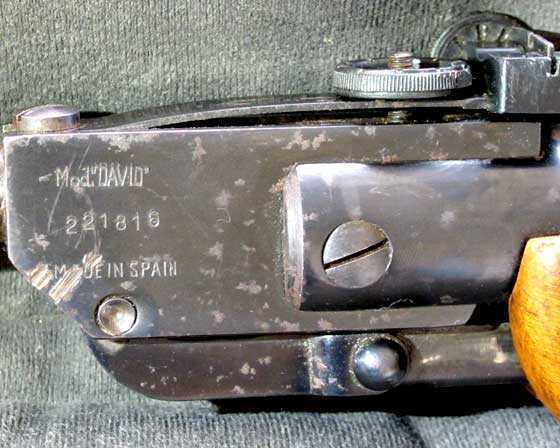 This is the left side of the base block.
Description
The El Gamo David is a smallish .177 breakbarrel spring-piston air rifle. It has open sights that adjust in both directions. The rifle has an overall length of 38-1/2-inches, with a 15-3/8-inch barrel. Most would measure the barrel at 15-7/8-inches because of the plastic muzzle cap on the end. The rifled steel barrel ends a half inch shy of the end of the cap. The length of pull (distance from the center of the trigger to the center of the butt) is 14-1/4-inches, which is an adult-sized pull — so the David isn't just meant for youngsters.
Stock
The beech stock is slim and nicely contoured. You don't see stocks this nice today unless you pay extra. There is no checkering but the forearm has finger grooves on both sides. That's reminiscent of European military and sporting firearms and air rifles, alike.
The cocking slot is very short. It can be because the cocking link is a two-piece articulated part.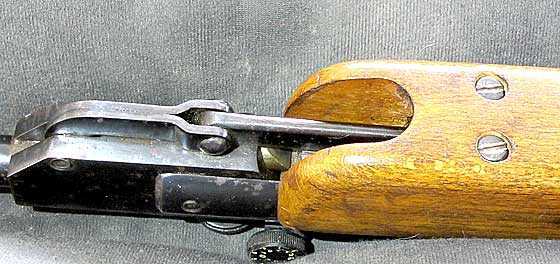 The cocking link is articulated so the slot in the stock can be short. That makes the stock stiffer and reduces vibration.
The stock is well-rounded rather than slab-sided. That's a clue that it's probably on the earlier side of my time estimate. The finish is smooth and even and there are no places where wood filler has been used. El Gamo is not known for using wood filler on stocks, anyway. That's a Chinese/Asian thing.
The buttplate seems to have once been softer rubber that has hardened with age. Oddly, it isn't fitted to the wooden stock very well and that may also have come with the age. It has ribs and bears the antlered animal logo and el gamo name.


The El Gamo logo and name are on the hardened rubber buttplate.
The metal is polished and deeply blued. This example has some deep scratches and a few spots of rust pitting, so it has been abused at some time in its life. The scratches appear to be from handling, such as falling over.
The markings
Now for the markings. On the left side of the base block (the block the barrel is attached to and it pivots when the rifle is cocked) are these characters.
Mod. "DAVID"
221816
Made in Spain
On the top rear of the spring tube are these marks.
A stylized antlered animal head followed by el gamo
Barcelona
( España )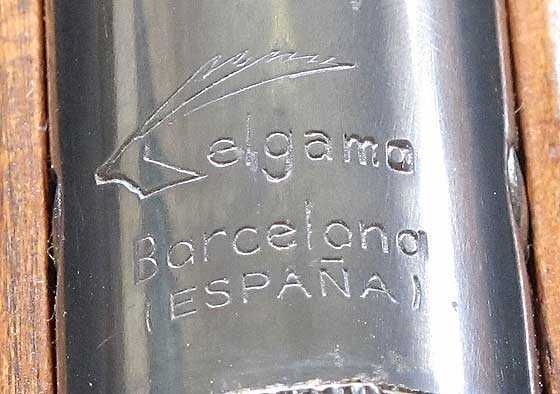 This is why I think this rifle is not an import.
On the rear sight leaf there is the same antlered animal head, which was El Gamo's logo at the time.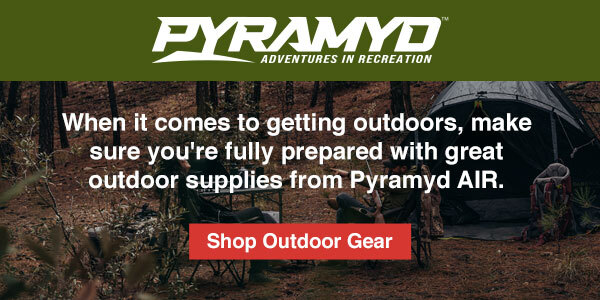 Sights
The rear sight is adjustable for both windage and elevation.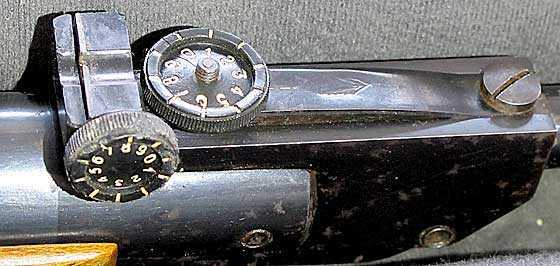 The rear sight adjusts for windage and elevation. Both knobs are clearly marked and have detents, but they aren't crisp. The spring and ball are missing from the windage knob, so there is no detent function.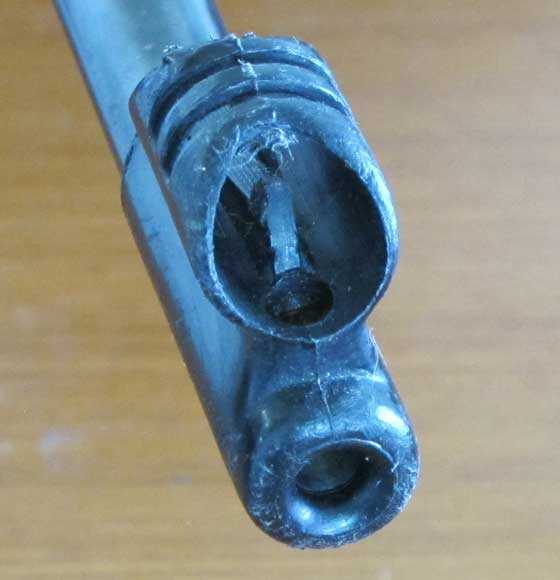 The front sight is plastic and pretty beat up on this rifle.
The front sight has a hood with a blade underneath. Being plastic, this sight has suffered a lot of handling damage. At least it's not fiberoptic!
What is it?
So, what is this strange breakbarrel that we have never seen? Well, although there is no written literature about it, or at least none I could find, we do know a few things. First, it is an El Gamo, not just a Gamo. That dates it to before the 1990s.
Next, the information that is stamped into the top rear of the spring tube indicates that this rifle was not exported to the United States. It may have been sold only in Spain, but I am thinking it was available throughout Europe, at least. And northern Africa as well as some of the middle eastern countries are also probable, because I know that they do like pellet rifles in those places and Gamo did sell there. And I would add India to the list. So the distribution could have been a lot broader than just the country of origin. This is an air rifle that an American serviceman might have returned home with.
I also know that at the time the David was made El Gamo was still owned by the Casas family who were not obsessed with velocity. The velocity wars of the late 1970s hadn't started yet, and Gamo was slow to climb on board when they finally did. They left that up to Feinwerkbau, BSF and Diana. So I expect the power of this test rifle to be reasonable — a .177 pellet weighing 8 grains that leaves the muzzle at 550-600 f.p.s. It may not be functioning at its absolute peak anymore but I have shot it several times and it seems to be okay.
El-cheapo or full of value?
I have no idea of where the David fit in the El Gamo lineup. But there are some clues that lead me in a certain direction. For starters the triggerguard, end cap of the spring tube and the muzzle cap are all plastic. They are injection moldings. No company would spend the money for the molds for those parts unless they planned to make wide use of them. Think hundreds of thousands of pieces — not necessarily all Davids, but similar rifles for different markets, all using the same parts.
The David's trigger has no possibilty for adjustments. It is two stage with a short first stage pull and a heavy second stage. It might become smoother with lubrication.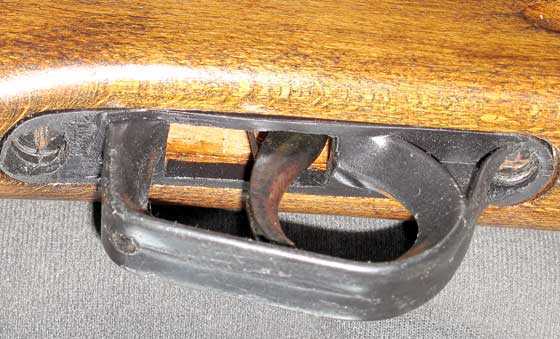 The triggerguard is plastic and can be found on other El Gamo rifles. This trigger has no adjustments.
Discussion
The El Gamo David seems to be a pellet rifle of the same power and probable accuracy as the Diana 27 or the Slavia CZ 630. Looking at it and knowing Gamo's market position of the time, I believe it sold for less money than its competitors. To answer the el-cheapo or full-of-value question, I believe it was built to be inexpensive for its time, yet at that point in time the makers wouldn't allow it to be as austere as inexpensive pellet rifles were going to become. So, from today's perspective it is full of value, if not filled with desirable features like an adjustable trigger and front sight with inserts. Isn't that interesting — an item that was designed to be cheap, but 60 years go by and it becomes something with higher standards.
Summary
Well, that's what lies before us — an air rifle that's not been seen by too many in this country. It's small enough to shoot all day and yet also has the dimensions that fit adults. It's not an airgun you should look for because I doubt there are very many in this country. But isn't it nice to see something that's a little different?