The Diana model 10/Beeman 900 target pistol: Part 3
by Tom Gaylord
Writing as B.B. Pelletier


The Beeman 900 pistol is another form of Diana's model 10.
This report covers:
Godfather's Gold Gun Giveaway
Shooting the Beeman 900/Diana model 10
The test
RWS R10 Match Pistol pellets
Qiang Yuan Training pellets
Gamo Match pellets
JSB Match Heavy Weight
H&N Match Green
Discussion
Summary
Godfather's Gold Gun Giveaway
I am selecting the winner of the Godfather's Gold Gun Giveaway this weekend. After my selection I will contact the winner to see if the airgun is legal in his locale. I hope to announce a winner on Monday.
Shooting the Beeman 900/Diana model 10
This is a day I have long awaited. I have shot these pistols in the past, but never under my strict test conditions, so today I hope to start the "book" on this one!
The test
I shot the pistol rested at 10 meters. The pistol was rested on the sandbag, touching the bag just ahead of the triggerguard. That is okay because the Beeman 900 is recoilless.
I shot 5-shot groups because target airguns often make groups so small that shooting more than 5 is just a waste of pellets. I wore my 1.25-diopter reading glasses that make the front sight sharp and clear, which I always do with an open-sighted pistol.
I had no idea where this pistol was sighted, but I shot for group size and wasn't as concerned with where the pellets landed. I could always adjust the sights as I went.
RWS R10 Match Pistol pellets
First to be tested was the RWS R10 Match Pistol pellet. I suspected it might be the best pellet for this pistol, just because of how carefully they are made.
I checked the target after the first shot to make certain the pellet hit the paper. After that I never looked again. The first shot was low in the 8-ring. But when I saw the group I was disappointed. Five R10 pellets went into 0.92-inches at 10 meters. That's what a sport pistol should do — not a target pistol!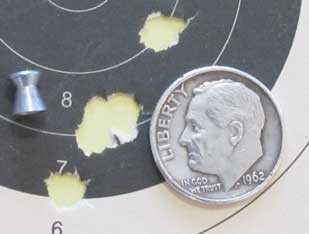 The Beeman 900 put five R10 Match Pistol pellets into 0.92-inches at 10 meters. I expected to see all five in something like that three shot group in the center.
Since the R10s shot low but seemed well-centered, I adjusted the rear sight up 7 clicks.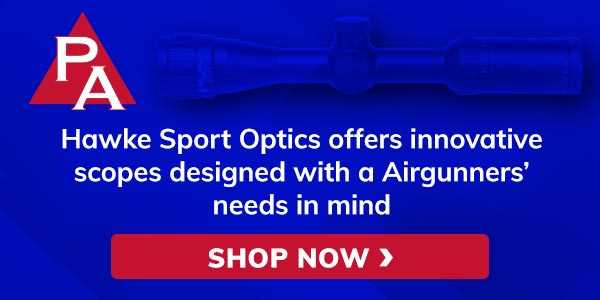 Qiang Yuan Training pellets
The Chinese Qiang Yuan Training pellet that was next often surprises me with its accuracy. But not today. Five of them went into 0.865-inches at 10 meters. That's not much better than the R10s.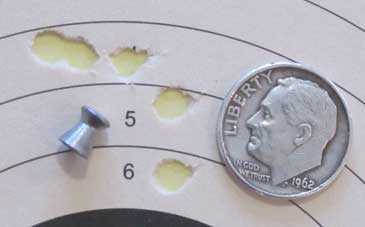 Five Qiang Yuan Training pellets went into 0.865-inches at 10 meters.
Obviously 7 clicks up was way too much adjustment, so after seeing this group I dialed the rear sight down three clicks.
Gamo Match pellets
Gamo Match pellets are certainly not world class, but I have seen them do some surprising things in the past. So I gave them a chance in this pistol. But they blew it!
I miscounted while shooting, so I shot 6 Gamo Match at this target and they went into a group measuring 1.253-inches between centers. Not much I can say about that.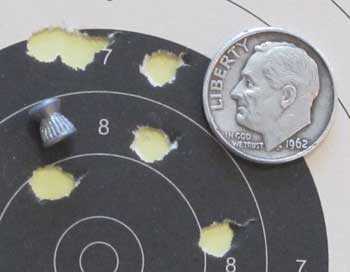 Six Gamo Match pellets went into a group measuring 1.253-inches between centers at 10 meters.
After seeing this group I dialed the rear sight another two clicks down.
JSB Match Heavy Weight
Next I fired 5 JSB Match Heavy Weight pellets. This time things were better, though not as good as I had hoped. Five pellets landed in a group measuring 0.789-inches between centers. This time the group is almost perfectly centered, so I planned to leave the sights alone from this point on.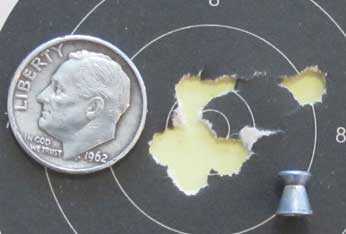 Now we are getting somewhere! Five JSB Match Heavy Weight pellets grouped in 0.789-inches.
H&N Match Green
The last pellet I tested was the lead-free H&N Match Green. These did well in the velocity test and have been accurate before in other airguns. In the Beeman 900 five of them went into 0.888-inches at 10 meters. It's too open to be exciting, though it's not much larger than the JSB Match pellet group that is the best of the test.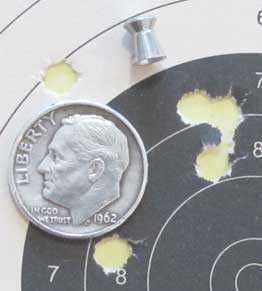 Five H&N Match Green pellets went into 0.888-inches at 10 meters.
Discussion
Today's test was disappointing. What you see here is not what I expected. I expected far better. The trigger is spot-on and we know the pistol has all the power it's supposed to. But try as I might I just could not get this pistol to shoot. I expected a gold dollar group today (under 0.15-inches) but we didn't even come close to a trime (under 0.20-inches).
I do note that the heaviest pellet was also the most accurate. And my first Diana model 10 did well with the 8.2-grain RWS Meisterkugeln. So a second test with heavier target pellets is in the works. I won't do it right away, to allow us to see some other historical airguns in the interim, but I will return to this pistol.
Summary
That's it for today. Sometimes things don't turn out the way you expect them to, but you just keep on trying.
Tom Gaylord is known as The Godfather of Airguns™ and has been an airgunner for over a half-century, but it was the 
Beeman
 company in the 1970s that awoke a serious interest in airguns. Until then, all he knew were the inexpensive American airguns. Through the pages of the Beeman catalog, he learned about adult airguns for the first time. In 1994, Tom started
The Airgun Letter
 with his wife, Edith. This monthly newsletter was designed to bring serious reports about airguns to the American public. The newsletter and
Airgun Revue
, a sister magazine about collectible airguns, was published from 1994 until 2002, when Tom started
Airgun Illustrated
-- the first American newsstand magazine about airguns. Tom worked for three years as technical director at
AirForce Airguns
, the makers of the 
Talon, Condor, and Escape
 precharged air rifles. Today, he writes about airguns and firearms for various publications and websites. He also makes videos, and you'll find short clips embedded in some of his artices on Pyramyd Air's website. Tom is a consultant to Pyramyd Air and writes under the name of B.B. Pelletier.