by Tom Gaylord
Writing as B.B. Pelletier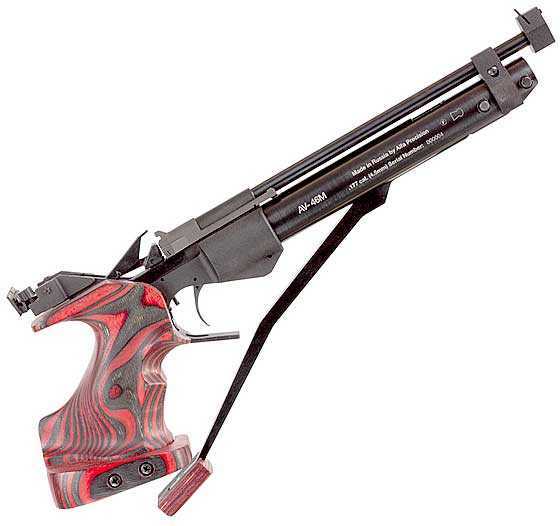 The AV-46M target air pistol is a reincarnation of the IZH 46M for the American market.
This report covers:
It's here!
Alfa Precision
Air Venturi
The pistol
Dry-fire
Easy to pump
Happy, happy
But wait….!
Sights
Weight
Owner's manual
The price
Summary
It's here!
This is the pistol many of you have been clamoring for, for years. It's the IZH 46M match pistol. Only it isn't from IZH anymore. Air Venturi has negotiated the construction and purchase of this iconic AV 46-M target air pistol from Alfa Precision, a non-military Russian barrelmaker. That means it is legal to import it into the US. They are available for sale right now!
Alfa Precision
Some airgunners are already aware of Alfa Precision. They are sort of the Russian equivalent of Lothar Walther — and I'm sure I will hear about that remark! Alfa Precision makes hammer-forged firearm and airgun barrels that have shown surprising levels of accuracy. They also know and understand airguns. These are all good things!
Air Venturi
Most of you know the Air Venturi brand quite well. Over the years I have tested a number of their airguns and other important products, such as high-pressure air compressors. The good news about them in this picture is they can provide the support you need. That means parts, service and information. So, this target air pistol should be around for some time to come. And now for the question on everybody's mind — is this one really as good as the IZH 46M that people are paying high prices for in used condition? There is a whole lot of testing to be done, but in the several hours I have had with it so far I have to say that it is. In fact, it's going to surge ahead of the IZH just a little.
The pistol
The AV-46M is a single-stroke pneumatic 10-meter target pistol. To charge the pistol you pull the long underlever forward, and at the end of the stroke you pull the lever a little harder to cock the action. When the breech flips straight up the pistol is cocked. A target (wadcutter) pellet is then loaded into the breech that is very accessible and the underlever is returned home. Close the breech and fire. That single act pumps the pistol one time and should be good for a muzzle velocity of around 480 f.p.s. with lightweight pellets.


The pump lever goes far forward, and at the end it opens the breech and cocks the pistol. As it is brought back, the fulcrum of the pump stroke constantly changes to an optimal position.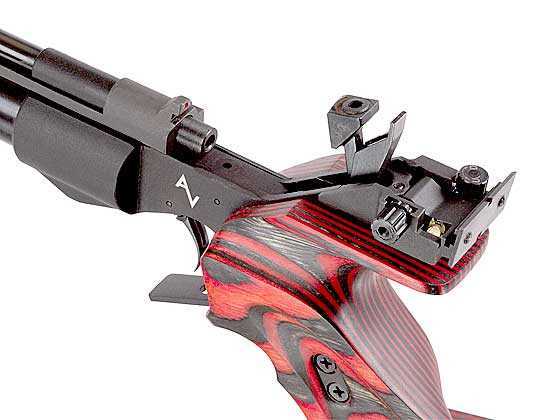 When the breechblock stands up like this, the pistol is cocked.
You can only pump the gun one time. If you attempt a second pump stroke, all the air from the first stroke will be lost. That's why it is called a single-stroke pneumatic.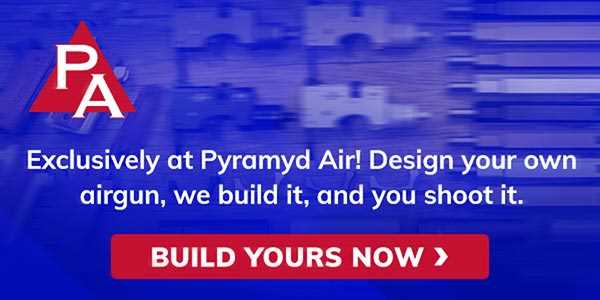 Dry-fire
The ability to cock and fire the trigger without firing a pellet is called dry-fire. Every respectable 10-meter pistol must have this feature. To dry fire the 46M you pull forward on the breech cover to unlock the breech block, then pull the breech block straight up until the mechanism is cocked. Return the block to its closed position under the breech cover and you're ready to shoot. A shooter typically fires five times as many shots each day dry-fire than with pellets.
Easy to pump
One of the principal features of the 46M pumping mechanism is the sliding fulcrum that reduces the pump stroke effort. It take pounds off the pump force and gives you a muzzle velocity of close to 500 f.p.s. The description says 480 f.p.s., but you know I'm going to test that for you. And I know a secret that may boost the velocity a little.
Happy, happy
BB Pelletier loves airguns! I love them all, but I have been a competitor in 10-meter pistol shooting and that gives me a special appreciation for target pistols. This new 46M gives me the opportunity to test a target pistol that many of you already know is the best deal on the market — hands-down.
But wait….!
Yes, there is more. In the first place, what is it that Alfa Precision does? That's right, they make barrels. Are their barrels any good? From the reports I have read, they are quite good. And they make the barrel for this AV 46M. What does that mean? Well, we will all have to wait impatiently for the Part 3 accuracy test, but I have high hopes.
And in the second place, what was the one criticism many shooters had with the IZH 46 and 46M? The grip! That's right, the IZH grip was always on the small side and quite bland. It worked, but it wasn't in the same class as what we see on an FWB or a Walther 10-meter pistol. Well, didja happen to notice anything special about the grip on this pistol? That's right — this one isn't made from pallet wood! In fact, this grip is made in Finland and it looks very much like it belongs at the party.
With the IZH you built up the grip with wood putty in places to conform to your hand. This snazzy new laminated grip has some meat on it that allows you to carve off what you don't need and it will still look snazzy.
And finally we come to the trigger. The IZH 46/46M trigger was good, but it was far from perfect. A 10-meter shooter could always detect some creep in stage two. So far the trigger on the AV-46M pistol I am examining is perfect. No creep! And I can detect creep that a lot of folks can't.
When the pistol arrived at my house, stage two was breaking at 310 grams. While that is a nice light trigger, it won't get you into a match. Your trigger must break at 500 grams or more. I adjusted the trigger to break at 524 grams. That's all I'm going to tell you today, and I only said that to remind myself of what I have done.
Sights
The AV-46M sights are fully adjustable with positive click detents. That is as it should be on a target pistol. But there is more. The rear sight blade has two notches of different widths, so the blade can be flipped to adjust the notch width to your preference. The pistol comes with a second rear sight blade that has another two notches of differing widths, so you can play around until you are satisfied.
The rear blade also slides from side to side to give you more horizontal adjustment, should you need it. All things considered, this rear sight is everything needed for a world-class 10-meter pistol.
The front sight has three replaceable blades of different widths. These should be matched to the rear notch to optimize the length of your arm, your eyesight and your personal preference for blade-to-notch fit.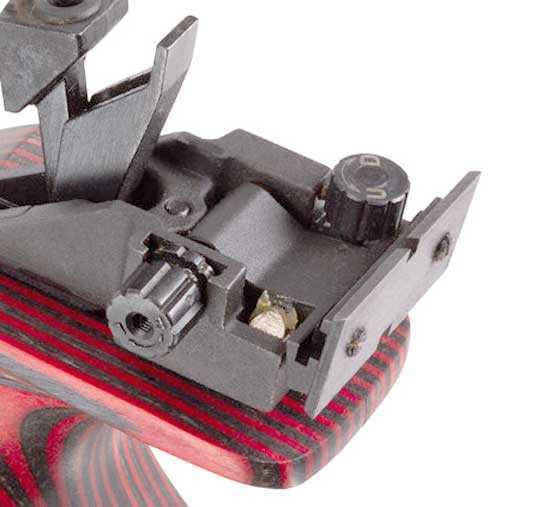 The AV-46M rear sight offers everything a world-class 10-meter pistol sight should.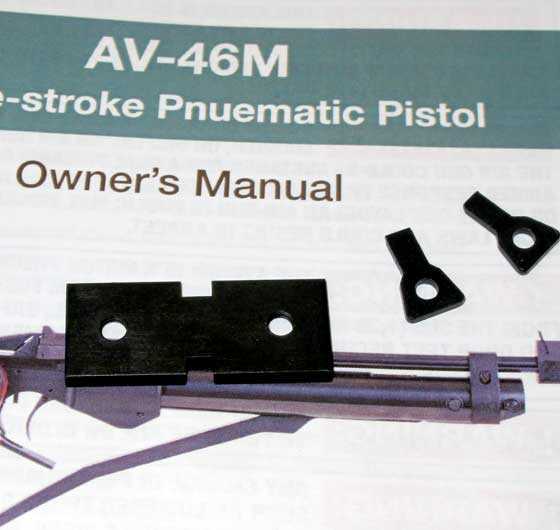 Besides what comes on the pistol, you get these sight elements.
Weight
The AV-46M weighs 1181 grams, which is 2 lbs. 9.7 oz. That is on the heavy side for a 10-meter pistol these days. Most world-class target pistols are weighing just under a kilogram, today. This pistol's weight is more in line with the FWB 65/80/90 of several decades ago. Of course the modern pistols do have optional weights that can be added to satisfy all shooters. I competed with heavier pistols, so the weight doesn't bother me, but a buyer needs to know this up front. This would probably not be the pistol on which to start a junior shooter.
The pistol is muzzle-heavy. That's a trait many target shooters prefer, as it stabilizes any shakiness of the hand.
Owner's manual
The owner's manual was written by an American, so it's easy to read. The sight adjustments are engraved on the adjustment knobs so no confusion there. However — while the manual does tell what each trigger adjustment screw does, it doesn't tell which way to adjust for anything. So, some 'sperimentin' will have to be done. That being noted, the manual does tell you how to store the pistol to keep the breech seals as fresh as possible.
The price
Here's where the tire-kickers have to depart. This pistol is no longer cheap. Yes, in the mid-1990s they did sell for less than $300, but by the time the pistol could no longer be imported into the US, that had risen to around $500. Used IZH-46Ms are selling for over $500 today, and with the Finnish grips and the special barrel on this one it should come as no surprise that the price is almost $600. That's still low compared to other serious 10-meter pistols, but it is significant. And even at that price I don't anticipate the first batch staying around very long. So if you want one, now's the time.
Summary
This doesn't happen every day. Here is an iconic air pistol we all thought was lost to time and world politics. It's back again, and, from what I have seen so far, it's better than ever!