by Tom Gaylord
Writing as B.B. Pelletier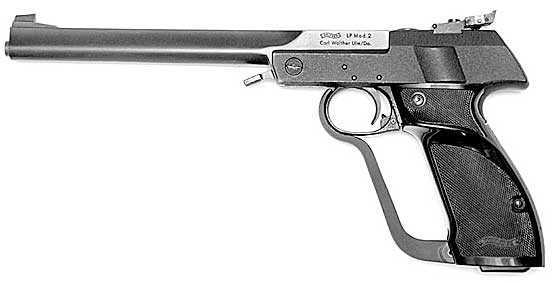 Walther LP2 single stroke pneumatic target pistol.
This report covers:
LP2 valve weak?
Differences between the LP2 and LP3
Velocity
RWS Hobby
Gamo Match
H&N Finale Match Light
Trigger
Pumping effort
LP3 velocity
Accuracy
Summary
As you learned in Part 1, my new/old Walther LP2 target pistol did not work when I got it. So I sent it to Scott Pilkington for repairs. Scott had to disassemble it first to see what it needed and then order the parts. I received the pistol back this Wednesday and it is now working fine — thanks, Scott!
LP2 valve weak?
I have always heard that the LP2 has a weak valve that's subject to failure. It was apparently corrected when the LP3 came out. Whether that is true or not I can't say, because this is the first working LP2 I have seen and handled. I have owned two LP3s in the past. The first was the model that had the full target grips and the second one had the sporter grips that look like the grips on this LP2. I have seen several LP2s at airgun shows but they were always non-functional. read more