by Tom Gaylord
Writing as B.B. Pelletier
This report covers:
The test
Sight-in
RWS Superdomes
JSB Exact RS
RWS Hobby
Discussion
Summary
Today I test the Daisy 35 multi-pump with a dot sight. Will that sight make the airgun any more accurate? That's the test. I mounted the UTG Reflex Micro green dot sight.
The test
I shot from the same 10 meters, rested. I used 8 pumps per shot, just as before. I tried to use the same pellets but I couldn't find the tin of Norma Golden Trophy pellets, so I substituted RWS Superdomes in their place. I have been told that these Norma pellets are equivalent to the RWS line.
I shot 10-shot groups, just as before. The only difference today, other than the pellet substitution was the sight. And I wore my regular glasses — not the reading glasses I wear when I shoot with open sights.
Sight-in
It was difficult to sight-in the 35. Any airgun that makes 2-inch groups at 10 meters is going to be difficult to sight in. I started at 10 feet and had to adjust the dot down and to the left a lot. When I got two shots that went to the same place I backed up to 20 feet and kept sighting-in. After two shots were good at that distance I backed up to 10 meters and continued the sight-in.
All things considered, it took about 12 shots to get the gun sighted-in. Then I shot the first group of RWS Superdomes.
RWS Superdomes
It was a fortunate thing that I shot Superdomes today because they gave me the best group of the test. Ten of them went into 1.963-inches at 10 meters. The group is fairly well centered on the bull. It's just off to the left a little.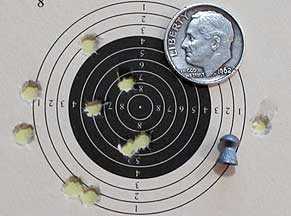 Ten RWS Superdomes went into 1.963-inches at 10 meters. This is the best group of today's test.
JSB Exact RS
The next pellet I tested was the JSB Exact RS dome. In Part 3 ten of these made a 2.591-inch group. Today with the dot sight ten went into 3.326-inches. Well — that's no better, is it? Apparently I can shoot just as well with open sights as with a dot — at least this time!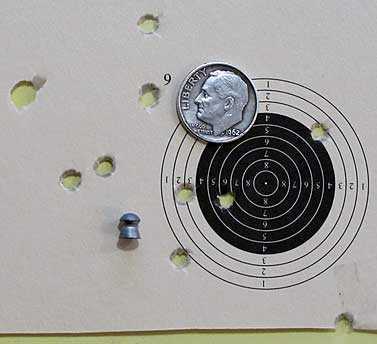 Ten JSB RS domes made this 3.326-inch group at 10 meters. The first shot was in the black near the center, which is why I continued with the group without adjusting the sight. Shot two is that large round hole at the upper left. It looks like it was shot with a wadcutter but I saw it form as I shot. This is why a gun that shoots wide is so hard to sight in.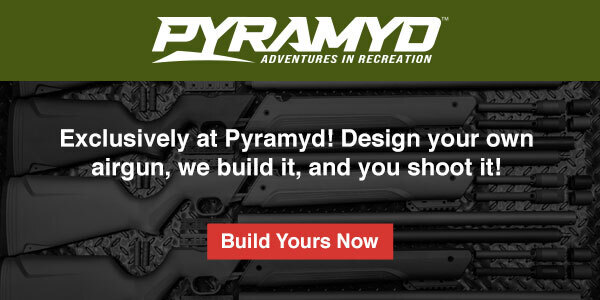 RWS Hobby
The last pellet I shot was the RWS Hobby wadcutter. In Part 3 ten Hobbys made a 2.205-inch group. Today using the dot sight the 35 put ten Hobbys into 2.29-inches at 10 meters. It's pretty much the same as the last time with open sights.
One thing about this group. It is so spread out that there are two sight-in shots that look like they are in the group. Well, they aren't. If you look at the edges of their hole you can tell that they were shot with Superdomes that didn't cut round holes. This group is similar to the group Hobbys made when I shot with open sights.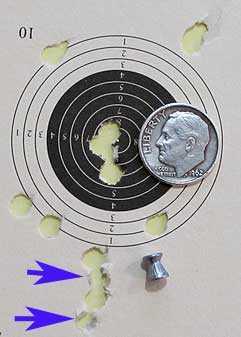 Ten RWS Hobbys made a 2.29-inch group at 10 meters. The arrows point to two holes made by Superdomes during the sight-in. They aren't part of this group.
Discussion
The tightest group shot with open sights in Part 3 of this test measures 2.181-inches between centers. The tightest group of today's testing measures 1.963-inches between centers. Clearly the Daisy 35 does not become more accurate at 10 meters with a dot sight.
This may look like a short little test, but please remember that each one of those 30 pellet holes was preceeded by 8 pump strokes. Add to that the 12 sight-in shots and I had to pump this airgun 336 times for today's test. It wasn't short on my end! But thankfully the Daisy 35 is an easy airgun to pump.
Looking at the groups I see that this Daisy 35 will hit a tin can most of the time out to 30 feet, or so. That's its strength. It sure isn't a paper puncher!
Summary
There is one last thing to test and that is the accuracy of the airgun with BBs. Given that it is set to feed BBs with the magnetic bolt tip I don't see any reason to test it with lead BBs. You can try to talk me out of that, but think about it. Is someone shooting a $35-40 airgun really going to spend $25 for 1,500 BBs?