by Tom Gaylord
Writing as B.B. Pelletier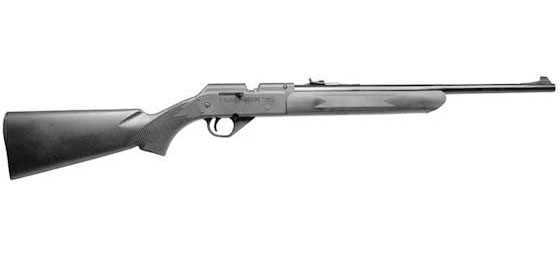 Daisy 35 multi-pump pneumatic.
This report covers:
Velocity per pump stroke
More than 10 pumps?
Loading
Consistency
Air Arms Falcons
Sig Match Ballistic Alloy
Velocity with BBs
Daisy Premium BB
Marksman Premium grade BBs
Smart Shot
Pump effort
Trigger pull
Summary
Today we look at the velocity of the Daisy 35 multi-pump pneumatic. Let's get started.
Velocity per pump stroke
First I tested the velocity per pump stroke with RWS Hobby pellets. Daisy says in the manual that 2 pumps are the least that should be used, so that's where I started. Ten pumps are the maximum, and I was concerned to see if there would be any air left in the gun after firing after the maximum pumps.
Pumps……Vel.
2…………….359
3…………….429
4…………….483
5…………….518
6…………….548
7…………….567
8…………….585
9…………….606
10..………….622 no air remaining after the shot
We see that the velocity increases with each pump stroke. The early strokes add the most velocity and things level off after 6 pumps. Velocity still increases, but the amount of the increase diminishes significantly.
More than 10 pumps?
I know that people always wonder what happens with additional pump strokes. I used to test that and here is what I have learned over the past 30 years. If you don't exceed the recommended maximum number of pump strokes your airgun will remain fresh for a long time. Eventually the atmosphere does harden the seals and the velocity starts decreasing. This is when the gun starts to respond to more pump strokes than the recommended maximum. However, it will seldom exceed the maximum velocity of the same airgun with fresh seals. If it does, it will only be by a small amount. If you read the report I did on my Sheridan Blue Streak in 2016, especially Parts 2 and 3, you will see exactly what I'm talking about.
Pumping more times than the recommended maximum puts a strain on the bearings of the pump linkage. Any repair center can tell you that when they overhaul an older multi-pump, the linkage bearings are often shot. So I don't do that anymore.
Loading
I tried loading the airgun with the reverse tweezers I told you about in Part 1. It did work, but not a hundred percent. While doing it I discovered the real loading problem with the gun and also how best to address it.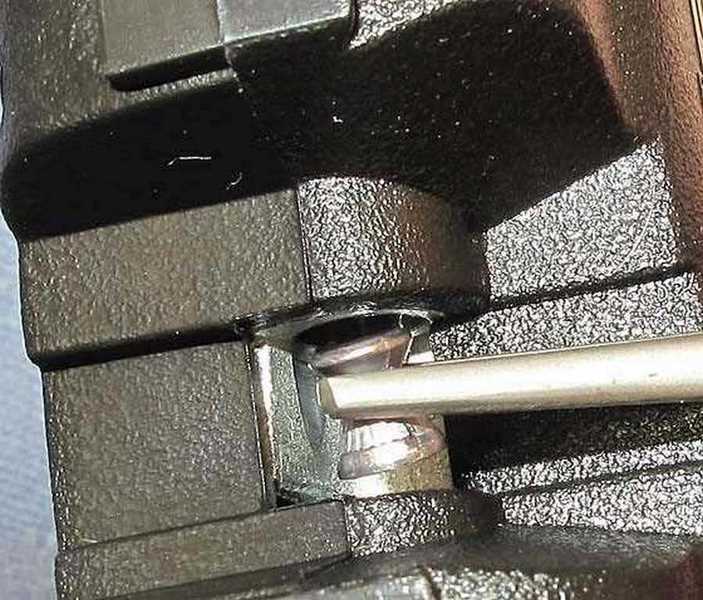 Loading the Daisy 35 with reverse tweezers was easy, but not necessary.
Several times the pellet I was loading fell backwards into the BB loading hole and that turned out to be the loading problem. It even happened when I used the tweezers. To load reliably I have to hold the rifle with the muzzle pointed down and roll the pellet into the loading trough with my thumb. It almost always falls into the breech when loaded that way.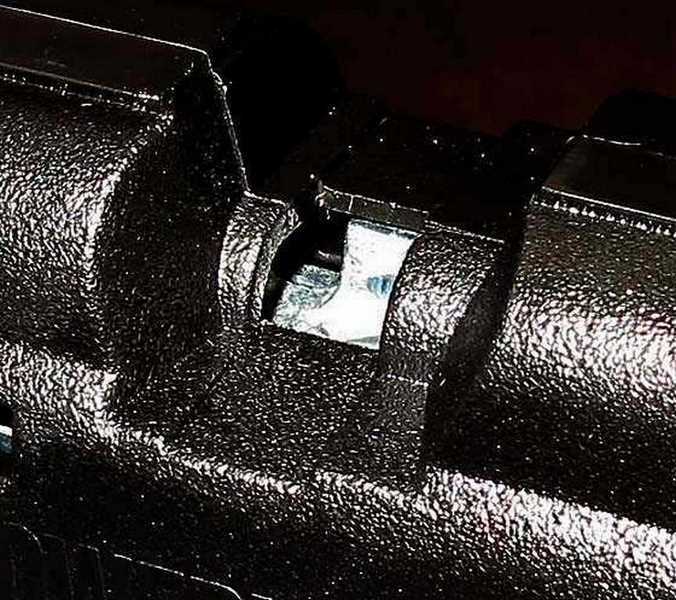 That hole in the left side wall of the pellet loading trough is for BBs to be attracted to the magnet on the tip of the bolt. Unfortunately the hole is large enough for the skirt of the pellet to fall in and get jammed, so it won't load when the bolt slides forward.
Consistency
Next I tested the 35 on 7 pump strokes with the same RWS Hobby pellet. This time ten shots averaged 576 f.p.s. The spread went from a low of 571 to a high of 579 f.p.s. That's an 8 f.p.s. difference, which is reasonably tight and very typical of a multi-pump in good condition. Now let's see how the gun does on different pellets.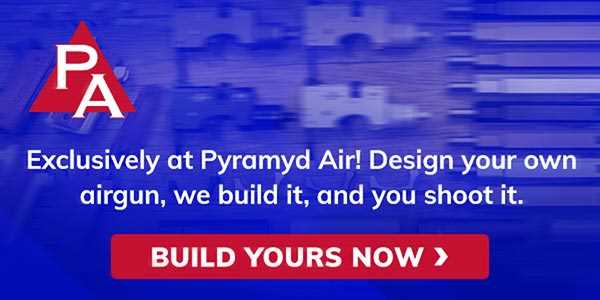 Air Arms Falcons
I decide to test all other pellets on 7 pumps. The Air Arms Falcon dome averaged 554 f.p.s. The low was 542 and the high was 565, so the spread was 23 f.p.s. That is very large for a multi-pump. It suggests the Falcon may not be right for the Daisy 35.
Sig Match Ballistic Alloy
The last pellet I tested was the 5.25-grain Sig Match Ballistic Alloy wadcutter. On 7 pumps they averaged 624 f.p.s. The low was 621 and the high was 631, so a 10 f.p.s. spread that is not bad.
Thus far we have seen that the Daisy 35 is just as powerful as advertised on the Pyramyd Air website. Just for fun I pumped it 10 times and shot a Sig Match Ballistic pellet. It went out at 681 f.p.s. Is that close enough to the 690 f.p.s. printed on the box? You decide.
Velocity with BBs
Now let's look at the velocity with BBs. I'll test a conventional steel BB, a frangible BB, a lead BB and an oversized BB. All will be with 7 pumps. Let's go!
Daisy Premium BB
First I tested 10 Daisy Premium Grade BBs. On 7 pumps they averaged 582 f.p.s. The low was 570 and the high was 605 f.p.s. That's a spread of 35 f.p.s., which is not terrible considering how much smaller these BBs are than the bore of the 35.
Marksman Premium grade BBs
We know from testing that Marksman BBs measure 0.176-inches in diameter and are therefore too large to fit in many BB guns. But this gun is also for pellets and it fed and shot these BBs fine. They averaged 572 f.p.s., with a 47 f.p.s. spread from 549 to 596 f.p.s.
Smart Shot
Next tested were 10 Smart Shot lead BBs. Since they are not ferrous I didn't try to feed them through the BB magazine but loaded them singly, like pellets. Smart Shot averaged 478 f.p.s. with a low of 453 and a high of 512 f.p.s. That's a spread of 59 f.p.s.
Dust Devils
The last BB I tried was the Air Venturi Dust Devil. It's lighter than the Daisy BB but also smaller in diameter, so I wondered what that would do to the velocity. Dust Devils averaged 570 f.p.s. with a 28 f.p.s. spread from 554 to 582 f.p.s.
Well, BBs weren't as consistent in the Daisy 35, nor were they as powerful as lead pellets. I guess their one advantage beside low cost is that the steel ones feed through the magazine.
Pump effort
I said in Part 1 that the Daisy 35 seems easy to pump. But is it?
Pump…Effort lbs.
1……………….5
2..…………….12
3..…………….12
4..…………….15
5..…………….20
6..…………….21
7..…………….19
8..…………….20
9..…………….19
10…………….21
What is happening, here? Why are more pumps taking less effort? I think the reason has to do with the speed of the pump stroke. Slow down and it gets easier, but you don't seem to lose any velocity. So the Daisy 35 is definitely an airgun for younger folks.
Trigger pull
The single-stage trigger breaks with 5 lbs. 5 oz. pressure. That is about ideal for young people and new shooters. The break is reasonably crisp, so it's very pleasant.
Summary
The Daisy 35 is stacking up quite well so far. And with my previous experience back in 2011, I believe it will also be accurate. We will see.