by Tom Gaylord
Writing as B.B. Pelletier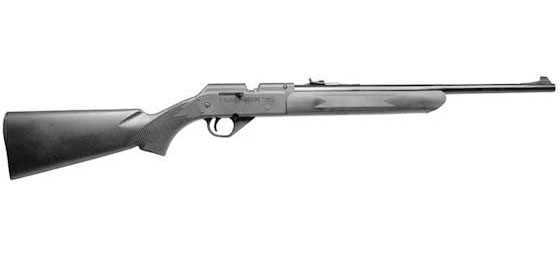 Daisy 35 multi-pump pneumatic.
This report covers:
The test
Sight-in
RWS Hobby pellets
Norma Golden Trophy FT domes
Some research
JSB Exact RS
Discussion
Better sights
Summary
Today we begin to test the Daisy 35 for accuracy. This test was interesting, so read on to learn why.
The test
I shot the 35 off a sandbag rest at 10 meters with the gun resting directly on the bag. I shot with 8 pumps per shot and I shot 10-shot groups. I think you'll be glad I did when you see the groups.
I shot with the open sights that came on the gun. And I wore my everyday glasses. Today I shot pellets only.
Sight-in
It took me 5 shots to get on target and even then I wasn't certain that I was where I wanted to be. You will soon understand what I mean.
RWS Hobby pellets
Because the Daisy 35 is a smoothbore I thought it would be good to try a larger pellet, so the first pellet I shot was also the pellet I used for sighting in — the RWS Hobby. Though they weigh just 7 grains, Hobbys have large skirts.
Ten Hobbys went into 2.205-inches at 10 meters. That sounds bad, I know. And it is when compared to the test I did back in 2013, but that test was in response to an even larger group of Hobbys from the first Daisy 35 I tested back in 2012. At that time ten Hobbys went into a group that was over 3 inches at 10 meters. So, what is the difference between 2012 and 2013? I will reveal that at the end of today's report.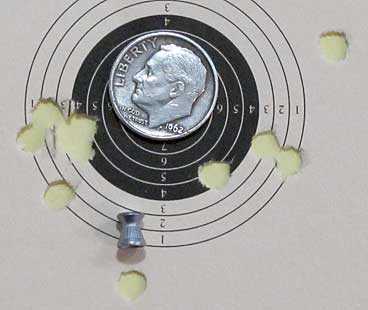 The Daisy 35 put 10 RWS Hobby pellets into a 2.205-inches at ten meters.
Norma Golden Trophy FT domes
Next I tried some Norma Golden Trophy FT pellets. These domes weigh 8.4 grains and this is the first time I have tested them. Ten of them went into a 2.204-inch group at 10 meters. But that wasn't all they did.
Five times while shooting this pellet the breech was blown open and only a small part of the air in the reservoir was used. That dropped the pellets that were shot about one inch below the aim point. Of course I didn't include those shots in the record group. I cocked the airgun and shot off the remaining air and then pumped the gun another 8 times for the next record shot.
At first I thought I was at fault for not closing the breech all the way, but that was not the case. Apparently this pellet develops too much back pressure that the bolt cannot contain. That's something to keep in mind about the 35; the bolt does not lock in the action the way you think it should. Apparently it is a friction lock that can be overcome with certain pellets. If you're going to shoot a 35 this is something to watch.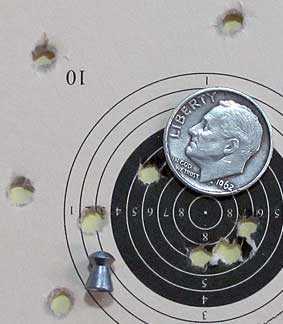 Ten Golden Trophy FT pellets from Norma made this 2.204-inch group at 10 meters when shot from the Daisy 35.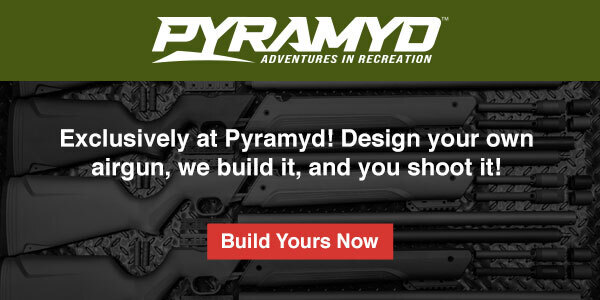 Some research
I went back and read my last two tests of the Daisy 35 in 2012 and 2013. In 2012 I tested a 35 that I got directly from Pyramyd AIR. In 2013 I tested a 35 that Joe Murfin, the Vice President of marketing for Daisy sent me. Joe told me that Daisy engineers were getting 5-shot groups of 1.25 to 1.5-inches at 10 meters with the 35. I don't normally retest an airgun when it doesn't do well, but so many people seemed interested in this one that I relented. And that gun did shoot some 10-shot groups that were 0.76 to 1.5-inches between centers. The JSB Exact RS pellet shot the smallest group, so I tried it last today.
JSB Exact RS
Still shooting on 8 pumps per shot, ten JSB Exact RS pellets went into 2.591-inches between centers at 10 meters. That was the largest group of the test.

Ten JSB Exact RS pellets made this 2.591-inch group at 10 meters.
This was frustrating. This pellet had been the most accurate in my 2013 test and here is was turning in the largest group. But I had a thought. Was the fact that I was wearing my everyday glasses causing a problem? I wore them to see the bullseyes better, but then I couldn't see the front sight as sharply. I had to find out so I shot a second group while wearing my 1.25 diopter reading glasses.
The first three pellets went into the bullseye, so I thought the effort would be worth testing. This time ten RS pellets went into 2.181-inches. It's the smallest group of today's test by a slim margin.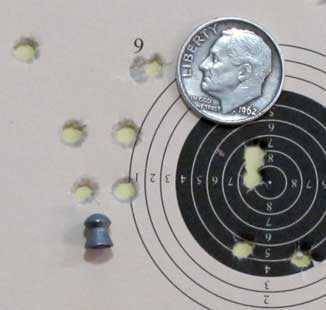 The second group of JSB RS pellets was shot with reading glasses and is the smallest group of the test.
The RS pellet is so short that I had a lot of trouble loading them. Several flipped around and a couple ended up in the BB hole that feeds from the magazine. I finally got so frustrated that I used the reverse tweezers that fed the pellets better.
Discussion
Okay, I have a lot to say about today's test. Obviously these were not the results I was hoping for. I put them down to two or three possible causes, and maybe all of them.
First, my aiming was not precise. I see that using the reading glasses improved my last group of RS pellets, though not enough to matter. This is the same pellet that the last Daisy 35 in 2013 put into 0.76-inches.
Second, and I think this is the real reason for today's results, not every Daisy 35 is equally accurate. I have tested three of them so far and one (2013) was accurate, today's was mediocre to poor and the first one I tested in 2012 was dismal.
And third, I'm 73 years old and I may have lost some of my shooting edge. Naturally I don't like this conclusion, but I have to face facts.
Now, what should we expect of the Daisy 35? Is it enough that it can hit a soda can at 20 feet most of the time? It probably is, BUT — and this is a big but — at what point do we start making comparisons to other airguns in this class — guns like the Crosman 760? You guys do that all the time but I try not to. However, if the test results keep coming out like today, I may have to.
Better sights
Remember a few days ago when I showed you a big improvement in the accuracy of the Crosman Vigilante revolver when the UTG Reflex Micro dot sight was installed? Will that happen here, as well? I don't know, but I sure want to find out. It's so important that I believe I will test that next before I test this airgun with BBs.
Summary
Well, this test just took a turn I sure don't relish. I was hoping to see those smaller groups like we saw in 2013. But that's why I test. If I do my job things won't always turn out well. But those results can be just as beneficial as when things do go well. At least we know the score. Stick around because we're not done yet.