Sometimes…
This report covers:
First up
A problem
Question from South Africa
And this was my answer
The truth
Gas piston problems
Switch to the HW 30S
But wait…
As the 18th century Robert Burns once penned, "The best-laid schemes o' Mice and Men gang aft aglay!" Translated, that means stuff happens. Or, it's always something. I guess Gilda Radner as Rosanne Rosannadanna on Saturday Night Live taught us that.
Stuff happens to B.B. Pelletier, too. And today I'm going to tell you about it because its just as important to know what to do next as it is to deal with things when they go right.
First up
My plan for today was to start testing the velocity of the Seneca Eagle Claw PCP. I say start because the Eagle Claw has power settings and I need to do more than just test the rifle with three pellets and be done. I need to get an idea of the shot count at each power setting — or at least get a general idea of how many shots there are at the different settings. If some of them are close together then I don't need to explore each of them. I also need to test sound levels at each power setting. Then I need to test the rifle with lightweight, medium weight and heavy weight pellets. Adjustable power means a lot more testing.
A problem
In short, there is a lot to test on the Eagle Claw, so velocity testing will take several reports. But there is a problem. When I filled it to get started, the fill nipple leaked down the entire reservoir. The leak was very fast, with the full 3,000 psi exhausting in just over a minute.
I noticed that the female fill coupling on the tank hose went onto the male filling on the gun very tight. That usually means that the wide spot on the male fitting is a little too long. The female fitting has to be pushed past that wide spot so the spring-loaded ball bearings inside the female coupling can be forced into the groove to hold the couplings fast while filling.
I tried filling twice and both times it leaked down the entire reservoir. So I went to my other carbon fiber tank and tried it again. Same thing.
Then I dropped several drops of silicone chamber oil into both the male and female fittings. When I tried to fill the next time that oil was blown into the reservoir where it got on the internal seals and might have loosened the moving parts of the intake valve. That can work, but this time it didn't.
The last thing I did was disconnect the hose as almost all the air was out of the reservoir — but not all. Maybe 15-20 bar remained. That sudden pressure release can cause internal intake valve parts to move and loosen, but this time they didn't. The leaking stopped immediately when the connection was broken, but when I tried to fill again, it still leaked out. If you ever try this do it when ther air is almost exhausted, because pressure can make that hose whip and hit you!
So I have to resolve this problem before the test of the Eagle Claw can continue. It's not good because you don't get a test today, but it is good because you get to watch what BB does to resolve an issue that you may have someday.
Question from South Africa
I have a website and I get lots of questions from there as well as from this blog. Here is one that came in while I was working with the Eagle Claw.
"Hope you are well.
Do you perhaps know if the diana ntec air rifles can be converted to a coil spring in case it leaks and which components besides the spring and guides will be required to make the conversion? There's some ntec rifles available at good prices but I'm not sure if it's a good idea to buy one. I live in south Africa and its basically impossible to get spares and the ntec gasram is a closed system and therefore if I breaks, getting a replacement gasram will be a problem."
And this was my answer
"I am sure that it is possible to do such a conversion, but Diana doesn't recommend it and no parts are identified. This would be a project a person would have to discover by themselves as they did it. There are no parts available for such a job.
From what you say, I would stick with a different air rifle."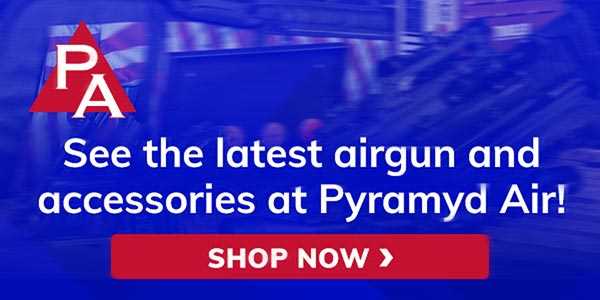 The truth
The truth is, I know that someone is working on a coiled steel spring replacement kit for the Diana gas piston in the Diana 34 EMS. If it will fit that one will it also fit a 34 N-TEC? I don't know, but probably. At least that is my guess. But I can't tell someone things like that. He might make his decision based on what I say and then the company that is considering making the coiled steel spring replacement may decide not to. Or they may sell the conversions for three years but it might take five years for the N-TEC gas piston in South Africa to start having problems. So I answer based on what I know for sure today.
Gas piston problems
Remember the Beeman R9 with the Vortek center-latching air piston I was testing in 2018? I sent it back the Vortek for repairs so the test could continue and the crickets started chirping. I haven't seen that unit yet — and it's been three years!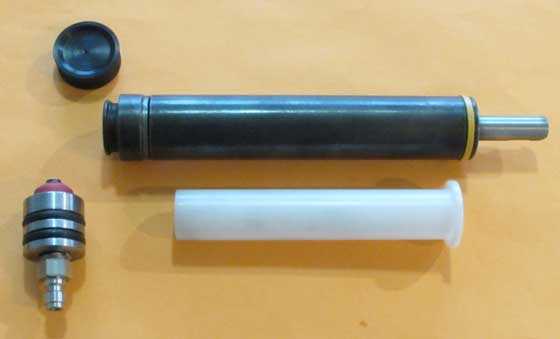 Beeman R9 center-latching unit from Vortek.
Quoting Robert Burns again, "O wad some Power the giftie gie us, To see oursels as ithers see us!" Translated, it means — you may have good intentions but it's what you do that matters.
Switch to the HW 30S
Okay, it was still early so I thought I would switch over to the HW 30S. I would take it apart and let you see the internal parts. Before I did that I read the end of Part 6 — the last report I did on the rifle. There I said I would first remove the scope and install a rear target sight. My late friend Mac willed me a bunch of airgun rear target sights and I thought a Feinwerhbau looked good. Oh, boy! Here we go!
Except it didn't fit. The FWB rear sight jaws don't conform to the Weihrauch scope dovetails. Okay, I can use the rear sight from an AirForce Edge. A reader even suggested that. Or I can remove the Weihrauch target sight from my HW 55SF. Or…
But wait…
Here I am, trying to solve problems, when all the while today's blog is writing itself for me. You don't need another perfect test from perfect B.B. Pelletier who lives in Perfectland. You need to see behind the curtain and to stumble over the boxes of parts from past tests gone bad. You need to know that South is a legitimate compass direction, and sometimes the best-laid plans of mice and men — go South. Sometimes, my friends, B.B. Pelletier shoots the couch!
Tags In
Tom Gaylord is known as The Godfather of Airguns™ and has been an airgunner for over a half-century, but it was the 
Beeman
 company in the 1970s that awoke a serious interest in airguns. Until then, all he knew were the inexpensive American airguns. Through the pages of the Beeman catalog, he learned about adult airguns for the first time. In 1994, Tom started
The Airgun Letter
 with his wife, Edith. This monthly newsletter was designed to bring serious reports about airguns to the American public. The newsletter and
Airgun Revue
, a sister magazine about collectible airguns, was published from 1994 until 2002, when Tom started
Airgun Illustrated
-- the first American newsstand magazine about airguns. Tom worked for three years as technical director at
AirForce Airguns
, the makers of the 
Talon, Condor, and Escape
 precharged air rifles. Today, he writes about airguns and firearms for various publications and websites. He also makes videos, and you'll find short clips embedded in some of his artices on Pyramyd Air's website. Tom is a consultant to Pyramyd Air and writes under the name of B.B. Pelletier.