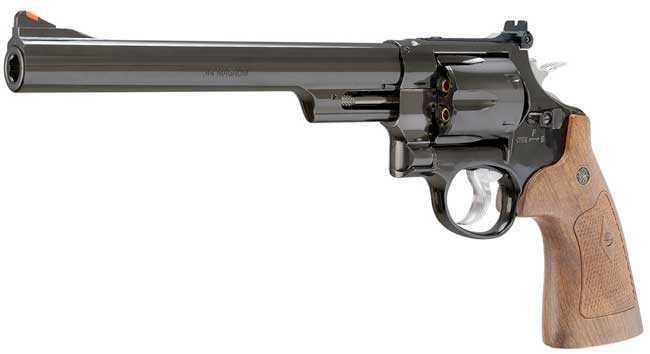 S&W model 29 BB revolver from Umarex.
This report covers:
Today
The revolver crane
Target trigger, target hammer
Sights
Grips
The safety
Finish
Accurate?
Summary
Wives, please forgive BB Pelletier today, for he is assuming his alter-ego of The Great Enabler! I will begin today's report with the summary — WOW!
When I wrote Part One I purposely did not tell you what I was writing about. I introduced this series with a longer history of the S&W Model 29 firearm this BB revolver imitates. I did that to give you the same sense that I had when I saw what this was. I told you that I have owned a couple S&W Model 29s in the past and several readers chimed in with their stories — including a couple who still have the gun!
Today
Today I have the S&W Model 29 .44 Magnum BB revolver in my hand and I want to tell you about it. But before I do, let's put some perspective on this.
Every airgun company gives us certain things that we have come to know and respect. For example, the now-defunct company of Sheridan gave us an iconic multi-pump called the Blue Streak and Silver Streak. It was good and we knew/know what to expect.
Mention Crosman and us old silverbacks think of the model 101 multi-pump and the Mark-series target pistols, not to overlook the 600 repeater. But today the Crosman name brings to mind the Benjamin Marauder and all its associated precharged companions.
Weihrauch is known for their spring-piston rifles and of course for the Rekord trigger. They do make PCPs, but we focus on their springers more often than not.
Say AirForce and two things come to mind — their smallbore rifles like the Condor that have user-friendly power adjustment and the ability to become in minutes whatever caliber the shooter desires. And their Texan is the king of big bore mountain. However, under the Rapid Air Worx brand they also make some of the most accurate long range pellet rifles on the market. But just their name conjures up black rifles.
And, when it comes to Umarex we think of realistic replica airguns. Sure, they make a host of other fine airguns, but their replicas are second to none. Such is the case of the Model 29 revolver we are examining today.
The revolver crane
This is a six-shot BB revolver that loads exactly like the firearm it copies. Six brass BB cartridges fit into the cylinder that swings out to the left side, just like the prototype pistol. They are for BBs, only. One reader asked me to try pellets, and I might, but this is a smoothbored BB gun.
I want to say something about the crane right now. Many of you don't appreciate what a challenge it is to make a revolver crane — the swinging arm that the cylinder revolves on and also swings to the side to give access to the chambers. Maybe you have seen movies where the shooter checks to see that his cylinder is loaded (and also shows the audience) then closes it with a deft flick of his wrist. That move has destroyed more revolvers than can be mentioned. Whenever I buy a used revolver I look at the thin seam line where the crane meets the frame, and, if there is any gap whatsoever, I know the gun has been abused in this way.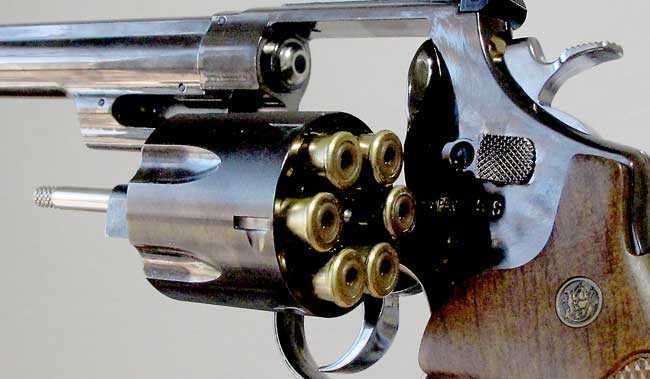 Putting a working crane on an inexpensive BB revolver so the cylinder can swing out like it does on the M29 BB gun is a feat!
So, don't do it and don't let anyone else do it to your gun! A proper firearm revolver from a quality maker will still have that razor-thin crane seam a century after it was produced. You longtime readers know that when BB Pelletier mentions a razor he is talking about a straight razor — one that he has personally sharpened.
Remember the crane technique. If do right, no can defense!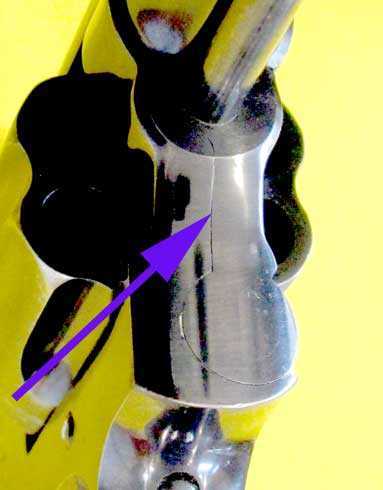 The crane gap on this 113-year-old S&W revolver is still tight. In more than a century of use this gun was never snapped shut!
Target trigger, target hammer
I mentioned the target trigger and target hammer in Part 1. They are difficult to see because Umarex has made both parts very smooth. What they are are swellings at the end of the trigger blade and the hammer that give a better purchase for your fingers.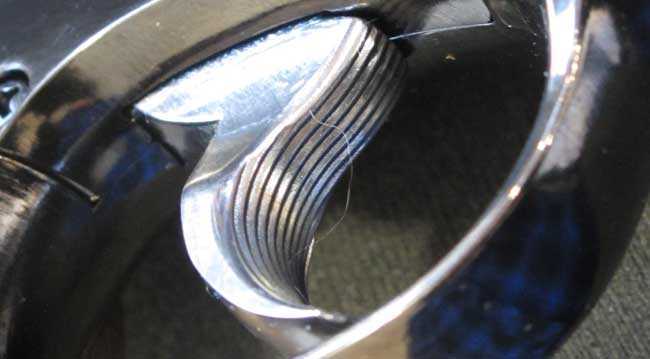 The Umarex revolver has a target trigger…
Before we leave this topic I would like to address the trigger-pull. In single action (hammer already cocked) it's heavier than the firearm trigger. In double action it is far, far lighter. I will measure it for you in the velocity test.
Sights
In this day of fiberoptic sights it is refreshing to see that Smith & Wesson has not gone there. The front sight has a orangish-red insert that's been on their firearm revolver sights for half a century. This replica front sight is a perfect copy.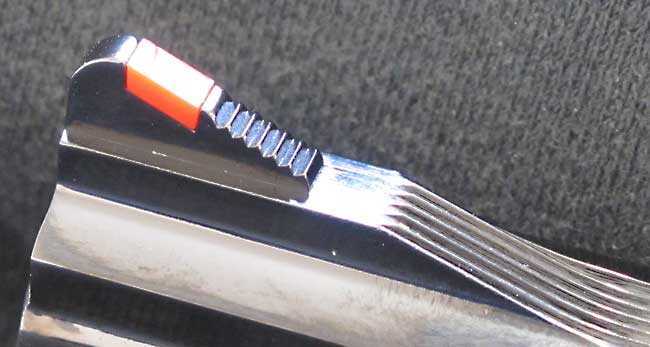 Ask anyone who owns an S&W M29 and they will tell you — this is the proper front sight.
The rear sight is adjustable in both directions. And the owner's manual devotes half a page to how this is done. My only criticism of the manual is that the dark line drawings have red arrows that show things and, being red-green colorblind, I have difficulty seeing them. But only 14 percent of males have this affliction and I can overcome it if I shine a flashlight on the page. Because the screen you are looking at right now is illuminated from the back they will show up well. But yellow would be better.
11-22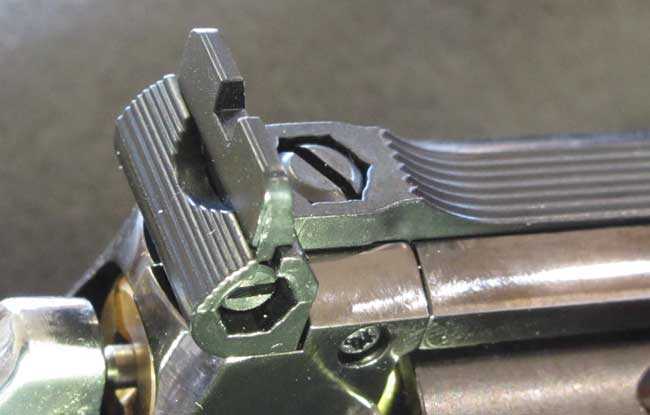 The rear sight adjusts in both directions, exactly the same as the firearm sight.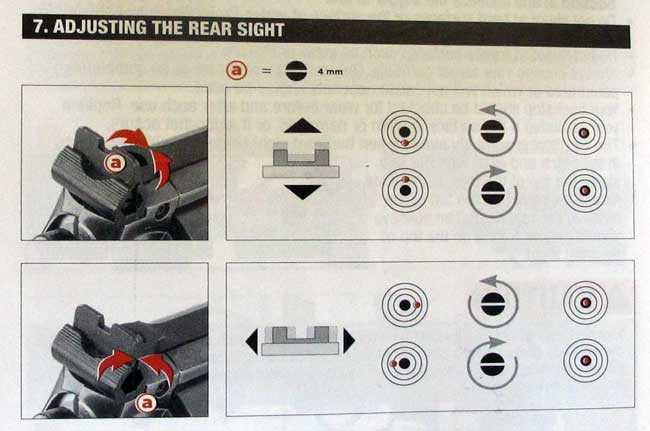 The instructions in the manual about how to adjust the rear sight are clear and concise. However, note that in the photo of the rear sight above, I illuminated the windage adjustment screw for clarity.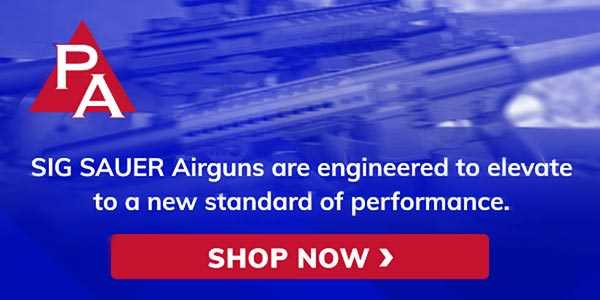 Grips
When referring to the grips, to quote Gomer Pyle, "Golllly!" The grip panels are plastic, but look so much like wood that most people will be fooled. Under the grips is where the 12-gram CO2 cartridge hides, and Umarex has cleverly used a long hexagonal Allen bushing to loosen/tighten the piercing screw. This bushing is a part of the grip, which converts the whole grip panel into a wrench handle. Good engineering!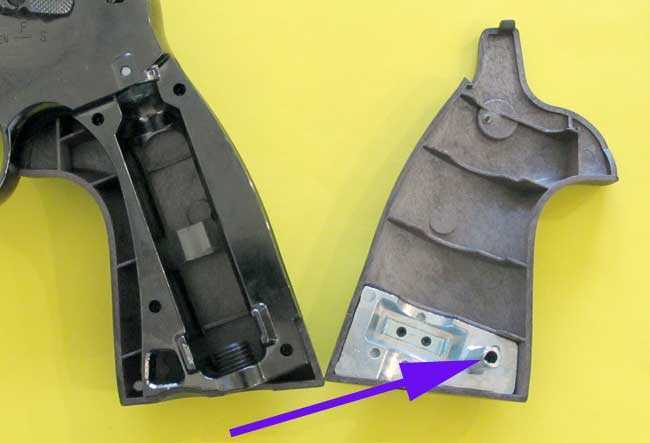 As with most CO2 revolvers, the left grip panel comes off to load the cartridge. Umarex has provided an Allen bushing (arrow) to tighten the piercing screw, and the grip panel is a convenient handle.
And the grips fit on the gun with no looseness! What a change since the 1970s when it was impossible to secure revolver grips all the way!
The safety
Yes, Agatha Christie, this revolver does indeed have a safety. Most revolvers don't because their very design makes them safe, as long as the shooter has his or her wits about them. But in the litigious United States we wrap our fools in bubble wrap!
The thumb latch on the left side of the revolver pushes forward in the usual way to open the cylinder for loading. When you do this bear in mind that the breech of the barrel is spring-loaded to seal the front of each chamber being fired. The cylinder will seem sticky because of this.
Push the thumb latch backwards until you hear a stout click and it becomes the safety that mystery novelists have long promoted without knowing anything about revolvers. It's not a bad idea and perhaps S&W, who licensed the BB revolver to Umarex, should consider it for all their firearms.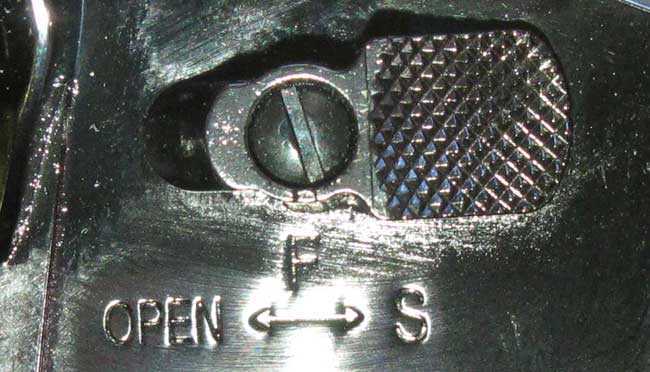 Push forward to open the cylinder and back til it clicks for safe.
Finish
I remember 20 years ago when the shiny finish on these replicas was spotty. Not so today. Oh, the steel cylinder isn't polished as smoothly as the rest of the metal, but this BB pistol is gorgeous.
Never mind you readers, BB, himself, is getting enabled by this airgun! He is looking at the S&W M29s on Gun Broker! Bad BB! Shame on BB! But that's what a great lookalike airgun can do. And this one is great.
Accurate?
Is it accurate? Oh, I hope so! Some say this BB revolver is very accurate. Will BB be able to send it back to Pyramyd Air? Not if it's that accurate.
Remember the BadaBang electronic target? How would you like to cut loose on one of those with one of these?
Summary
WOW!