Just so you know, I'm leaving for the SHOT Show in Las Vegas tomorrow, So I will be unable to read the comments for some time.
Today is a guest report on reader Motorman's Diana Two Forty spring-piston air rifle.
He told me about this airgun and I asked him to write this guest blog about it. This is an air rifle I would like to hear about!
If you'd like to write a guest post for this blog, please email me at blogger@pyramydair.com.
Take it away, Motorman.
Diana Two-Forty
by Motorman
This report covers:
Curiosity
Packaging
Markings
Stock
Sights
Trigger
Fit 'n Finish
Weight And Length
Chronograph Testing
Accuracy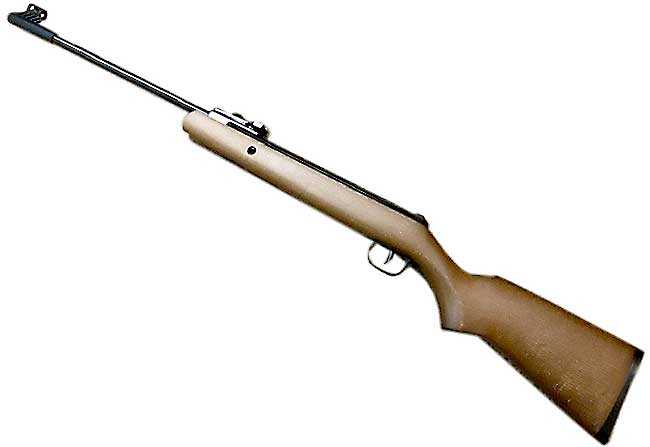 Diana Two-Forty.
Curiosity
I have a number of classic spring piston air guns…Diana 27, FWB 124, Marksman 70, Diana 34, HW 30…as well as just some older air guns (i.e. HW25, Slavia 618) that are decent old guns, but perhaps not quite so classic. I've always got my ears up for a new classic.
Some of my younger grandkids are also getting to an age when they're ready to learn to shoot. I've got a pristine old Diana 24D and a nice HW30, but I didn't want to subject them to the inevitable, if unintentional, abuse that results from children using almost anything.
Sometime in early December I got a mailer from Midway USA. One of the items in the mailer was a Diana model Two-Forty (not 240??) with a sell price of $99.99 plus shipping and handling ($119.96 USPS Priority, includes in-state taxes since I live in Missouri and MidwayUSA is in Missouri as well). A brand-new Diana for $100.00? My curiosity got the better of me. I told myself I'd give it to my grandkids to learn on.
Editor's note: Midway listed it as a .177BB gun with no explanation that it shot pellets.
I ordered it on 5 December 2021. The website said it was due in stock 9 December, but it didn't actually arrive at Midway USA and ship to me until 24 December. It arrived at my house on 28 December 2021.
Packaging
The gun came in a clear plastic bag surrounded by Styrofoam blocks inside a cardboard box equivalent to a number of other quality European air guns that I've purchased over the years. The outside of the box was printed in black on a white background without the visual and verbal fanfare common to some of the brands found in retail stores. That box was, in turn, inside a plain brown box when it arrived.
Markings
On top of the compression tube is says DIANA two forty with two forty not being capitalized and without a hyphen…huh. On the Diana factory website it appears as two-forty…with the hyphen, but still not capitalized. My college journalism teacher just won't let me NOT capitalize a proper name and use a hyphen for a written number. May the Diana marketing department forgive me, but I'm using Two-Forty for the name.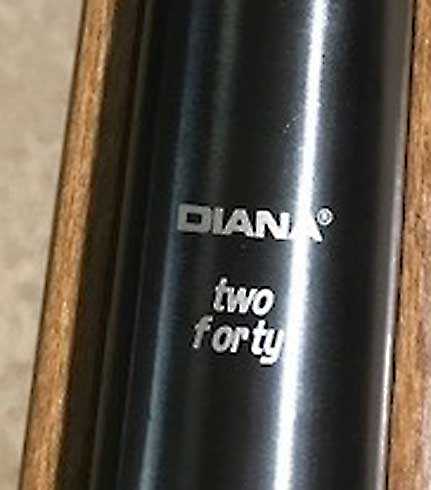 The Two-Forty markings
Anyway, on the rear left of the compression tube it is says designed by DIANA, GERMANY. A serial number appears just above the barrel pivot bolt and cal. 4.5 / .177 as well as the letter F inside a pentagon.
Nowhere on the rifle does it say where it is manufactured. I didn't realize until it was already on order that it was made in China. When it arrived, its country of origin was only mentioned by reading the small print on the outside of the box it came in. I've briefly owned a few of the Chinese air guns typical of the 1990 to 2010 time period and it's fair to say I was profoundly unimpressed. Did I say that nicely? However, there was nothing that would associate this rifle with those of my previous experience.
All of the markings are neatly applied (gold colored paint?) as opposed to stamped into the metal, but they seem quite substantial. I'm guessing they would be difficult to remove intentionally or otherwise.
Stock
The stock appears to be the usual medium stained beech hardwood. The finish is reasonably evenly applied, but there is some very slight marring on the sides of the pistol grip area where it rubbed against the packaging during shipment. Was the finish still slightly wet when placed in the box? Who knows?
The action is secured by two angled screws on the sides of the stock just behind the barrel pivot bolt plus one of the two trigger guard screws. When I removed the stock I noted that there was what appeared to be a blue LocTite-type product on the stock screws. I also noted that they were snug, but not quite what I would call tight. Each stock screw has a plain flat washer to seat on instead of bottoming on the wood of the stock…a nice touch for a gun in this price range.
It has a hard rubber butt plate secured with two Phillips screws as well.
The Two Forty has a rather hand-filing thick stock; it's 1 7/8-inches thick at the fore end tapering slightly to 1-3/4-inches at the grip and 1-1/2-inches" at the butt. It extends from about 3 forward of the barrel pivot back about 27-1/2-inches to the butt (including the butt plate). The length of pull is approximately 13-3/4-inches. No checkering, stippling, nor finger grooves are provided.
For comparison purposes, my Diana 24D stock is 1-5/8-inches at the fore end tapering to 1-1/4-inches at the butt. The HW 30 is about the same, so the Two-Forty feels chunky. I happen to like that feel, but others may prefer something more svelte. The length of pull on the 24D and HW30 are 13-1/4-inches and 14-inches respectively, so the Two-Forty is somewhere in between.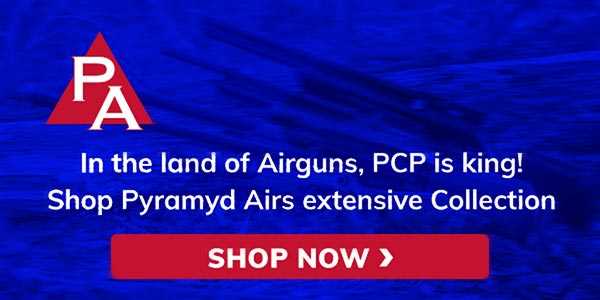 Sights
BB won't like this one. There are two green dayglow dots in the rear and a red dayglo dot in the front. The rear sight is a combination of blued metal and black plastic parts. The assembly is adjustable for both elevation and windage with audible click detents for each.
At my age my depth of field is such that open sights don't make much difference anyway. I'm going to make an attempt to test for accuracy with the stock sights, but I suspect that a more accurate assessment may require mounting a scope and repeating the procedure.
Happily, the top of the compression tube is grooved for scope mounting and includes a 0.1685" (about 4.25mm) diameter scope stop hole.
Trigger
The Diana Two-Forty comes with a black plastic trigger and trigger guard that seems sturdy enough, despite it being plastic.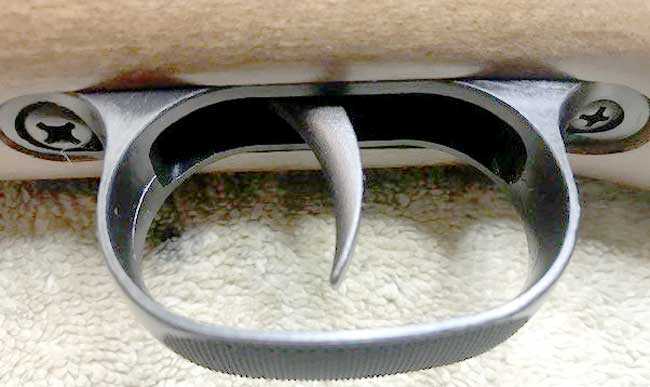 Diana Two-Forty trigger and triggerguard.
The compression tube cap carries the usual Diana-style automatic safety. Both the cap and safety catch are plastic, but seem to be adequately rugged to serve without issue. The safety snaps off with a quiet, satisfying click. Not bad. Nothing remarkable. It just works.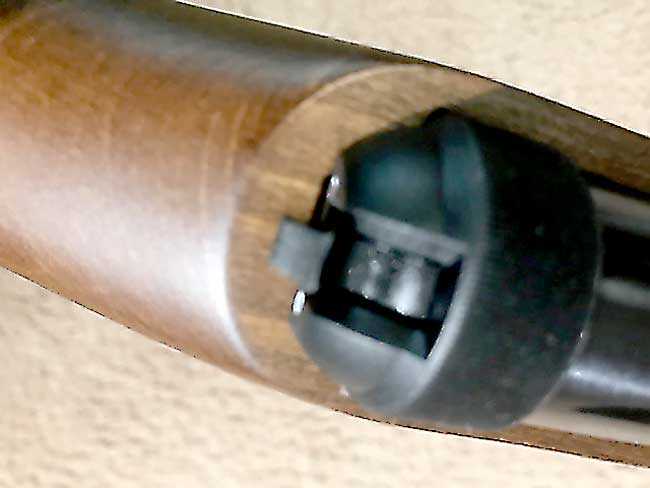 The safety release.
The trigger pull seemed heavy initially, but after a few dozen shots it's lightened up. The first stage is about 0.20-inch of movement with less than 1 oz. resistance. The second stage requires about 0.07-inch of additional movement and releases at a five-shot average of 3 lbs. 5 oz. The variation off the average was three or four ounces one way or the other.
There's no binding, grinding unpleasant feel or change of resistance as you pull thru its release. A Weihrauch Rekord it's not, though I've certainly shot a number of guns with far worse triggers. It's not a surprise at this price point, but there is no provision for trigger adjustment.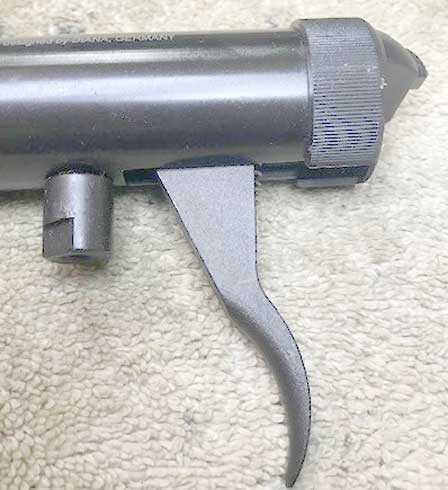 The trigger outside the stock.
Barrel
The Two-Forty's barrel length is 16-3/4-inches by my tape measure, but Diana says it's 16-1/2-inches. It has a ball detent that was initially pretty stiff to break open! However, it's lightened up nicely with use. The breech seal is a pretty standard looking white plastic washer. The muzzle is capped by a black plastic sleeve/front sight assembly.


Cocking is accomplished by a simple single cocking lever in the standard fashion.
When I had the stock off I noted that the spring and piston seemed rather dry. I was temped to paint some "Tune In A Tube" onto it, but decided to evaluate the gun in "as received" condition. Despite the dryness, the gun isn't twangy by my subjective judgement.
Fit 'n Finish
The Two-Forty's action-to-stock fit is as nice as any of the other air guns I own. If the bluing isn't the equal of the 24D and the HW30, it's certainly not far off. It's dead black with a creditable polishing job. Could it be something besides real bluing? Yeah, but I couldn't tell.
There are some coarse machining marks in the scope rail slots, but that might be there to assist keeping the scope in place and, thus, might be intentional? Even after removing the stock and inspecting the "innards", I don't find any other coarse machining marks.
Overall, the fit and finish are quite nice and exceed what I expected for either a $100 gun or a gun made in China!
Weight and Length
The overall length of the Two-Forty is 40-1/4-inches. The weight is 6 lbs.
Chronograph Testing
Advertised velocity: 575 FPS
RWS Hobby's (7.0 gr.)
Hi: 590 FPS
Low: 575 FPS
Ave: 583 FPS
Extreme Spread: 15 FPS
Standard Deviation: 4 FPS
Muzzle Energy: 5.5 ft.lbs.
It should be noted that my chronograph, a five-year-old Competition Electronic ProChrono Digital, tends to give me higher numbers than others cite for a given gun, so these number might be a smidge high. That said, it would appear that the Two-Forty performs as advertised in this regard.
Accuracy
Accuracy testing was done at the available 20-foot range in my basement. Yeah, I could go outside and test it at 33 feet, but it was 18 degrees here this morning!!!
For me, accuracy testing is tough. I'm the variable in the equation that makes it difficult to be absolutely sure of the results. Here's the best I can offer:
Let me start with the caveat that I'm shooting with 73-year-old eyes that don't focus on the front sight, rear sight nor black-dot target nearly as well as they did 60 years ago. This open-sight accuracy report is, therefore, suspect and rather subjective:
RWS Meisterkugeln (7.0 gr.): 1/2-inch group
RWS R10 (8.2 gr.): 7/16-inch group
RWS Hobby (7.0 gr.): 3/8-inch group
Crosman Premier (7.9 gr.): 5/16-inch group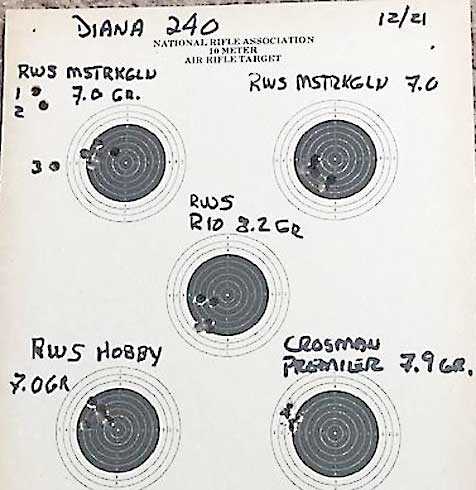 Target shot with open sights.
So, I mounted a scope on it to see how THAT worked out. I have an older 3 – 9 X 32 UTG "Bug Buster" scope in a set of Sports Match mounts that seemed appropriate.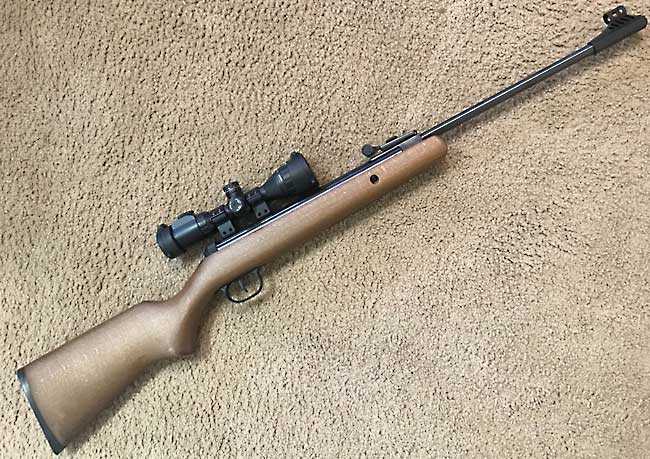 Two-Forty scoped with a Bug Buster.
Happily, I can still shoot a little better with a scope than with open sights. The groups closed up somewhat: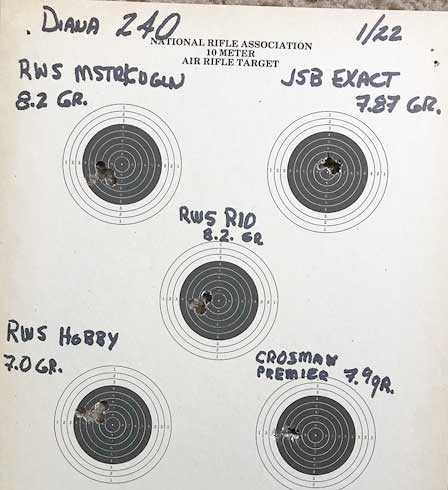 The target shot with a scoped rifle.
RWS Meisterkugeln (8.2 gr.): 3/8-inch group
JSB Exact (7.87 gr.): 1/4-inch group, maybe a smidge less
RWS R10 (8.2 gr.): 1/4-inch group
RWS Hobby 7.0 gr.): 1/4-inch group, probably a little more*
Crosman Premier (7.9 gr.): 5/16-inch group
*The far left shot with Hobby's was operator error. Given credit for that, the group would still have been a smidge over 1/4".
Granted, I'm still shooting at 20', but the Two-Forty seems creditably accurate and not particularly pellet-picky. I've shot some other pellets thru the Two-Forty and it doesn't seem to like 7.0 gr. pellets as much as some closer to 8 gr. I think the JSB Exact 7.87 gr. suited it best!
Summary
The Diana Two-Forty is a surprising value at $99.99 plus shipping! Without an adjustable trigger, it's not equivalent to my old Diana 24D nor the HW30, but at this price point that's an unfair comparison. Overall, it's a quite nice gun. After I give this one to my grandkids, I might buy another for myself!
Motorman
St. Louis, MO