Crosman's Icon is a new precharged pneumatic (PCP) air rifle.
This report covers:
The price
Repeater
More
The calibers
Trigger
Fill
Threaded muzzle
Sights
Description
Summary
Today we start looking at the new Crosman Icon precharged air rifle. When I was at the SHOT Show this year I asked when this one would be available and when they told me March/April, I was interested. Ed Schultz asked if I wanted to test it right away and I said yes. Today you'll learn the reasons for that decision.
The price
First of all, the Icon is retailing for $280 when it hits the stores. That's less than my minimum used to be for a price-point PCP (PPP). I raised the price for the PPP to $350 because I saw prices increasing, but if you're on a budget, keep an eye on the Icon.
Repeater
The Icon comes with two rotary magazines! The exclamation point is because of the low price for a PCP with two mags. And wait — there is more.
More
There is also a single-shot tray. In fact, there are two identical single-shot trays packed with each Icon. I even called to ask Crosman! Why — it is as though somebody who is an airgunner put this package together!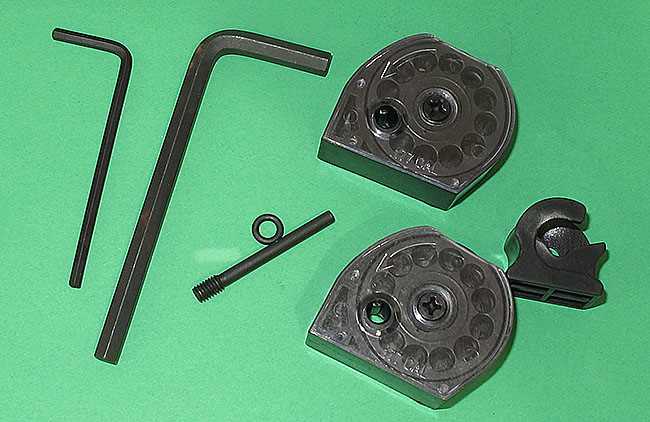 This is the stuff that comes with the rifle — two magazines, two single-shot trays (the other one is in the rifle, two Allen wrenches and a degassing tool that you have to read about in the manual. There is also a little bitty o-ring that goes I-don't-know-where.
The calibers
The Icon comes in both .177 and .22 calibers. I'm testing the .177 caliber rifle at my request, because I have tested a lot of .22s in the recent past. The .177 magazine holds 12 pellets and the .22 holds 10.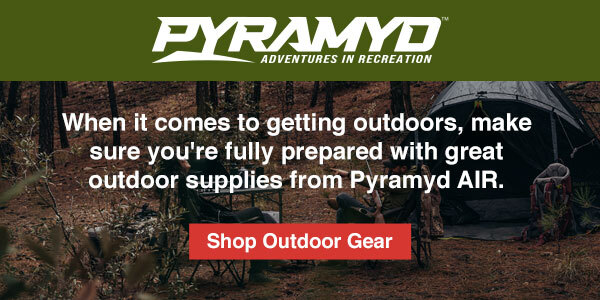 Trigger
Okay — you want an adjustable trigger with your PCP, but you know at this price they can't do it. But wait — they can! The Icon trigger is a two-stage adjustable unit that I will fiddle with and report on in Part 2. I can tell you right now, though, it's a nice one. Now, don't you pester me with all kinds of questions like, "Is it as nice as the Marauder trigger?" and stuff like that. I'll get to it when I get to it.
The safety is manual, thank you very much and pulls back for safe. Your trigger finger can operate it by itself. And, yes, you can uncock the rifle by holding onto the bolt handle and pulling the trigger.
Fill
Well, folks — it's a Crosman air rifle. So the rifle's connection for filling is a male Foster fitting, like 80 percent of the PCP fill ports on the planet. And the rifle fills to 3,000 psi, so a hand pump is possible. Ed Schultz works for Crosman and they seem to be listening to him, so we get none of these 300-bar fills and proprietary fill couplings! Ed knows what we want.
Looking at the green zone on the built-in pressure gauge, it looks like the firing valve operates down to 1,000 psi. I will of course test that for you and we'll see. But don't forget that Ed Schultz is the guy who designed the Benjamin Discovery, a PCP that operated on a fill to 2,000 psi. Ed knows valves!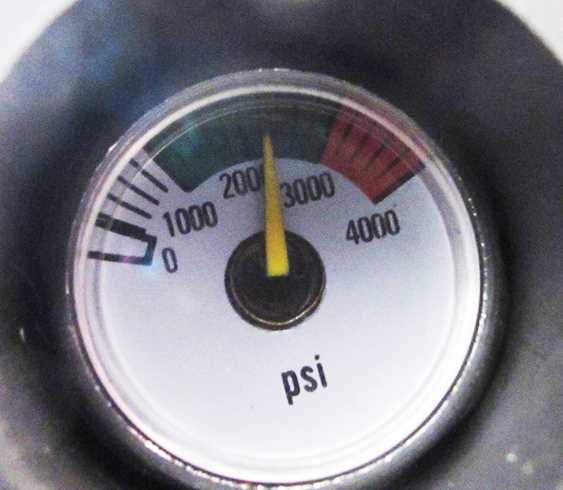 The green area of the gauge is hard to see here, but it stretches from 3000 psi down to 1000 psi.
Yes, the Icon is built in China; what PPP isn't? But it looks like Crosman is on top of the production. We shall see.
Threaded muzzle
And the hits just keep on coming, folks. The Icon barrel ends with 1/2-inch by 20 threads for airgun silencers. Now, let's see — do we know anyone who owns an airgun silencer? Oh, yeah. Me!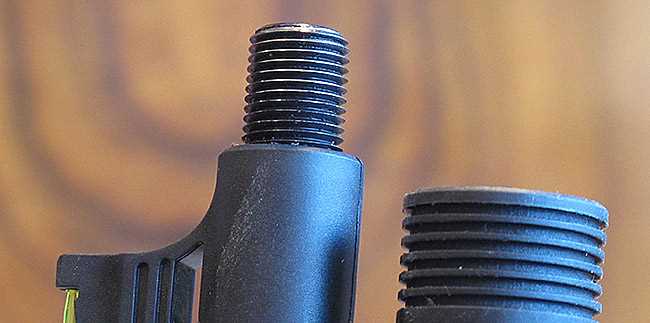 Yeah! That's what I'm talking' about! No problem attaching a silencer.
Sights
The front sight is a fixed green fiberoptic (boo!) and the non-fiberoptic (YAY!) rear sight adjusts in both directions. There are click detents in both adjustments that you can both feel and hear. The windage adjustment has an index scale for remembering where things were and seeing which way they are going.
Description
The Icon is a bolt-action repeater. It's solid, at just over 7 pounds and 38.5 inches long, overall. The pull is 14-inches long and the thick black rubber buttpad is grooved and grips the shoulder well.
The buttstock is a fixed length and the cheekpiece is also fixed, though it looks adjustable. The butt pad is also fixed. The pistol grip is one piece with the stock, however, I find the distance for my trigger finger is ideal instead of cramped like the grip and trigger on an AR-15.
Summary
Guys, the Icon should be out soon. If it is accurate, Crosman better order a container of them, because they are going to sell quite well.
Yes, I know there are other inexpensive PCPs. I have tested most of them. I'm cutting the Icon no slack when it comes to performance, and we will start looking at that tomorrow.