Crosman's Icon is a new precharged pneumatic (PCP) air rifle.
This report covers:
The trigger
The single shot tray
There's more
Velocity
Crosman Premier 7.9-grain
No flat shot
Summary
I pondered over today's report for most of this month. I wanted to do a second velocity test of the new Crosman Icon, and I also wanted to adjust the trigger, as I promised. I also discovered some things about the Icon that I will share with you today. Let's get started!
The trigger
There is a single adjustment on the Icon trigger, and the instructions in the manual say that you can change the length of the second stage pull. WAIT A MINUTE — CHANGE THE LENGTH OF THE STAGE TWO PULL??? Stage two isn't supposed to have a "length." It's supposed to break sharply. However, I adjusted the trigger and discovered the manual is correct. By turning the adjustment screw counterclockwise you shorten the first stage pull and turn stage two into something that moves and does have some length.
What I discovered was the Icon trigger came set at the best place from the factory. The manual says that, but we are airgunners and we don't believe anyone who's not us, do we? We certainly don't believe no stinking' manual! When I adjusted the trigger to make stage one shorter stage one pulled with 2.3 lbs. and stage two broke with 3lbs. 9 oz. When I set it back to where the factory had set it stage one took 1 lb. 4 oz. and stage two broke at 3 lbs. 4 ozs. That is even better than I recorded in Part 2.
The single shot tray
I told you that the pellets were falling behind the rear of the single shot tray and several of you had trouble visualizing that. So, I will show you.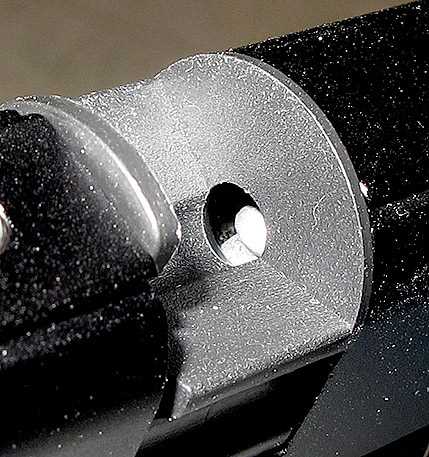 There's your picture. The pellet has fallen behind the single shot tray.
There's more
But wait… Then I tried to start the velocity test, so I loaded another pellet and it fell behind the single shot tray too. The first pellet was not there anymore, and I thought it had fallen out of the gun.
Oh it fell allright — INTO THE ACTION!!! I loaded a third pellet into the breech (the rear of the barrel, just ahead of the single shot tray) and "click." The rifle didn't fire. I cocked it again and again and it would not fire. Do you remember that I told you about this in Part 2? I didn't know then what happened. Now I think I do. Pellets have fallen back into the action and are stopping the bolt from going forward hard enough or far enough to hit the valve stem.
So I turned the rifle upside down opened the bolt and hit the stock hard with the back of my hand, making a pellet fall out of the bolt. But the rifle still would not fire. So I took it to my workbench opened the bolt again and hit the stock several more times with a rubber mallet. Two more pellets fell out. Wanna see 'em?

These two guys fell out of the open bolt when I hit the Icon stock with a rubber mallet.
Since the rifle was already loaded I fired it into the trap and this time it fired. I missed the sky screens with this first shot.
The lesson here is to always load pellets into the single shot tray with the rifle held level. You tend to point the muzzle up to load, but with this rifle that's not good.
Velocity
Okay, let's do the velocity test. Reader Alan McD suggested this.
"BB,
Strange results, that's for sure. It would be interesting to see a full string with one pellet as a sort of "baseline" for the gun, without jumping between weights or different sizes. It could show what is happening better."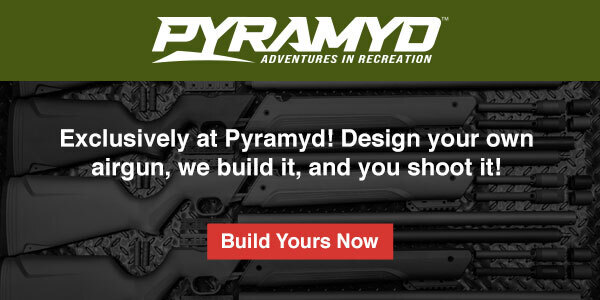 Crosman Premier 7.9-grain
That was a great idea. So I did it. And I shot only the now-obsolete Crosman Premier 7.9-grain pellet for the velocity test. After all — the Icon is a Crosman airgun. I will show you every shot.
Shot…….Vel
1………..did not register
2………..956
3………..956
4………..967
5………..968
6………..966
7………..960
8………..960
9………..DNR
10………977
11………DNR
12………977
13………970
14………977
15………970
16………969
17………966
18………969
19………954
20………964
21………960
22………957
23………956
24………953
25………956
26………941
27………941
28………946
29………935
30………938
31………933
32………929
33………927
34………923
35………922
36………915
37………917
38………912
39………912
40………904
41………892
42………898
43………890
44………875
45………887
46………875
47………879
48………870
There! This list of velocities is why a chronograph is so important when testing an airgun — especially a PCP. At shot number 34 here is what the onboard pressure gauge read.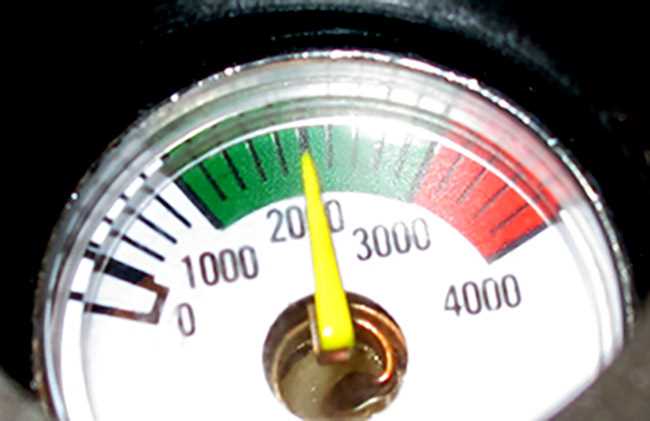 This is what the Icon gauge read after the 34th shot.
No flat spot
So I kept on shooting for awhile longer. But everyone can see that the velocity is dropping — right? In fact if you look at all the numbers on the list you see there is no real flat spot in the velocity. It moves up and then drops back down.
So if you want to shoot groups at 50 yards I suggest starting at shot number 5 after a fill and stopping after shot 18. That gives you 14 shots that vary no more than 17 f.p.s. (960 to 977 f.p.s.). Sure it won't always be exactly like this string, but it should be close every time.
From this velocity test it looks like the Icon is more for shooting at closer distances. Out to 25 yards there are perhaps 23 good shots per fill. And for plinking at even closer distances there are certainly 42 good shots, though they will vary by 79 f.p.s. (898 to 977 f.p.s.).
When I stopped shooting at shot 48 the onboard gauge read 1600 psi, which is still in the green zone. So that green color on the onboard gauge is fairly meaningless. Instead, stop shooting when the needle says 2000 psi, which is in the middle of the green zone.
Summary
Now we know the Icon very well, and I plan to use this knowledge in the 25 yard accuracy test. I'm going to do something special for you that I've never done before! But that's not next. Gonna shoot at 10 meters first with the open sights.