This report covers:
Texas airgun show
Now today's report
Repeater
Great price!
What you get
The rifle
Repeater
Ambidextrous
Quiet operation
Adjustable trigger
Sights
Size and weight
Regulated?
What does BB think?
Summary
Texas airgun show
Before we begin today's report, here is a word about the upcoming Texas Airgun Show from Jeff Cloud, who goes by Cloud9 here on the blog.
It is almost the end of August, which means that the 2022 Texas Airgun Show is just a little over 1 month from now on Saturday, September 24. If you haven't paid for a table ($30), or haven't submitted your raffle or door prize items as a show sponsor, please send me that info (or items) this week. I have filled all of the inside tables and have approximately 6-8 outside tables, not including the vendors/manufacturers who are under the big tent or setup on the ranges with demos.
I expect everything to run as it has in the past, because I haven't made any changes to the schedule or events.
As always, you may show up starting at 6:30 to setup. The show opens to the public at 9 am and ends at 4 pm. During that time, please be at your tables or have a representative there to work with the public in attendance. I will start the raffle item giveaways at 11:00am and they will happen every hour until 3:30 when we will give away the last/largest raffle items and the door prize.
The Straight Shooters 4H club will have breakfast and lunch items and snacks and drinks available for donations again this year.
I have attached the show flyer for your reference (you have to get it from the show website linked above). There are quite a few hotels in the area; if you need help finding a good one, please let me know.
Two final notes, safety glasses are required to be worn outside on the ranges, and all rifles out of boxes must have their triggers zip-tied in the building.
Looking forward to seeing all of you again (and the new folks too) after a 2-year hiatus,
Jeff Cloud
Texas Airgun Show Director
(817) 360-0611
texasairgunshow@gmail.com
Remember, too, that BB Pelletier will have three tables with incredible bargains at this show. If you don't believe me, read my report on the 2021 Arkansas airgun show where I practically gave stuff away. Now, many people have contacted me privately, asking about what I'm selling and for how much. After this show is over I may publish a list of what remains, though I bet it won't be much!
Now today's report
Today we begin testing the Gamo Arrow precharged pneumatic (PCP) PELLET rifle! Why did I capitalize pellet? Because the name Arrow made stupid BB think it was an arrow launcher! Gamo didn't attend the SHOT Show this year, so this is my first look at this rifle. But I did watch Tyler Patner's Insyder review on You Tube (scroll to the bottom of the webpage to see the video) and I was very impressed with what I saw.
Repeater
The Arrow comes in both .177 and .22 calibers and BB is testing the .177. Tyler looked at the .22, so here's your chance to get the other side. Both rifles are 10-shot repeaters that use rotary magazines and the mag does not protrude above the receiver. That's a real plus!
Great price!
As this report is published the Arrow lists for $220 out the door. It has lots of features that make it a price point PCP and even beyond and I think Tyler is correct that the Arrow is poised to compete with the Diana Stormrider and the Beeman Chief II Synthetic that's ten dollars cheaper. Actually, if we expand the price just a little there are several PCPs that are competing in this range, but I'm not going to compare and contrast them for you. I'm just going to test the Arrow.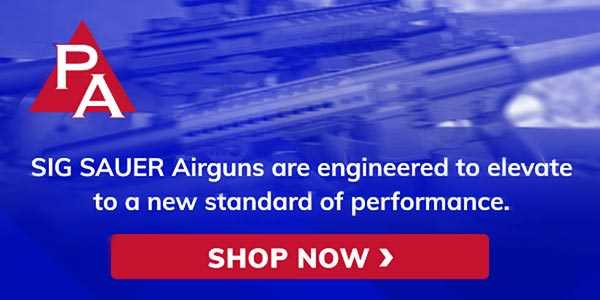 What you get
The Arrow gives you:
10 shot repeater
easy ambidextrous cocking
quiet operation
plenty of shots
light weight
compact size
great price
adjustable open sights
an adjustable custom action trigger (CAT)
made in Spain
The rifle
Okay, I will now go through that list and describe the rifle to you. You already know that it's a repeater and you know the low price. How do they do that? Well, the exterior of the rifle seems to be two pieces of plastic joined together — as Tyler put it — a sort of clamshell. I know it's plastic, but Gamo had to do things to keep the price down. I will agree with Tyler that the surface of the plastic feels good — smooth and well-contoured.
Repeater
As I said the Arrow comes with one 10-shot rotary magazine in either .177 or .22 caliber. It's the same magazine as is used by the Gamo Swarm.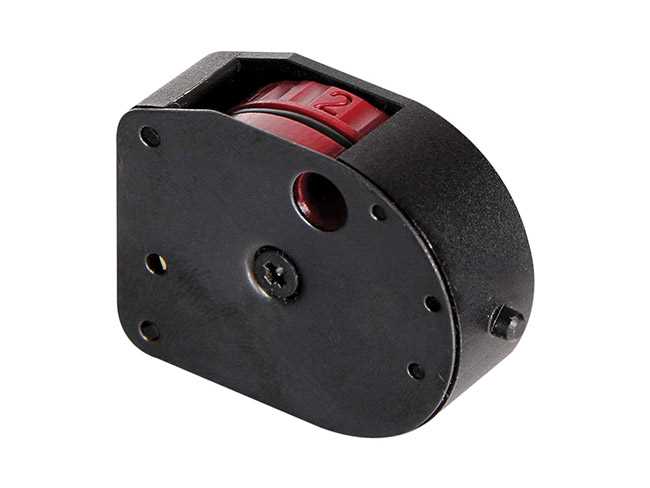 Gamo Arrow magazine is the same one the Swarm uses.
It's very light — as in 5 pounds, even. Of course that is without a scope, but folks, you don't NEED a scope because Gamo put adjustable open sights on the Arrow. Wow! It's like they are listening!
The rifle requires you to fill the 125cc reservoir to 232 bar or 3365 psi. That's not so high that it robs all your air if you use a carbon fiber tank and Gamo says it gives you up to 60 shots. Naturally I will test that for you.
Ambidextrous
Gamo has gone to great lengths to make the Arrow ambidextrous. If you like holding your thumb straight up instead of wrapping around the pistol grip there is a thumb-shaped depression on either side under the cocking handle. Even the cocking handle is shaped for easy operation. Just depress it lightly and pull back — it's extremely easy!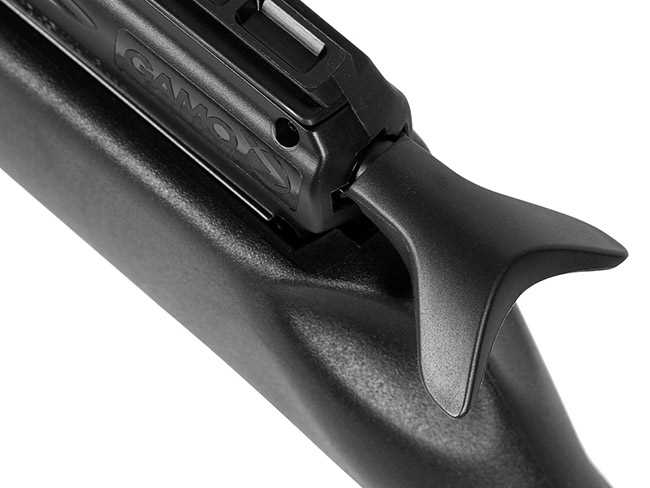 Press down on the cocking handle and pull back — lightly! Notice the thumb depression on the top left side of the pistol grip.
Quiet operation
There is a baffled silencer on the end of the shrouded barrel and it's one that can't be removed because it's molded in. I will record the discharge sound for you.

The Arrow has a baffled silencer.
Adjustable trigger
BOTH the first stage and the second stage of the trigger are adjustable. Wow! We don't see that every day. Once again, Gamo has listened.
Sights
Both the front and rear sights are fiberoptic. I have to say that the rear sight dots are quite bright. And kudos to Gamo for the adjustability. Golly — it's as though they are really listening!
Yes, the Arrow can be scoped and I will do that on the test rifle. Remembering the gun is made of plastic, the 11 mm scope rail is, of course, plastic. I will discuss mounting scope rings to a plastic rail when we get there.
Size and weight
You already know the Arrow only weighs 5 pounds. The overall length is 39 inches, yet they somehow managed to squeeze in a 20-inch barrel. Wow, again. It's almost as though someone in Spain is aware of how a pneumatic airgun works!
I know I'm being silly, but I want to point these things out, because they are the exact things yours truly would be telling them if they asked me. Remember when Sig brought out the ASP20? They showcased it at the SHOT Show and I told them almost the same things when I first saw it. Of course they had Ed Schultz guiding them; so somewhere in Spain there must be an Edwardo Garcia with his (or her?) hand on the tiller.
Yes, Spain. Because that is where this one is made. Who says if you want cheap you have to go to China?
Regulated?
No, the Arrow is not regulated. That means the velocity spread might be a little greater than if it was reglated, but we shall see when we get there.
What does BB think?
Well, to be honest BB watched Tyler's report before looking at the rifle and BB has to agree with what Tyler said. The Arrow seems like an ideal backyard PCP for those in suburbia. The power of the .22 he tested was around 16 foot pounds. If we get lucky this .177 might get close to 14 foot pounds. That's just a guess at this point. At that power level it should be good for pests up to rat and pigeon size and game like squirrels, etc.
It's light enough to carry and from what I saw in Tyler's test, accurate enough for reasonable distances out to 50 yards. Guys and gals — that's a lot of value for the price.
Summary
I think we have another good one here. The price is great, the features are thought out well and if what I saw in Tyler's testing holds for this one, we have a world beater on our hands. We shall see.