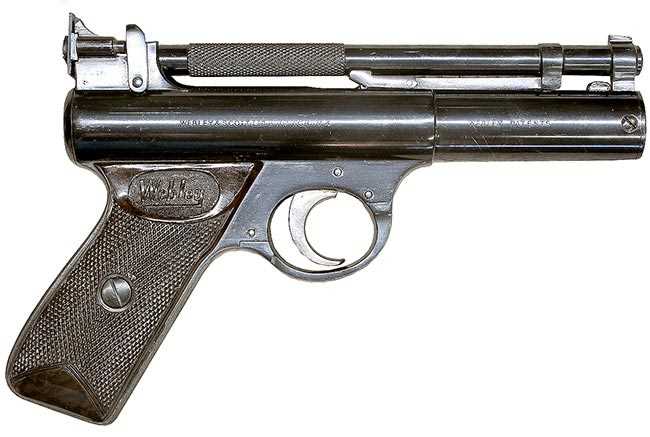 My new/old Webley Senior slant grip pellet pistol.
This report covers:
Always watch
Buy it now
The condition
Better than shown
History
Cocking
Power
Bore size
People love them
Summary
Texas Airgun Show
Boy, do I have one for you today! This one is a weekender for sure!
Always watch
I have set up searches on eBay for certain airguns and they send me notifications when those items come up. One of them is for Webley pistols. Usually the pistols that come up are worn or rusted and the starting price is always too high. The seller sets the auction up for 14 days and then crazy people bid on them to the last moment. I wouldn't touch those pistols with your arm — let alone mine! But every once in awhile a real bargain (or what looks like one) comes along. Such was the case several weeks ago when what looked like a nice clean .22 caliber post-World War II Webley Senior was listed.
Buy it now
Better yet, this pistol was listed with a Buy it Now price instead of an auction. In other words, the seller wants a specific amount of money for his treasure and that's it — no auction. And the price was reasonable. It was more than $100 less than what the junky worn out Seniors start at, before the crazy people start bidding on them.
One more thing to check is the shipping price. I have seen $20 items listed with $100 shipping costs, when all they need is a postal envelope. This one was not like that. The shipping was very reasonable.
The condition
The next thing to do is to look at the condition. It's usually given as a combination of a word description and pictures. Well the description said this pistol came from a grandfather's estate and that he was a collector. There were other airguns shown including a like new in the box Crosman 38T that was listed for less than $100.
The pictures looked great, but one of them absolutely sold me. It probably wouldn't mean much to most airgunners, but I have owned numerous Webley air pistols and I have probably seen a thousand of them. This is the first one I ever saw that did not have damage to the slot in the threaded breech cap at the rear of the pistol. Many of those end caps have a warning that says Do Not Remove, but that doesn't stop Bubba from trying. This cap is perfect. It also doesn't have the warning, which places the manufacturing date of the cap as shortly after WW II. (I thought the slot in the end cap was perfect until I saw this photo. I now see metal that's been displaced.)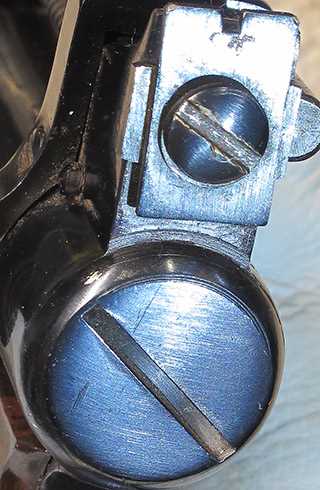 The photo that sold the gun. This is the only Webley pistol end cap I have seen with a screw slot that wasn't buggered. However, in this enlargement I see slight metal displacement on one side of the slot. So even this one has been touched in an impure way.
The barrel knurling at the rear that's used for a handhold was decreased to 2-inches long in September of 1949, and that's the length of the knurling on my barrel. The area code 4 after the town name Birmingham was stopped in December of 1955, so without disassembly I know this pistol was made between September of 1949 and December of 1955. The plain end cap is from just after the war, but Webley made these up in batches and this one was applied years later. These guns have no serial numbers, just lot numbers, so that's as close to the manufacturing date as I can get at this time.


The 4 after Birmingham denotes manufacture before the end of December, 1955.
Better than shown
When I unpacked the pistol I was pleased to see it was even better than the web pictures showed. Wow, I couldn't wait to shoot it. This one is a .22 so I loaded a pellet and noted that it bounced off my duct seal pellet trap in my office. Oh, oh! It wasn't very powerful. Maybe it needs a new piston seal.
But wait — these pistols don't have conventional piston seals. They have a piston ring made from beryllium copper. This one has to either be broken or missing for the pistol to loose this much power. Okay, let's check the breech seal.
Well, the breech seal looks good. It's nice and sharp. In fact it's a little too sharp. These breech seals are made of fiber and should look mushroomed and crumbly after they are used. This one is razor sharp. And deep! In fact, it's a little too deep. In fact there is no seal in the breech, whatsoever! Well, that will certainly make the pistol shoot slow!
So I went online to T.W. Chambers and ordered a new breech seal. I have ordered many parts from them and they always satisfy me.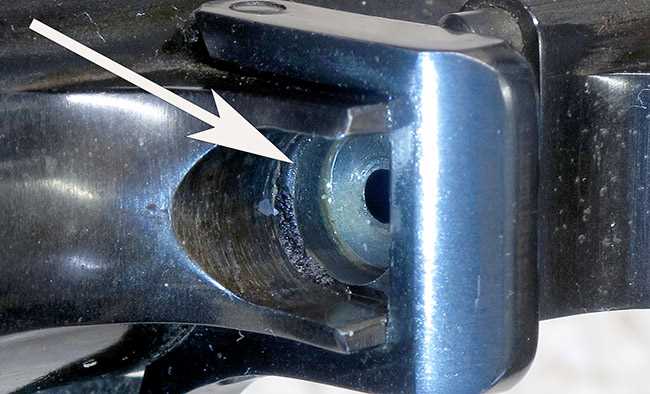 Webley breech seals don't look sharp and crisp like this And they aren't that deep.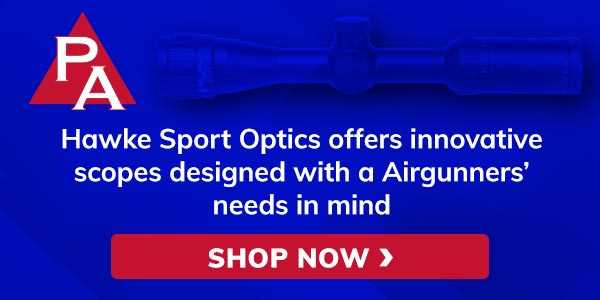 History
I have the book Webley Air Pistols — their History and Development by Gordon Bruce. There is a large section on the Senior, from its inception in 1930 to the end in 1964. The earliest version was the so-called straight grip model that went from 1930 to 1935 The new model Senior is the one we call the slant grip and it started in 1935 and lasted to the end, with a pause for World War II.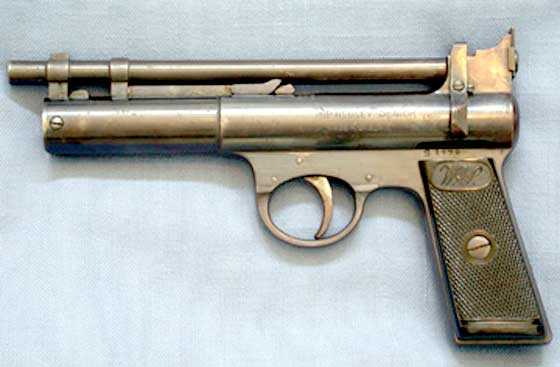 This was my straight grip Webley Senior. Reader RidgeRunner owns it now.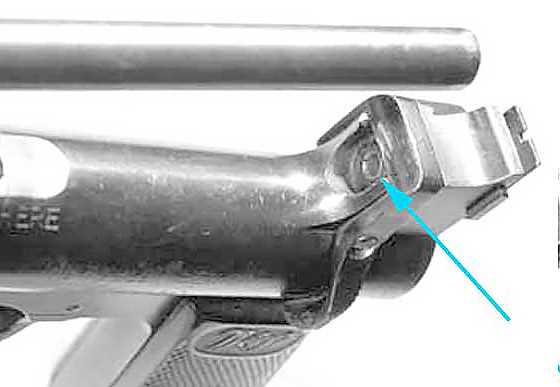 This is the breech seal of my former straight grip Senior. As you can see, there are no walls. The seal fills them.
Cocking
To cock the pistol the barrel is lifted up and rotated forward. It's a very odd way of cocking that any Beeman P1 owner will be familiar with. The way it cocks means that the piston comes back at the shooter when the pistol is fired. You might think that gives the sensation of recoil, but I don't find that it does.
One unique feature of the Senior was how far forward the barrel rotates when the pistol is cocked. Bruce says that it rotates 180 degrees forward and he shows a picture of that in his book. My straight grip went to 180 degrees, but when I took my hand off the barrel it relaxed back to a little less. This huge movement was made possible by a special cocking link that the new model Senior also has. And of course it increases the piston stroke which translates to power.


The Webley Senior straight grip barrel rotates 180 degrees forward when cocked, but when you relax your hold it comes back to this.


The new model Webley pistol is cocked.
Power
The Senior is not a powerful spring-piston air pistol. In .22 caliber I am expecting to shoot pellets somewhere in the 300 f.p.s. range. After I replaced the breech seal in my .22-caliber straight grip model it averaged 357 f.p.s. with RWS Hobbys. I would think that the new model I'm testing for you will be somewhere close to that, once I get it sealed.
If you want power you need to look at the later Webley Hurricane. Mine is .177 so a direct comparison is not possible, but Air Arms Falcon pellets averaged 466 f.p.s. That is closing in on the Beeman P1.
Bore size
This is something you have to experience to believe. Webley bores are on the large side — at least in .22 caliber. Most pellets fall in deeply. Only the oversized .22 caliber Eley Wasp seems to fit well. So, many years ago I bought what I hope is a lifetime supply because that pellet (the 5.56 mm Eley Wasp) is no longer made. I'll show you when I test velocity, because I will test it both before and after the breech seal is installed.
People love them
There is something about Webley air pistols that people love. It's the fact that they are made of steel and feel like firearms. When you hold one — especially a slant grip Senior that sits in your hand like a Luger, you know you have something. There's no denying when you hold one in your hand that it's the real deal.
Are they accurate? Not that much. I would love to see 10 shots in a one-inch group at 10 meters. Or even 5 shots. But it isn't likely. We shall see.
Summary
Well, you get to look over my shoulder as I reseal this Senior and see where it takes me. It should be fun!
Texas Airgun Show
Don't forget the Texas Airgun Show is coming up on Saturday, September 24. Come see me and my tables full of potlatch airguns!