by Tom Gaylord
Writing as B.B. Pelletier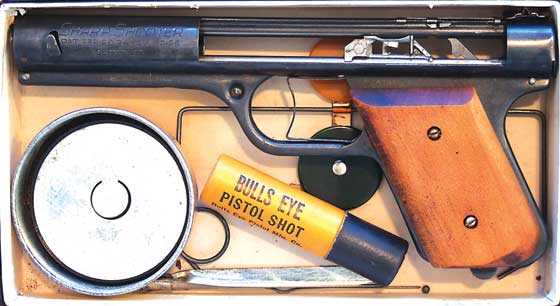 The Sharpshooter catapult pistol was made from the early 1930s until the 1980s by as many as 5 different companies. This one was made in the early 1940s.
This report covers:
History
Operation
How much value can be put into an inexpensive gun?
What is this about?
More power!
Next
Summary
Today I begin a report that I started five years ago and never finished. That was before we had the historical section of the blog. I planned to test many things about this line of unique catapult pistols and even bought the rubber bands for the extended test, but somehow it got away from me. Well, now I'm going to try it again.
You may remember several months ago I reviewed the Daisy Targeteer .118-caliber "BB" gun. You may not recall it, but when we got to the accuracy test that pistol failed miserably. These Sharpshooter pistols shoot the same small .118-caliber shot as the Targeteer, but they are powered by rubber bands and are generally much more reliable — at least the older ones are. They are still weak airguns, but I think we can have some fun with them anyhow. read more