by Tom Gaylord
Writing as B.B. Pelletier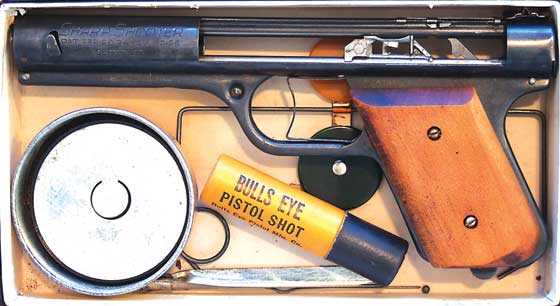 The Sharpshooter catapult pistol was made from the early 1930s until the 1980s by as many as 5 different companies. This one was made in the early 1940s.
This report covers:
Bulls Eye pistol
Sharpshooter velocity
The launcher
Velocity
One band
Chronograph problems
Discharge sound
Trigger pull
Accuracy
Next time
Before we begin, I want to share an email I received last Friday. It says a lot about the experience of attending the Pyramyd Air Cup.
"Hi Tom, 
Meeting you in person for me was one of the highlights of the Pyramid Air Cup 2018. I'm the tall guy shooting any tournament for the first time. I shot a TX200 and had questions about a second air rifle that weekend. We spoke about the Sig P938 and you recommended a Sig 365 you were testing. I wanted to give you my perspective of what I got out my first shoot and ask you to consider sharing my thoughts. Not the shoot but as a newcomer into competition. read more