by Tom Gaylord
Writing as B.B. Pelletier
This report covers:
Maintenence
Success!
Lead shot is not consistent
Sorting shot
Loading technique
BB rollout
Velocity
Accuracy testing
Cocking effort
Trigger pull
Summary
Maintenence
The last time I looked at the Targeteer I lubricated it with a lot of Crosman Pellgunoil. How many drops, you ask? Maybe 50. It's still oily a week later, which a BB gun needs to be, to work its best.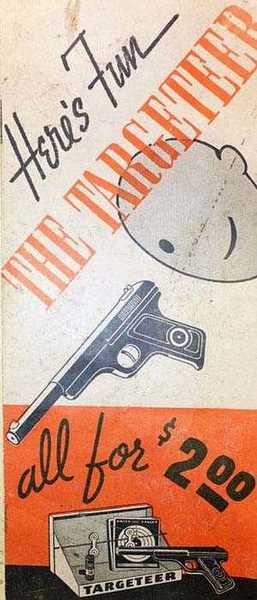 I just thought you would like to see the cover of the manual.
Success!
And they all said — whaaaat?
A couple readers knew I was having problems getting either of my two Daisy Targeteer pistols to shoot. I was working on the problem, but last week I was stumped. Fortunately this ain't my first rodeo and I finally remembered what I used to do.
Lead shot is not consistent
We know that lead birdshot is not of consistent size, regardless of how it is made. That had to be the problem. When I looked through the barrel I saw nothing. There should have been light shining through, so the barrel was plugged. I found something to ram through the barrel — turned out to be one of those thin plastic spray tubes that come with many aerosol cans. Remember — this Targeteer is .12 caliber, not .177! read more