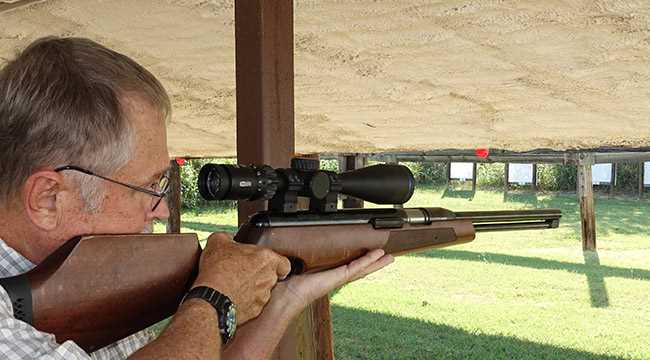 Eddie called Pyramyd AIR and salesperson Ruth Kass put him in touch with me. I took my TX200 Mark III for him to try. I hope he becomes a reader of this blog!
This report covers:
Came from all over
The nature of the show
Outside
Starboard Rower
Larry Hannusch
Shoot a Girardoni?
Prizes
Door Prize
What about BB's table?
Summary
This year's Texas Airgun Show was the biggest and best one ever run. The day was pleasant, by which I mean that all Texans complained that it was too hot. If they aren't doing that they are complaining about the cold. Whatever the weather, Texans complain.
Came from all over
People came from North Carolina, Ohio, Arizona and perhaps from as far as Canada. The majority of the dealers were set up by 8 a.m. and the crowd started arriving at 9. This was the most organized airgun show I have seen, with guides to help with parking so nobody felt rushed. The number of volunteers was large and many of them were airgunners themselves. So it felt like the show started a long time before the public began coming in.
The Arlington Sportsman's Club bent over backwards to give us a great show and show organizer, Jeff Cloud, went beyond the call of duty to make it a success.
The nature of the show
Every airgun show has a unique nature. This one had a couple. The first that I notice was a dichotomy of pricing. Some airguns were priced very low while others were clear out of sight. I was surprised when I saw the low prices, because at other shows that isn't the norm. I thought I would be the only seller with great prices, but that wasn't the case at all. Right across the aisle from me was a table with some wonderful low prices. And, just to be honest, not all of my prices were that great, either. More on that in a bit.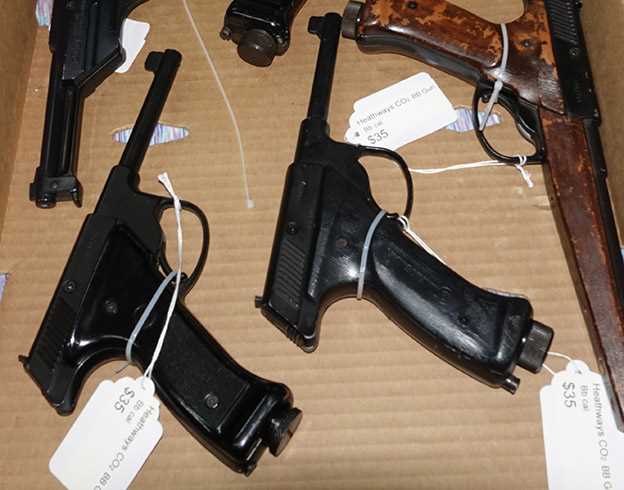 All sorts of Plainsman BB pistols for $35 a pop!
Another facet of this show was the presence of oodles of FWB 124s! Yep — if you wanted a 124, this was the show to find them. The reasonable ones ranged from $295 to $325 for the 124 Sport (the one without checkering) and a Deluxe for $350. Those are very decent prices! There was one Deluxe with a scope for $850, but that was the only one priced that high.


There were several nice FWB 124s at this show for very reasonable prices. I finally talked one of our readers into getting this one at the end of the show.
I had to restrain myself because I am a sap for 124s. Just like Diana 27s, I can't leave them alone. But as luck would have it, I came home with one, anyway, and I didn't buy it. No — I didn't steal it! A man named Glenn walked into the show with a nice 124 Deluxe and asked me if there was anyone at the show who worked on them. I sent him around the room with a few suggestions but when he couldn't find anyone he asked me who was the best person in the Dallas Fort Worth area to work on one.
People offered him money for his rifle but he told me he just wanted to shoot it. Glenn is a firearm shooter who wanted to see what our side of the street looked like. I talked to him many times over the period of an hour and finally I broke down and told him I would reseal it for him.
It looks like his rifle has the original piston seal that dry rots over time. I know I have reported on a lot of 124s over the years, but Glenn needed help and I thought some of you new readers might like to look inside one. I told him it would take to the end of October, but I hope to get it done before then. It doesn't launch a pellet right now, so the seal will be first, then the velocity test and finally a short accuracy test.
Outside
AirForce Airguns was set up in a large tent right outside the building and they had stacks of guns to sell.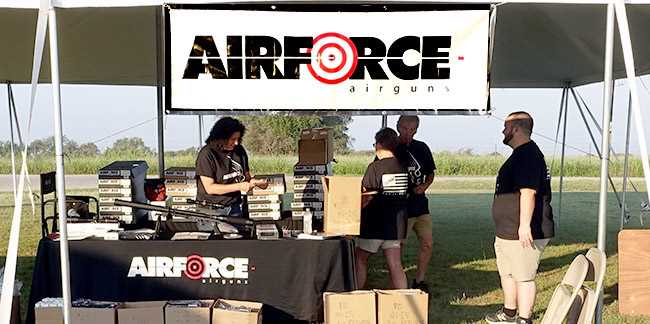 AirForce was on deck with plenty of rifles and related items for sale.
Right next to the AirForce booth was the Firebird target booth. This is an airgun target that explodes, but unlike Tannerite does not have to be mixed. They gave a demonstration to the public and the boom was deafening. They also landed their helicopter and gave a few rides over the ranges.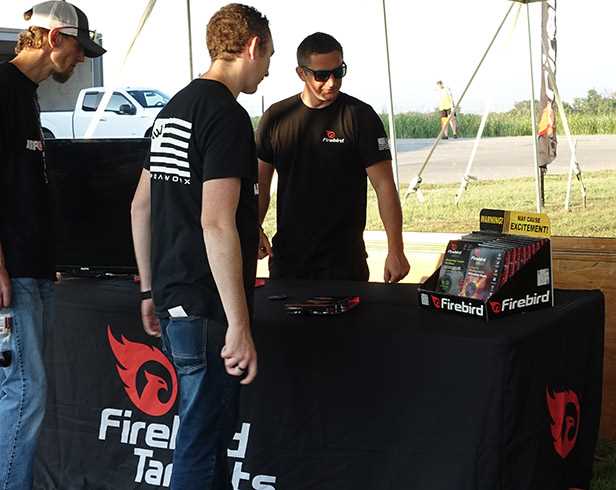 Firebird targets were showing their airgun targets and demonstrating them to the public.
Some dealers reserved too late for the indoor tables and were located on the porch outside the hall. I saw several incredible things out there, including some early multi-pumps that I haven't seen at a show in quite some time.


When was the last time you saw an Apache west of the Mississippi? And just above it is a Rochester. These are somewhat common in the east but not at all common in Texas.
On that same table was something I have never seen — a leather holster for a Hy Score 800 pistol.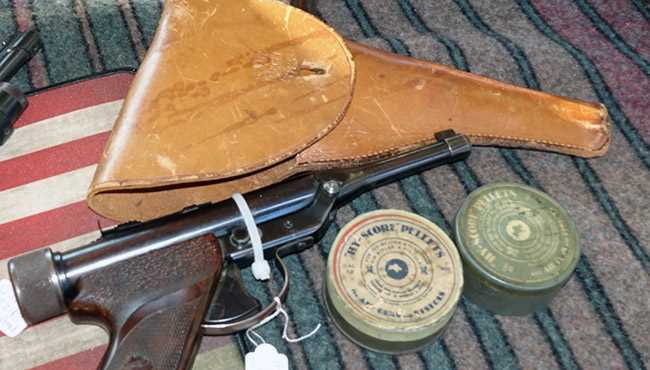 A Hy Score 800 pistol with vintage pellets and a leather holster.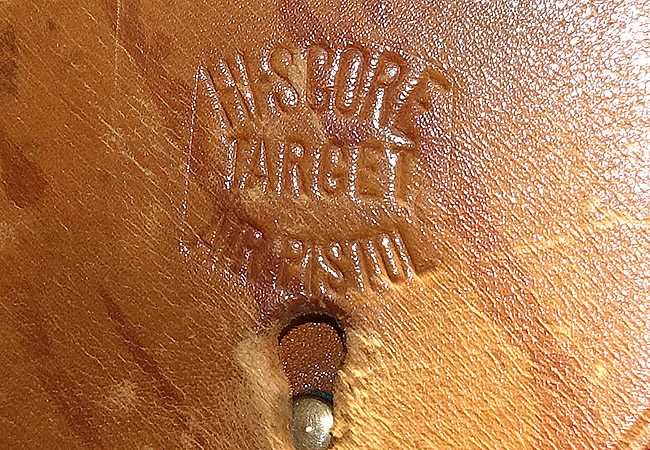 Yes, it really is a Hi Score pistol holster.
On this same table I saw a Daisy Number 40 with the original bayonet. The BB gun was very clean looking and to see an original bayonet and not a reproduction is something special. The bayonet is worth more than the gun.


A clean Daisy Number 40 has the original bayonet. The rubber tip is missing. Yes, that is a Daisy 21 double barrel below.
Starboard Rower
Reader Starboard Rower brought a pristine VZ 35 to the show — not to sell but to show to interested parties, including BB. It's the cleanest 35 I have ever seen.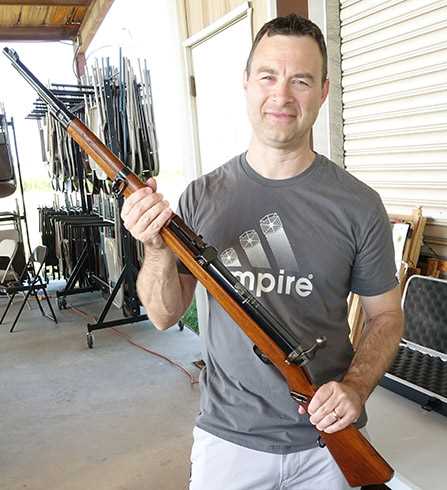 Reader Starboard Rower proudly shows off his pristine VZ 35.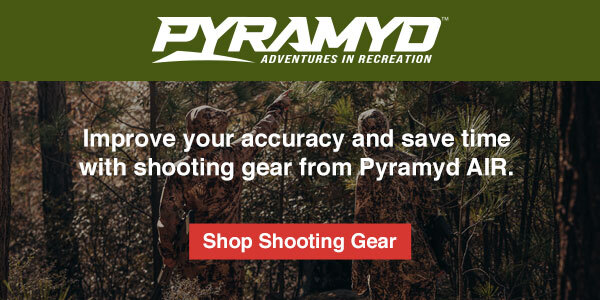 Larry Hannusch
Of all the guys in the airgun world, Larry Hannusch is at the top. I always said that if he collected Sheridan Supergrades he would own a left-handed one in .22 caliber, plus the drawings for them and the spare parts to build five more. So at this show Larry showed off his Swiss K31 airgun trainer. Now most guys including BB would show you a device that slips into a K31. He had one of those but he also had an entire K31 that a gunsmith had converted into a dedicated trainer. He says more exist, but this is the only one he has seen.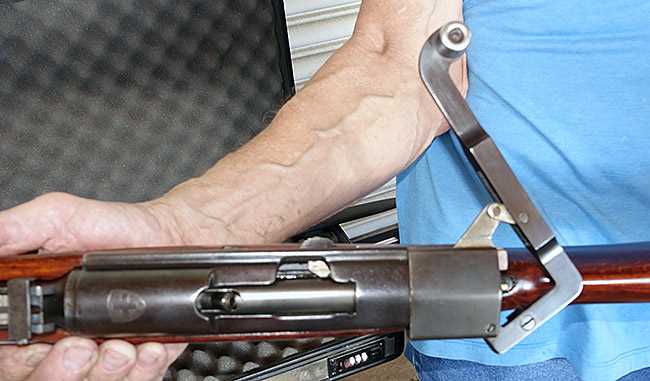 Pull back on the sidelever bolt handle of this trainer and a small breech pops up for loading the pellet. If you know your K31 trainers I bet you haven't seen this one!
Shoot a Girardoni?
Then Larry asks if we want to shoot a civilian copy of a Girardoni. Suddenly I found myself standing with 10 other guys who materialized out of nowhere. This rifle is one of the knockoffs that were made by former Girardoni workers after the Austrian military contract ran out. It's .47 caliber.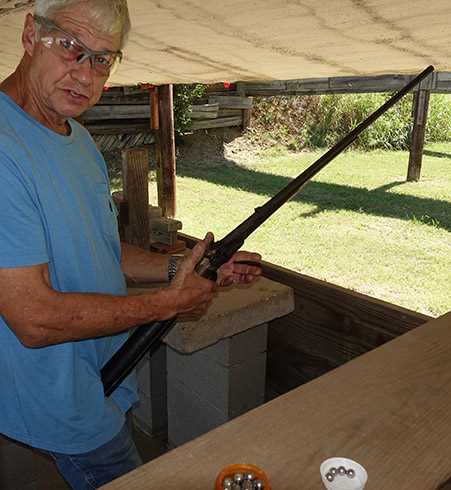 While the public was shooting the Texan and other big bore airguns, BB and several other guys were shooting a vintage Girardoni knockoff from around 1800-1810.
Prizes
Another feature of this show is huge number of the raffle prizes they give away. Every hour on the half-hour Jeff Cloud draws for numerous raffle prizes donated by show sponsors like AirForce, Pyramyd AIR, Umarex, Airguns of Arizona and others. It's something that keeps people on their toes.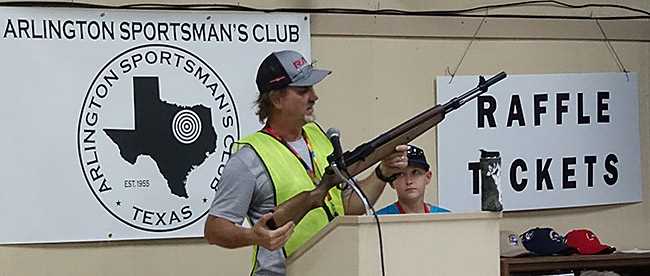 After lunch Jeff Cloud gave out an M1A air rifle to one lucky raffle winner. Courtesy of Pyramyd AIR.
Another lucky winner won an Umarex Gauntlet 2. These are the kind of prizes that keep people at the show!
Door Prize
The raffle tickets you had to buy but every attendee and dealer got a ticket for the door prize. This year it was a scoped .457 TexanSS big bore rifle plus ammo to go with it.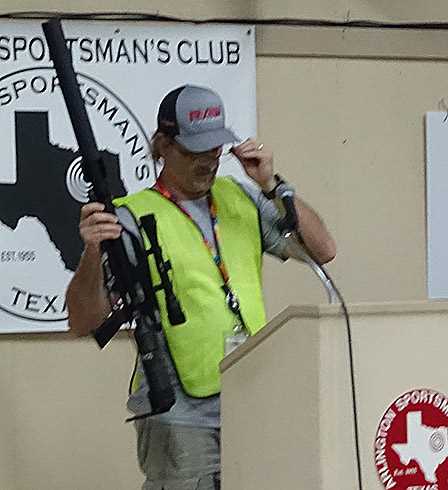 The door prize was a scoped .457 TexanSS with ammo.
What about BB's table?
I promised you guys I would list my airguns that remained, if any after the show. I won't bore you with the mundane stuff. Sorry, RidgeRunner, the two IZH 61s sold within 30 minutes of me setting up. HOWEVER:
At the end of the show I was amazed to see that my IZH 46 (not an M, but it was resealed two years ago) was still on my table. I priced it at $400 and thought it was a bargain, based on what I see online. I see an M was recently priced at $675, and my pistol shoots within 30 f.p.s. of the M.
My IZH 532 target rifle priced at $450 lasted all the show and went home with me, as well. Where yah gonna find another one — with the serial-numbered box, plus the weights for the barrel?
My Webley Junior, priced at $200, also came home. The one online right now that is just for parts is priced at $250 and mine works. Well, I'm keeping it for now and I will work on it, because it does shoot weakly.
I over-priced the heck out of my Daisy 853. I remember a few years back when used ones fetched $300. So I put $175 on mine that has been resealed. However I see on eBay where people are asking $100.
I priced a nice Winchester 353 (Diana model 5) pistol at $75. I thought that one would sell for sure, because non-Winchesters sell for $125 online. Nope!
I put the Haenel 312 out for $250 which is less than I paid for it. The only comment I got was that it's a little heavy for a target rifle. Huh?
And I put out my Sheridan Supergrade — just to test the crowd. I priced it at $1,800, which is peanuts compared to the one that sold recently on eBay for $2,500. Mine is earlier than that one and I believe it's nicer. It sure is more powerful. I had a little interest on that one from some guys who knew what a Supergrade is, but she is still mine.
Summary
The guys who attended know what a great show this was. Maybe "they" didn't have that left-handed Tasmanian Blamaflitch you've been searching for, but there was an awful lot to like at this show!