Umarex Gauntlet .30 PCP pellet rifle: Part 2
This report covers:
Hold air?
What a day
Labradar chronograph?
Did BB ever actually shoot the .30 Gaunltlet?
JSB Exact 50.15-grain pellets
JSB Exact 44.75-grain pellets
Seven more JSB Exact 50.15-grain pellets
Seven more JSB Exact 44.75-grain pellets
What's happening
Shot count
Discussion
Summary
Today I report on the velocity of the Gauntlet .30 caliber precharged pneumatic air rifle. This test took a long time to happen because I had to test the rifle at my gun range.
Hold air?
You may remember in Part One that the .30 Gauntlet leaked down at the range last time. So I brought it home and put some silicone chamber oil in the fill nipple before filling it again. This time it held air as follows — overnight it held without any telltale leakage. Four days later it was down from 4,350 psi to 3,000 psi. Five days after that (a total of nine days) it was down to 2,500 psi. And today at the range (a total of 18 days) it had dropped to 1,900 psi. That's a slow leak but I think it is exacerbated by the high initial fill pressure.
I topped it off at the range, but of course my carbon fiber tank that had filled it 18 days earlier was now down to 4,200 psi because the initial fill had drained it.
What a day!
I had a friend at the range and I was helping him get his new 22-250 rifle sighted in which took time. By the time I got to testing the Gauntlet, it was raining and within minutes we were in a downpour. The Shooting Chrony was out in the rain because the skyscreens had to see the sky and the range roof extended about fifteen feet past the firing line. So I had to use binoculars to read the chronograph and the rain was fogging them up. I switched to a different pair of binos that worked better. I didn't have my Meopta binos at the range but I always carry a small pair in my range bag and another small pair in my truck. These are the El Cheapo mini binos that are almost giveaways, so I have them in many places.
By the time I got the better pair focused on the readout that was about 15 feet away, the raindrops had bolluxed up the screen, and I had to call a cold range to go forward to wipe off the plastic so I could read the numbers. What a day!
I used to have an Alpha Master Shooting Chrony that had a readout with a 15-foot cord. I could read it right at my shooting table while the skyscreeens were 15 feet away. But that one went belly up and the company no longer exists, so BB has to do with a regular Alpha model that he has to read wherever it is. Indoors it's not a problem, but at this range, it is.
Labradar chronograph?
Ironically, reader Vana2 had communicated with me the day before about a Labradar chronograph that sits on your shooting bench and records velocities by doppler radar. Goody — except for two important things. First, they cost $600 and second they are sold out! BB didn't want to spend that kind of money at this time and now he couldn't if he wanted to. Pookey!
Did BB ever actually shoot the .30 Gaunltlet?
Yes, he did. In a heroic display of not caring what was transpiring, BB did test two .30 caliber pellets at the range. Here are the results.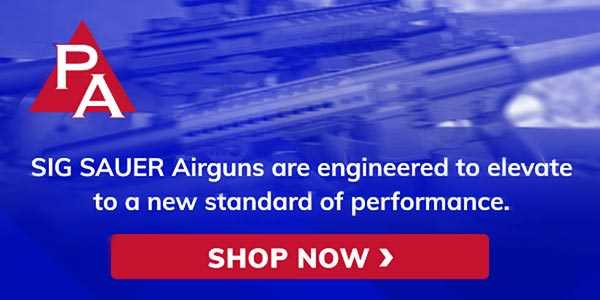 JSB Exact 50.15-grain pellets
Give the conditions of the day that were steadily growing worse, BB loaded a 7-round magazine of JSB Exact 50.15-grain pellets and shot them across the skyscreens. Here is every shot.
Shot………..Velocity
1………………..85
2………………..did not register
3………………..820
4………………..847
5………………..846
6………………..DNR
7………………..836
Remember, BB had to estimate where the skyscreens were from 15 feet away and he didn't want to hit the chronograph. The average of the five shots that were recorded was 840 f.p.s. At that velocity this pellet develops 79.59 foot-pounds at 15 feet from the muzzle. That's perhaps 82 foot pounds at the muzzle. The spread was 32 f.p.s.
JSB Exact 44.75-grain pellets
Next to be tried were seven JSB Exact 44.75-grain pellets. They delivered this:
Shot………..Velocity
1………………..952
2………………..953
3………………..did not register
4………………..901
5………………..900
6………………..899
7………………..DNR
The average for this string was 921 f.p.s. At that speed this pellet generates 84.31 foot-pounds 15 feet from the muzzle. That's probably 86 foot-pounds at the muzzle
By this time the rain was a deluge and I left the range. But the next day I tried to shoot seven 44.75-grain Predator Polymag pellets through the chronograph in my garage. I did it at 4 in the morning so as not to disturb anyone. I say I tried because Predator Polymags are slightly too long to fit into the rotary magazine. So instead I loaded seven more JSB Exact 50.15-grain pellets, and look what happened.
And by the way, the pressure remaining in the reservoir at this point was 3,000 psi. That's according to the onboard pressure gauge.
Seven more JSB Exact 50.15-grain pellets
Shot………..Velocity
1………………..966
2………………..963
3………………..856
4………………..848
5………………..841
6………………..830
7………………..838
I thought that I had somehow mixed in a couple 44.75-grain pellets into this tin, but I don't think that was the case. I'll show you why in a moment.
The "average" for this string of seven is 877 f.p.s. at the muzzle. At that speed the average muzzle energy is 86 foot pounds at the muzzle. And at the highest velocity the energy is 103.94 foot-pounds at the muzzle.
Seven more JSB Exact 44.75-grain pellets
Now I'll show you why I think that last set were all the 50-grain pellets. Look at this string.
Shot………..Velocity
1………………..859
2………………..996
3………………..858
4………………..849
5………………..856
6………………..836
7………………..829
I know these were all 44.75-grain pellets because I checked them. They look different on the outside, despite looking the same on the cover of the tin.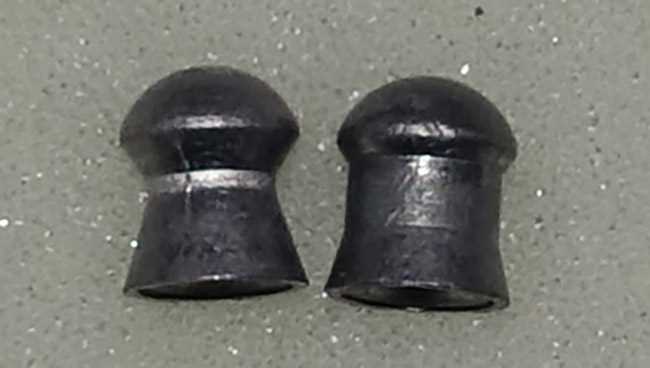 The two JSB pellets look different on the outside. The 50-grainer is on the right.
The "average" for this string is 869 f.p.s. The energy at that speed is 75.06 foot pounds. The energy for that 996 f.p.s. shot is 98.6 foot pounds. The spread for this string is 167 f.p.s. What's happening?
What's happening
I think there are two things at work here. First, I think the rifle is slowly breaking in before our eyes. Second, I think the valve takes time to reset. At least that's what it looks like to me.
Shot count
The onboard pressure had dropped to 2,000 psi after this last string, and the velocity had dropped quite low for the lighter pellet, so I'm calling it. More shots are no doubt possible, but with the broad velocity range (996 down to 829 f.p.s.) I think accuracy at any distance is iffy. Call that 28 shots or four magazines.
Discussion
I think the accuracy test will be interesting. This rifle drains a 4500 psi carbon fiber tank on the first fill, which has to be taken into account. You do get a lot of shots at between 75 and 100 foot-pounds, so perhaps the use of air isn't an issue. I plan to ponder how I will test for accuracy, since the rifle is so all over the place in velocity. I'm thinking shooting all first shots, by pausing for five minutes between shots. We shall see.
Summary
The .30 caliber Gauntlet is a repeating big bore air rifle, but it has less energy than a .25-caliber Escape from Air Force. The Gauntlet is a huge air rifle, so hunters need to take that into account. I don't know yet what to think, but the accuracy test will hopefully push me over the line, one way or the other.
Tags In
Tom Gaylord is known as The Godfather of Airguns™ and has been an airgunner for over a half-century, but it was the 
Beeman
 company in the 1970s that awoke a serious interest in airguns. Until then, all he knew were the inexpensive American airguns. Through the pages of the Beeman catalog, he learned about adult airguns for the first time. In 1994, Tom started
The Airgun Letter
 with his wife, Edith. This monthly newsletter was designed to bring serious reports about airguns to the American public. The newsletter and
Airgun Revue
, a sister magazine about collectible airguns, was published from 1994 until 2002, when Tom started
Airgun Illustrated
-- the first American newsstand magazine about airguns. Tom worked for three years as technical director at
AirForce Airguns
, the makers of the 
Talon, Condor, and Escape
 precharged air rifles. Today, he writes about airguns and firearms for various publications and websites. He also makes videos, and you'll find short clips embedded in some of his artices on Pyramyd Air's website. Tom is a consultant to Pyramyd Air and writes under the name of B.B. Pelletier.