The Crosman 160 was a pellet rifle that blossomed when the pellets it shot became better.
This report covers:
You had to be there!
It came down to pellets
What about BBs?
The M16
Where technology fails
Last airgun
What am I saying?
Summary
Today we are going to look at how technology has advanced and bettered our hobby.
You had to be there!
I remember in the mid-1990s when I had just started The Airgun Letter. I had purchased a Crosman 160 that was found among a couple hundred in an U.S. Air Force depot. It was unopened since it was made and sold to the Air Force in the 1960s. They had been contemplating a marksmanship program and bought several hundred of these 160s from Crosman for that program. I might have been the first person to open the box since it was sealed at the factory. That's a picture of the 160 in its target configuration, above. All that one lacks are the sling swivels and leather sling that came with mine. Listen to what I said about this rifle in 2012.
The Crosman 160 and 167 (.22 caliber and .177 caliber, respectively) was first produced in 1955 and lasted until 1972. There were several variations of the basic model over the years, but most airgunners rank them by their triggers. There was a very simple trigger in the first variation from 1955 through 1959, then Crosman put out a very special variation with a super-adjustable trigger in the guns made after 1959.
At some time in the 1960s, the Air Force bought a large number of 160s that were fitted with a Crosman S331 peep sight (made by Mossberg) and sling swivels that held a one-inch leather sling. As chance would have it, several hundred of these rifles were discovered unused in a government warehouse in Maryland or Virginia in the 1990s, and Edith and I bought one. It was brand new and still contained the original Crosman CO2 cartridges that had been used to test it at the factory. I knew they were original cartridges because they were sealed with the patent-dodging "bottlecap" tops Crosman had to use for several years. The end flap of the box had the Air Force Federal Stock Number for the gun, and everything inside the box was new and untouched.
It came down to pellets
Why didn't airgunners go nuts over this rifle? Well, they actually did, but only after Crosman Premier pellets came to market in 1995/96. As it happened that was exactly when I acquired mine.
Before then Crosman advertised and sold their "ashcan" pellets. They were the pellets the Air Force bought and with them a 160 was lucky to keep five shots inside an American quarter at 25 feet. That's about a 3/4-inch group.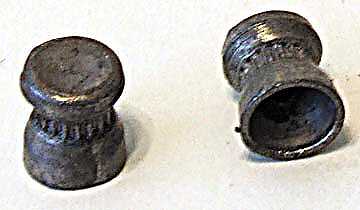 The Crosman "ashcan" is a pure lead pellet that was made in the 1960s. It was what the Air Force bought to shoot in their new target rifles.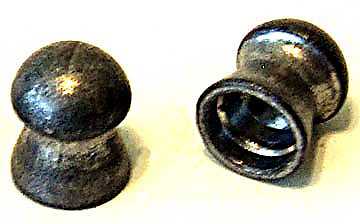 In the mid 1990s Crosman brought out their new line of Premier pellets. They were made of hardened lead on precision dies that changed the performance of the Crosman 160 forever.
With Crosman Premiers in the 1990s the same rifle that put five shots into 3/4-inches at 10 meters could now put five into just over one-tenth inch! The following target was shot with RWS Superdomes, but it illustrates the point.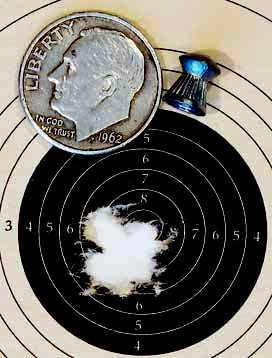 A Crosman 160 that I tested back in 2012 put five RWS Superdomes into a 0.107-inch group at 10 meters using the target sights that came on the rifle.
That is what technology can do, folks. It can bring a butterfly out of its cocoon.
What about BBs?
The same thing happened with steel BBs. They started out as rough spheres and through the application of technology — better shaping, plating and selection after manufacture — they became great.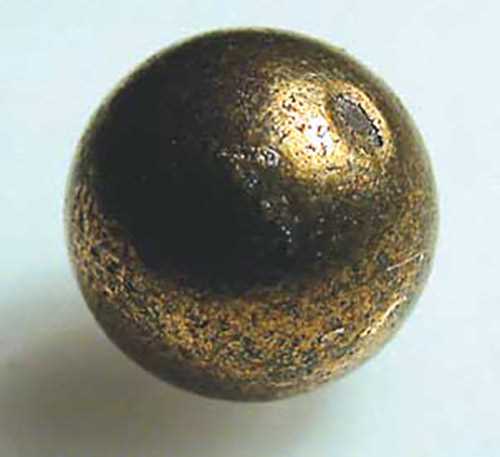 This steel BB from the 1960s was a steel cube that was chopped from a wire, then rolled between two steel plates until round and finally plated with copper. That crater at 2 o'clock was a common feature of BBs from that era and can still be found on BBs made in Russia and third-world countries.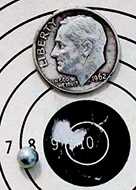 Ten Daisy Avanti Precision Ground Shot made that group at 5 meters.

The Daisy Avanti Precision ground shot is made in China, but the manufacturing process is tight and the selection process allows only the best BBs through. Daisy used to make these themselves in a plant in the U.S., but the Chinese were able to do as good or better for less money.
The M16
The early M16 rifle was hated by the troops who were armed with it. It was inaccurate, it jammed easily and it performed poorly in the tropics — making for a disaster in Vietnam. Today's M16A4 was just retired from service in 2015. That and its semiautomatic sister, the AR-15, are almost as reliable today as the AKM platform. And they are certainly more accurate. The technology of the rifle and the ammunition evolved throughout its half century service life.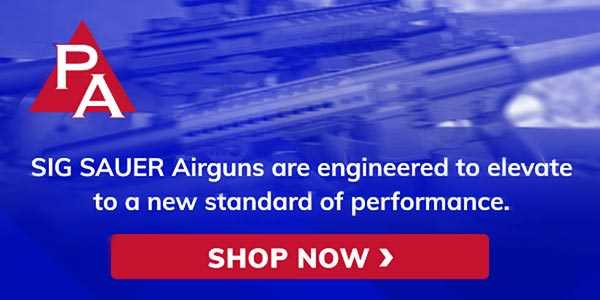 Where technology fails
Okay, technology is often good, but what about when the advances don't measure up? Take the violin. Violins have been around since the 1500s, yet Antonio Stradivarius, from 1680 to 1734, made the finest violins ever built. Although that point is arguable and some claim it is not true, it is generally believed that nothing made today can compare with a Stradivarius.
My point is — why can't we make a substantially better instrument than ones made over 300 years ago? Technology has made no advances in this sector. Or have they? Remember the ukuleles I showed you weeks ago that were made from high pressure laminate (HPL)? Guitars are also made from this material that is basically paper. Formica countertops and Masonite are made the same way. So is HPL any good?
Well, the purists hate it. They have nothing good to say about HPL. And listening to comparisons of them being played alongside solid tonewood instruments on You Tube is like listening to the blast of an atomic bomb. You know it makes a noise and you can tell that it's loud, but you can't tell an A bomb from a gunshot from a rimshot on a snare drum.
I own a concert uke made from HPL and I can hear that it is deeper and louder than a soprano uke made from all mahogany pieces. But that's like comparing a Corvette to a Formula 3 racer. Both go very fast but… The concert uke has the larger body which, alone, could be the difference between them.
Last airgun
And then there is the Dragonfly Mark 2. It uses technology developed 15 years ago to reduce the pumping effort of a multi-pump pneumatic. That's technology at its best.
The Dragonfly Mark 2 is also accurate. That's good workmanship that has been around since forever, but when applied to good technology, it makes a winner.
What am I saying?
I am saying that advances in one area, like pellets, can produce advances in other areas — such as accuracy with air rifles. Think about what has happened in recent years with many air rifles shooting JSB pellets.
But there are limits. The finest pellets in the world will not turn a hyper-velocity spring-banger into a target rifle. Nor will the best scope. Nor the finest shot. Some things are what they are and no amount of advancements in parallel fields will change things.
Summary
Today we have discussed how advances in technology have made significant improvements in our hobby of airguns. We have also acknowledged that in some cases technology cannot be improved — or at least if it can the improvement isn't enough to notice.