BB's Goldie is a golden Cerakoted Avenger. The reservoir, receiver, muzzle cap, forward Picatinney rail and cocking handle were colored differently to set off the gold.
This report covers:
Labradar
Everything is new again
The test
How fast?
Air Arms 16-grain dome
String number two of AA 16-grain domes
BB's accident
JSB Exact Jumbo Heavy
Baracuda Hunter Extreme
The Avenger trigger
The Meopta scope
Summary
Today we look at the velocity of BB's Goldie, but we also look at a whole lot more! Let's get started
Labradar
This was the first time I used the Labradar chronograph as I intended. I mentioned in Part One of that report that I would shoot for accuracy and chronograph at the same time. I figured the test would take me many hours because I wasn't familiar with the Labradar software, but in fact setup and testing of both velocity and accuracy (really more of a sight-in at 10 meters) took just one hour. The Labradar software is incredibly clear and the user's manual is well-written. And BB used to write operator manuals for the Army, so he knows a good one when he sees it!
Everything is new again
So BB is shooting for accuracy at 10 meters; he is shooting his new Avenger precharged pneumatic (PCP) and he has mounted a Meopta MeoSport R 3-15X50RD second focal plane scope that — well — read on and I will tell you. Actually since today is velocity day I will mostly tell you next Monday, when I report the accuracy. This is like time-traveling! When are we?
I mounted the scope using rings with 11mm airgun bases instead of Picatinny bases. The scope base on the Avenger allows for that, which is just one more perq that comes with the rifle.
The test
I shot 10-shot strings (well, strings today and groups next Monday) of three different pellets. When I ordered BB's Goldie I asked for a Pro tune, which I believe is supposed to be in the 20-22 foot-pound range. It's the midrange tune that Pyramyd AIR offers. We shall see today.
I shot from the 10-shot circular magazine today. It was very easy to load and shoot, but I did have one accident that I will relate in a bit.
How fast?
Well, the Labradar doesn't just give me velocity. It gives me velocity for each shot at five different distances from the muzzle. This chronograph is GREAT! And, since I input the pellet's weight for each string, it can also give me energies for each shot — at each distance! You can calculate the ballistic coefficient from the downrange velocities if you want.
For this report I will give velocities the way I always do — at the muzzle. Believe me, it is very easy to be overwhelmed by the mountain of data this chronograph provides and stores. And another thing should be mentioned. I didn't have to download an app to read the data. I could have reviewed it right on the chronograph screen as I went or later or on my computer. I chose the computer and all I had to do was insert the SD card from the chronograph. Everything was there in a file in a nice neat report!
See what I mean about today being a big report? And there is more to come. But for now let's get back to BB's Goldie and the velocity test, shall we?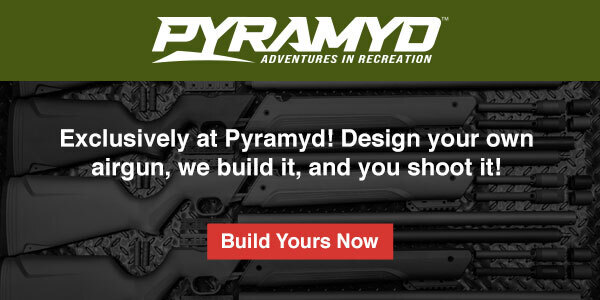 Air Arms 16-grain dome
When I last tested a .22-caliber Avenger I found the Air Arms 16-grain dome to be the most accurate. So I started there.
The first 12 shots (remember, I'm recording velocity and sighting in together) with the Air Arms 16-grain dome averaged 930 f.p.s. The low was 922 and the high was 941 f.p.s., so a 19 f.p.s. spread. At the average velocity this pellet generated 30.74 foot-pounds. That was higher than I expected. I see that the regulator is set to 2,800 psi, so I will probably adjust it down, but not today.
The first group that you will see next Monday looked a bit large to me but I was doing so many things, or watching the Labradar do them that I became distracted. And this pellet was the most accurate from my previous 8-part test of the .22-caliber Avenger. So I shot a second string with the same pellet.
String number two of AA 16-grain domes
The average for string two was 899 f.p.s. The high was 920 and the low was 896 f.p.s. That's a difference of 24 f.p.s. At this velocity this pellet generates 28.72 foot-pounds at the muzzle. It looks like it has dropped off the power curve, or the first string of shots went out too fast. I think the regulator is set too high. I will correct that, but not today. I definitely don't want so much power.
One shot failed to register on the chronograph and I discovered that I had placed the muzzle of the rifle about 4 inches ahead of the airgun microphone trigger. I backed up and every other shot was captured. What I'm telling you is –as before, this Avenger is quiet. I forgot to record the noise with everything that was happening, but I'm guessing it's a 90-93 dB. I will record it for you later.
BB's accident
On string two I loaded the barrel before I was ready. I think it happened right after I fired the shot that didn't record and I had to back the muzzle up. I wanted to replace that lost pellet in the magazine. I did but I forgot that I had already loaded the next shot into the breech so after I loaded the magazine and put it back into the rifle I loaded another pellet into the breech. And that's when I caught my mistake.
I removed the magazine and then shot those two pellets at the mulch box, not the target. The Labradar dutifully recorded the velocity of both pellets as a single shot. They went out at 611 f.p.s. and they struck the box one-half-inch apart. I then loaded the magazine with three more pellets and get the string back on track. Could I edit the string to remove that double shot? Certainly, but for the sake of time (because I didn't know how to do it and I didn't want to stop and learn how) I didn't. I determined the average velocity offline.
JSB Exact Jumbo Heavy
Next to be tested were 10 JSB Exact Jumbo Heavy pellets. Now that I had the chronograph figured out it was easier to set up for the next pellet. All I had to do was start a new string and change the pellet weight.
Ten of these pellets averaged 874 f.p.s. The low was 866 and the high was 889 f.p.s.– a difference of 23 f.p.s. This string made me wonder whether the first string was a fluke, because the Avenger seemed to be happy here.
At the average velocity this pellet generated 30.71 foot pounds of energy. Yep — this rifle is set for high power. Fortunately it's quite easy to reduce it to where I want it to be.
Baracuda Hunter Extreme
The last pellet I tested was the Baracuda Hunter Extreme from H&N. In recent accuracy tests I've found this pellet quite accurate and I wanted to try it in BB's Goldie.
The average for this pellet was 862 f.p.s. The low was 855 f.p.s. That's a spread of 7 f.p.s. — the tightest we have seen. At the average velocity this pellet generated 30.53 foot pounds at the muzzle.
The Avenger trigger
The Avenger trigger is light but mushy. I need to learn it so I know where the rifle fires. I forgot to measure the trigger pull, too, so there is more work to do. But since I need to tune the rifle to my preference, I'm adding in the muzzle report and the trigger weight in that report. It will be Part 4 because Part 3 is sight in and accuracy at 10 meters.
The Meopta scope
I can't wait to report this because between now and when I write the accuracy report I will probably forget it. This Meopta scope is as clear as pure water! I was COMPLAINING about the lousy groups I was shooting until I walked down and saw them up close. This scope is incredible! Just wait until you see what I saw. And — this scope is a cheapie — for Meopta. I hope Pyramyd AIR continues to stock it, because this is one I can afford to buy several of.
Summary
The rifle is great; the chronograph is great and the scope is great. How's that for brevity?
The rifle is smooth, it chambers smoothly and shoots quietly. It's much quieter than the power indicated. The trigger is light but not crisp. For accuracy, wait until Monday, but if you need to make a purchase decision — it's accurate!
The chronograph is simple to operate, reliable and my new best friend. I lamented the end of the Shooting Chrony company. Not no more! And, by the way, I started with the rechargeable battery at 97 percent and after 42 shots and 45 minutes of operating time the battery power was at 93 percent. I think it will do.
The Meopta scope is to die for! It may be a cheapy in the Meopta line but it will kick some serious butt among the higher end scopes!
BB is happy!