This report covers:
The test
Sorting lead balls
Poor results
What to do?
How the Oktoberfest is meant to be used
No steel BBs
Up to 5 meters
The smaller lead balls
A secret
The most accurate ball
Begs the question
Summary
Today we take the Diana Oktoberfest out to 10 meters and we try several other lead balls that weren't tried before.
The test
I set up my shooting bench 10 meters from the target and attempted to shoot 5-shot groups off a sandbag rest. Things did not work out quite like I had planned and I will explain as we go.
Sorting lead balls
I wanted to learn what lead balls work well in the Oktoberfest, so I found several and measured three from each tin. No lead ball is a uniform diameter. Because they are lead they get flat spots easily, so I measured them in several places on their circumference. And the three balls I measured gave me a range from low to high. But I'm getting ahead of myself. One of the balls I accepted for trial proved too large and created problems. Let me first show you the four balls I did not try.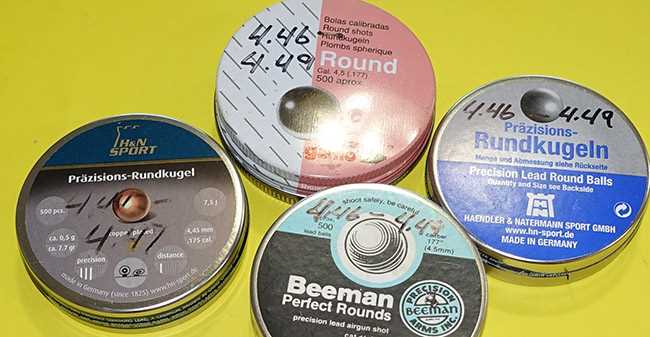 These are the lead balls that were not used — except for the balls on the left side. I did try them with poor results.
Those four balls range in size from 4.41mm to 4.49mm. I decided to start with the smallest balls, which are the ones in the tin on the left in the photo above.
Poor results
The first target was a 10-meter air rifle target. I used a 6 o'clock hold and was wearing reading glasses with +1.25 diopter correction to see the front sight blade sharply. But the results were pretty poor. Let me show you.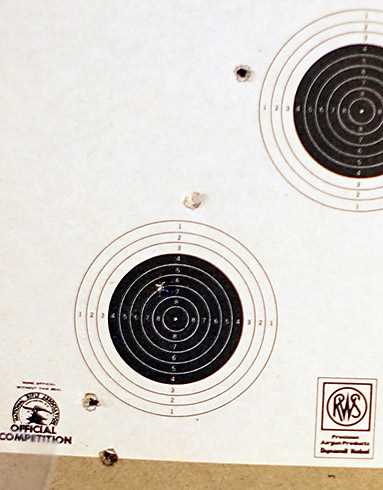 I'm not even going to measure this "group". These were five of the balls from the left-hand tin in the photo above.
Beside the poor grouping I also fired three dry-fires that were confirmed through the spotting scope. As we have learned, dry-fires with the Oktoberfest are a no-no, so testing ended right there.
What to do?
My test plan had just blown up. I dared not try any of the larger lead balls for fear of sticking one in the barrel or the magazine. What should I do? Well, I knew something that helped me decide.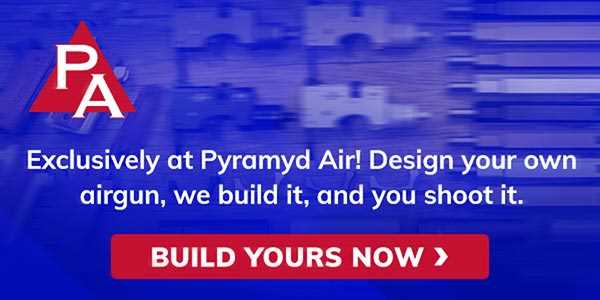 How the Oktoberfest is meant to be used
In Europe, where the Diana Modell 30, the Oktoberfest's big brother is used, it's used in shooting galleries. Now there may be some galleries in fixed locations, but I believe most of them are packed into small trailers that the Germans call caravans, and moved to wherever there is a public gathering. The shooters at these galleries would be lucky to stand 5 meters from their targets. It's probably more like 3 meters. Therefore the Oktoberfest is a short range airgun. It may be rifled, but it's not intended for shooting at long distances. I need to test it the way it was intended to be used.
No steel BBs
After studying the Oktoberfest I realized that it is indeed made for lead balls and not steel BBs. Sure, it works with steel, but lead is better for the barrel. So this Oktoberfest will not see steel again.
Up to 5 meters
I moved the shooting bench up to 5 meters from the target. And I tried two more lead balls. The first was a ball I did not try in Part 3 because I felt they were too small. When I measured them for today's test I got a range from 4.28 to 4.41mm in diameter. That's pretty small, but I felt I had to try them.
The smaller lead balls
I listened as the balls dropped into the tubular magazine. They all fell quickly to the bottom, so no danger of sticking. And, as I told you previously, I would never cock the rifle unless the muzzle was elevated, so the rifle won't dry-fire because of that.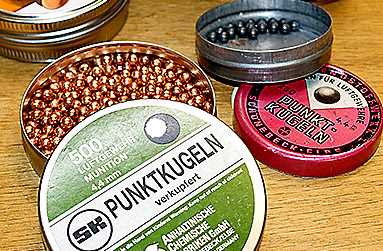 Here's the thousand-word picture. First, the copper-plated balls in the green tin are the smaller lead balls I'm shooting. And the dark lead balls in the pink tin are the most accurate ones from the Part 3 test.
Ten of these smaller lead balls went into a group that measures 1.118-inches between the centers of the two holes farthest apart. The group is centered well on the bull, which means this is a good ball for this rifle, even though it's on the small side. Remember, close to the target.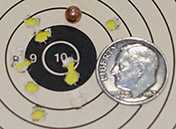 The smaller lead balls grouped 10 in 1.118-inches at 5 meters. This is good enough for shooting gallery work.
A secret
I have a secret that I will now share with you. I asked Pyramyd Air to send me their new BadaBang electronic target, so I could test it with this Oktoberfest. The lead balls that I will shoot are great for that steel target, because unlike steel BBs, they won't bounce back at me. So that will be my next test.
The most accurate ball
Remember that tiny group from the Part 3 test? I wondered if that ball was still that accurate. Another 10-shot group was warranted. This time I shot from 5 meters with the balls from the pink tin. Ten of them made a group that measures 0.61-inches between centers at 5 meters. It's SMALLER than the 0.81-inch ten-shot group with the same ball in Part 3. Of course that one had a flyer and nine shots were in 0.352-inches, but today's group is still extremely good and 9 of it's balls made a 0.371-inch group.


At 5 meters the Oktoberfest put 10 lead balls from the pink tin into 0.61-inches and 9 in 0.371-inches.
Begs the question
If this lead ball is that accurate, how will it do at 10 meters? I had to back up and try.
At ten meters 10 of these balls went into 1.562-inches. That tells me that this Oktoberfest is a shooting gallery gun and good for 5 meters but not much farther. Maybe you could stretch that out to 20 feet. That was what I needed to know.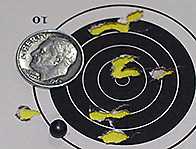 At 10 meters ten of the balls from the pink tin went into a 1.562-inch group.
Summary
I now know which BBs to shoot, and at what distance. I also know the limitations of the Diana Oktoberfest. Many people around the world have conjectured but we now know for certain.