Crosman 1322 American Classic .22 caliber multi-pump pneumatic pistol: Part Three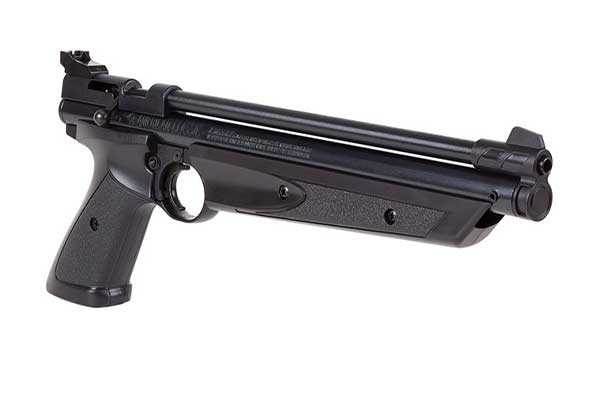 Crosman American Classic .22 caliber multi-pump pneumatic pistol.
This report covers:
The test
Crosman Premiers
RWS Superdome
JSB Exact Jumbo Heavy
Adjusted the rear sight to the right
Adjusted the rear sight again
Discussion
Summary
Today we start looking at the accuracy of the Crosman 1322 American Classic .22 caliber multi-pump pneumatic pistol. I say "start" because I'm not exactly sure where this one is going.
Also, today may look like a short test, but I was also testing the Labradar doppler radar chronograph at the same time. Yes, my unit finally arrived and I'm using it. I have a LOT to say about that instrument, but first let's get back to today's topic.
The test
I shot from 10 meters with the pistol resting directly on a sandbag. That gets as much of me out of the picture as possible. For part of the test I had the Labradar set up and operating but as I said we'll get to that on another day.
I pumped the pistol 6 times for each shot because the velocity test showed that was the spot beyopnd where the power increase began diminishing with additional pumps. Since the Labradar was operating part of the time I can report that it agrees with my Shooting Chrony Alpha within one or two feet per second. I shot 5-shot groups because this is a multi-pump and I must report that after about 30 shots my hands were sore. But Yogi, the way I hold the pistol it cannot pinch my finger while I pump. Sorry!
Crosman Premiers
The 1322 is a Crosman pistol so of course I have to test it with Crosman Premiers. I didn't sight in the gun before shooting this group and that fact will become important to all of you in a few moments.
Five shots went into a group that measures 1.628-inches between centers at 10 meters. It's left of the centerline and just a bit high, so I adjusted the rear sight to the right. Normally I wouldn't adjust the sights when the pellets are hitting the paper like this, but for some unknown reason I did — and that was my mistake, as you will soon see.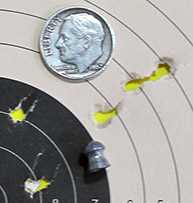 The Crosman 1322 put five Premier pellets into a 1.628-inch group at 10 meters. This is not the pellet for this pistol.
This is what you do with a new airgun, and to me most of them are new. You shoot your best and seek the best pellet or pellets for that gun. Then you do something with them. I'll show you today.
As I said I adjusted the rear sight after this group. It was already set as low as it would go but I was able to move it to the left just a bit. The 1322 rear sight slides instead of adjusting in a repeatable way, so it's that much harder to adjust. You don't know how far you have gone and sometimes you don't know if you have even gone anywhere at all. There is an index, but the rear sight also twists, rendering that index line a bit faulty.
I also note that the front sight is tilted to the left ever-so-slightly. No doubt that has something to do with where the gun shoots.
RWS Superdome
The next pellet was the RWS Superdome and the first shot told me I shouldn't have adjusted the rear sight yet. It hit off to the left of the bullseye, but fortunately it's still in line with the center, top to bottom. I left the sight set where it was and finished the group. This time five pellets went into 0.639-inches between centers. Ladies and gentlemen, we may have just found the first accurate pellet. I want to see it shoot well again so I know this wasn't a one-time thing, but look at the difference between this group and the last one!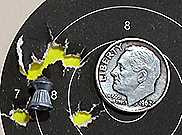 Five RWS Superdomes went into 0.639-inches at 10 meters. This is a great group, making the Superdome a potentially good pellet for the 1322.
JSB Exact Jumbo Heavy
The last different pellet I shot was the .22-caliber JSB Exact Jumbo Heavy.  The 1322 put five of them into 1.979-inches at 10 meters. That takes that pellet off the list, as well.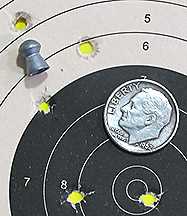 Cowabunga! And I mean that in a bad way. The 1322 put five JSB Exact Jumbo Heavy pellets into a 1.979-inch group at 10 meters. Definitely not the right pellet for this airgun.
Okay, so what do we do? How about that Superdome? Can we move it more to the center of the bull and will it be as accurate the next time I shoot it? All good questions that need to be answered.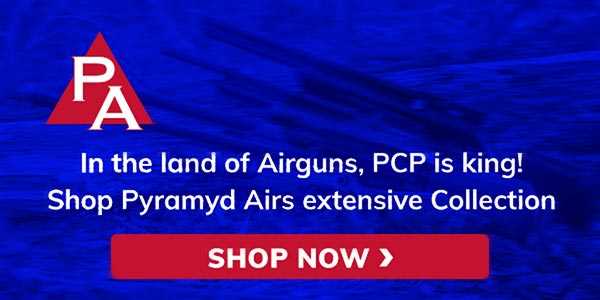 Adjusted the rear sight to the right
So now I loosened the rear sight and slid it over to the right. Then I tightened it down again, hoping it wouldn't move as I did.
Five more Superdome pellets went downrange into a group that measures 1.032-inches between centers with four pellets in 0.583-inches. The group is all the way over on the right side of the bull but at least it's a good one.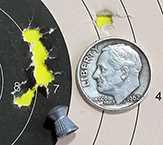 The 1322 put five RWS Superdomes into a 1.032-inch group at 10 meters, with four in 0.583-inches. Yeah — I'd call the Superdome a good pellet.
Adjusted the rear sight again
I couldn't resist adjusting the rear sight one more time, just to see what it would do. The last time I adjusted it the group went all the way across the bull, so I tried to move it as little as possible. And that was what I got — very little movement of the group. These sights are not user-friendly!
But the Superdome pellets are good in this pistol! This time five went into a 0.775-inch group at 10 meters.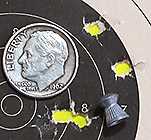 The third group of RWS Superdome pellets are in 0.775-inches at 10 meters! Note those three pellets in the bottom hole. 
Discussion
So this 1322 is accurate, as long as the right pellets are used. The sights are difficult to adjust to where you want to shoot, and that's not going to change if other changes are not made. I guess that is why shooters modify these pistols.
I find the pistol hard to pump. I hold it in a non-standard way so I don't pinch my fingers, and no doubt that's partially responsible for the difficulty I'm encountering, but it is what it is. This is still a multi-pump gun.
The front sight is rotated to the right with no easy way to fix it. That's a drawback.
And the trigger is harder than I would like. It could stand a trigger shoe to spread some of the pull weight.
Summary
I don't think we are finished with the 1322. It's too iconic for that. But I need to ruminate on it awhile. Stay tuned.
Tags In
Tom Gaylord is known as The Godfather of Airguns™ and has been an airgunner for over a half-century, but it was the 
Beeman
 company in the 1970s that awoke a serious interest in airguns. Until then, all he knew were the inexpensive American airguns. Through the pages of the Beeman catalog, he learned about adult airguns for the first time. In 1994, Tom started
The Airgun Letter
 with his wife, Edith. This monthly newsletter was designed to bring serious reports about airguns to the American public. The newsletter and
Airgun Revue
, a sister magazine about collectible airguns, was published from 1994 until 2002, when Tom started
Airgun Illustrated
-- the first American newsstand magazine about airguns. Tom worked for three years as technical director at
AirForce Airguns
, the makers of the 
Talon, Condor, and Escape
 precharged air rifles. Today, he writes about airguns and firearms for various publications and websites. He also makes videos, and you'll find short clips embedded in some of his artices on Pyramyd Air's website. Tom is a consultant to Pyramyd Air and writes under the name of B.B. Pelletier.