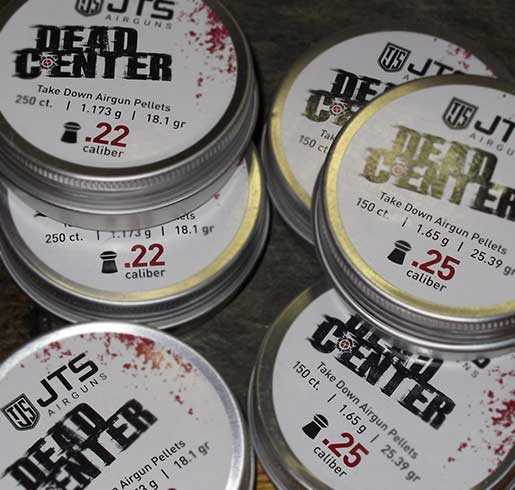 JTS pellets.
This report covers:
Pondering
The answer
Or, do you?
My decision
What if…
Twenty-two at this time
So what?
Summary
While I was at the SHOT Show in the Evanix booth, Travis Whitney of JTS gave me several tins of their new JTS Dead Center domed pellets. He had .22 and .25 calibers, so that's what I got. As you might expect, I plan to test them, but how? That is today's great question.
Pondering
Before you jump in to give your answer, consider this, which I also considered. When John McCaslin showed me his PresSlug swaging system for smallbore slugs, he said that it's cheaper and more efficient for an airgunner to make his own slugs to fit the barrel than it is to test different barrels to find the one that shoots best with a commercial slug. Never forget, the commercial slugs are only there as long as they are there. Once you find the right one you are at the mercy of the pellet maker.
The same holds for diabolo pellets. But we can't do much about that. Making diabolos is more complex and costly than making slugs. So we assume that a manufacturer will go right on making diabolos as long as there is a market for them. What else can we do?
No, I don't have another answer for what else we can do. But today's question remains. How do you go about testing a new line of pellets?
The answer
Why, that's simple, BB. You test new pellets by shooting them in an accurate airgun.
Or, do you?
Haven't we learned that some pellets do not do well in certain airguns? But what about accurate airguns? Do most pellets do well in them?
If you are testing a pellet, is it good enough to say that MOST pellets do well in the test gun? Therefore your test pellet should also do well in that gun if the pellet is accuate?
On the other hand, is a pellet a problem if it doesn't do well when tested in a gun that's known to be accurate?
Do you see what I'm asking? I'm asking how much testing should be done to see whether or not a pellet is good? Where should we stop? Because that is the question I need to answer soon if I am to test these pellets.
My decision
Well, I have to proceed because there are a lot of JTS pellets yet to come. I was told they plan to have several head sizes They also plan to have wadcutters and perhaps some other pellet head shapes. Will they go up to the .30 and .35? I'm sure if the other pellets are a hit they will want to expand the line in that direction.
Right now there is a .22 dome and a .25 dome. They come in one head size, nominally, at this time and of course I will test that. What I mean by that remark is I will test the pellet heads for uniformity, and also the weights.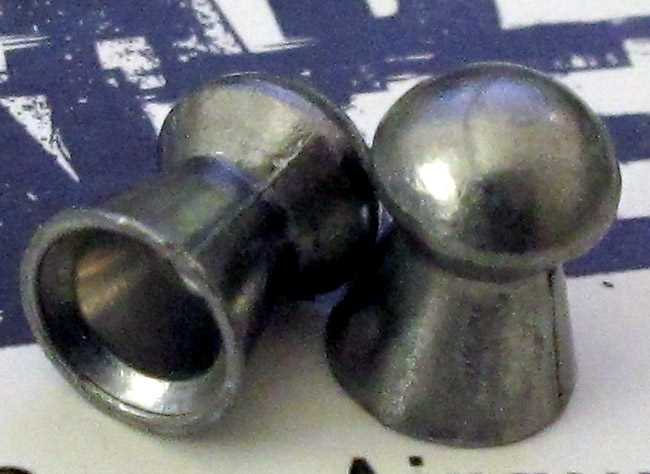 The JTS .22 dome looks good up close.
I have several accurate .22 air rifles at present. The Air Arms S510XS, the RAW HM1000X and BB's Goldie that is an Air Venturi Avenger come to mind. And neither the S510 nor BB's Goldie are very picky about the pellets they like. I can't say for sure about the RAW because I haven't shot it as much. I have a good baseline of how accurate each of those other two rifles is. So my plan is to start there.
I will also probably test them in a breakbarrel or two of known accuracy. And perhaps the .22 Dragonfly 2. It would be nice to know how flexible these pellets are.
I can also test these in a pellet pistol of known accuracy. I'm thinking of my Crosman Mark I and maybe in my Webley Senior. I have good baselines on those two pistols.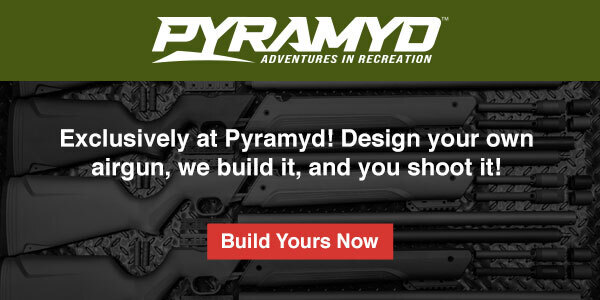 What if…
If these pellets turn out to be accurate, there is no problem. But what if they are not? Well, this is where my plan starts to become foggy. Right now if they didn't test out right away I would include them in future tests of airguns as they come to me. Something could pop up.
Twenty-two at this time
All this talk has been about testing the .22-caliber pellet. I have never had a super accurate .25-caliber air rifle. My best one at present is a Benjamin Marauder and I can use it. It is at least decent. I will look around to see if I have another .25 that's accurate enough to be a test bed.
So what?
I'm not being a fussbudget today. I want you all to think about this. What we have, from our perspective, is a brand new line of pellets that I was told are very accurate. Of course that is what any salesman is going to say about his product. But — and this is a big but — they say they plan to bring out different head sizes different weights, different calibers and different shapes. That tells us they are serious about this line of pellets.
Last year I came back from the SHOT Show with the Apolo Air Boss pellets. But I was only given about 50 of each caliber and I could never contact the seller again. I did see that they were at the SHOT Show this year, but if they are not in this game to play, I'm not interested. I'll let others chase rainbows. There is too much good stuff coming to market for me to play games.
Let me put it to you this way — what if, instead of JTS, this was JSB and we had never heard of them? That's the way I'm approaching this.
Summary
We have a new line of pellets before us. The ball is now in our court. Let's have some fun!