Industry day
Day one
Day two
Day three
This report covers:
You Tubers
Umarex
AirForce
Hatsan
JTS
Leapers
Evanix
Survival Airguns
Bug-A-Salt
Summary
Today we look at some of the things that didn't make it into the other reports. The writing will be terse.
I also want to say that I didn't see everything at the SHOT Show. Some things that I did see, like companies who came just to make American contacts, may not be represented in this country for many more years. I don't bother to show you their stuff because you can do nothing about it. I like to write about things you can actually buy and experience now. Other companies that I have seen and even interviewed before talk a good game but they didn't actually come through. In software this is called "vaporware." It exists as a concept but may never be implemented. I won't waste your time or mine on them.
You Tubers
When I started going to shot in the late 1990s, there were perhaps 40 television stations or news crews at the entire show. This year I bet I saw 400 You-Tubers. They are easy to spot. They have a small crew that ranges from the wife to perhaps 3 other guys. There is no dedicated sound board that a professional crew would have. Their lights range from the light on their smart phone to a small but capable cloud box and the guy in front of the camera is all too often tongue-tied. Many of them use smart phones as their primary camera, and I have done this, too.
But they do get the word out and, since many people rather see a video rather than read print, they are successful. They work just as hard as I do, but in a different medium. Video is the way of the future and BB needs to catch up with the times.
Okay, let's get started. At Industry Day at the Range I also saw:
Umarex
Umarex was the ONLY airgun company on the range on Industry Day, so every airgun I saw was on their range.
Umarex Emerge — a 12-shot breakbarrel repeater. It has a rotary mag and comes in either .177 (1000 fps) or .22 (825 f.p.s.). It comes with open fiberoptic sights and also a 4X32 scope and mounts.


Umarex Emerge 12-shot repeating breakbarrel.
Airsoft bazooka — a green-gas powered airsoft bazooka that launches a tennis ball-sized plastic shell holding hundreds of 0.12 gram airsoft plastic BBs. The shell breaks apart after leaving the gun, showering the target with the BBs. It was too cold at the range to accept a charge of green gas, and, at $2,500 for an all-plastic airsoft gun, Umarex will probably not carry it. I think that's wise.


Airsoft bazooka.
AirForce
RAW HM1000X Chassis system — is a standard RAW HM1000X (as if any RAW can be called "standard") in an aluminum chassis stock. The main advantages are additional weight and stiffness. AirForce is still refining this one and may slim down the forearm a bit from what I saw, but they know how to make the chassis, so you'll see it in 2023.


The new RAW HM1000X Chassis system.
RAW Benchrest conversion kit — This isn't an airgun. It's a set of parts that convert a RAW HM1000X LRT (long range target) into a benchrest gun for extreme benchrest competition. I suppose you could just order the gun this way, but since many shooters already have a 1000X, this sets them up for extreme benchrest competitions. It consists of a laminate stock that has no cheekpiece or buttpad, as benchresters don't touch anything on their guns but the trigger.
There is also a heavy flat steel plate like a hamster (a field target term) that interfaces with the adjustable benchrests competitors use.

The RWS benchrest is a kit of parts that converts an HM1000X into an extreme benchrest rifle.
Presslug System — This is a heavy swage with dies that allow shooters to press their own slugs from soft lead wire. There is also a lead mold for casting lead preforms which would be my preferred approach, but AirForce feels most shooters will want the wire.
The beauty of this approach is that you don't have to chase the correct barrel with just the right bore diameter and the right twist rate for shooting commercial slugs — a multi-thousand-dollar way of doing it. And, if the slugs change or go away — ooops! Instead, you make your own slugs to fit your barrel, which is far less expensive. The system costs over $1500 to get started but anyone who swages bullets knows that is the price you pay. After that you start saving because you make your own slugs. No more $19 for 50. You make them for, what — a nickel each?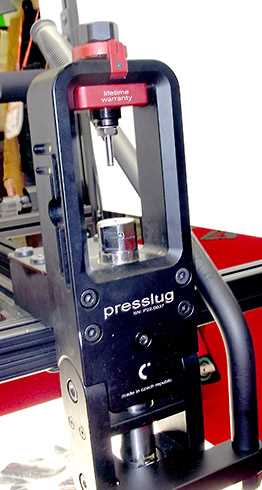 AirForce Presslug. Think RCBS A2 reloading press on steroids!
Rok-Loc Stabilizing Weight System — So, your hunting rifle isn't heavy enough for benchrest? Add several more pounds with the AirForce Rok-Loc Stabilizing Weight System. This is for firearms, but who knows where it could go?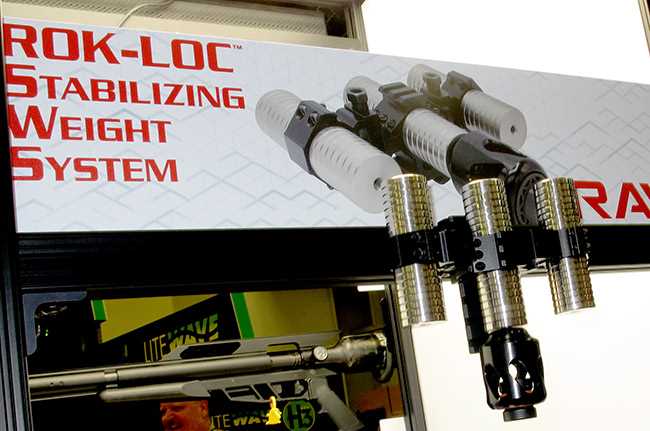 Put on the pounds with the Rok-Loc Stabilizing Weight System. It attaches to Picatinny rails and each weight is separate.
Hatsan
Hatsan Zada breakbarrel — Cecil Bays also showed me the new Hatsan Zada. It's a budget breakbarrel that's scheduled to retail for $120 and comes with a small scope. It comes in .177, .22 and .25 calibers (isn't it great that Hatsan makes many/most of their airguns in .25 caliber?) with power ranging from 20 to 24 foot-pounds. Cecil tells me the Zada is quite accurate, so I'm putting it on my list to test for you.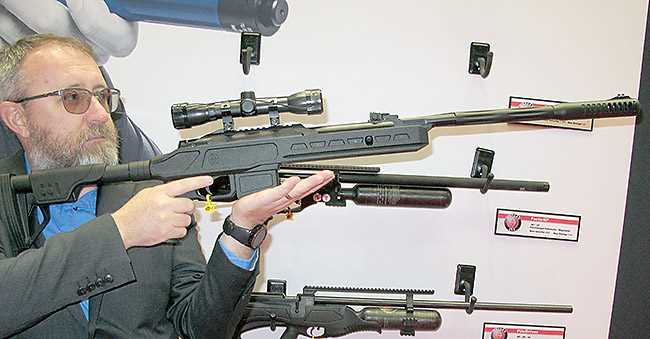 Cecil Bays holds the Hatsan Zada.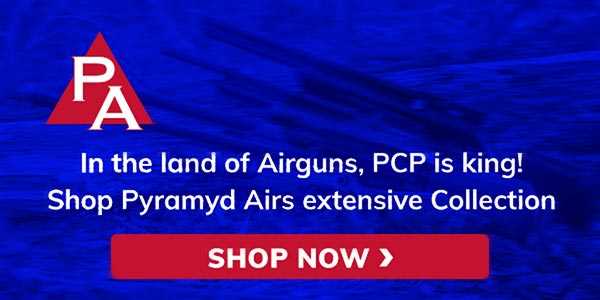 JTS
JTS Strife — Back to the Xisico booth to look at the JTS Strife. The Strife is a recoilless breakbarrel that comes with an extendable buttstock. Recoilless? Yep — BB's gotta try that one!


The recoilless JTS Strife. BB's gotta test this one!
Leapers
Leapers Micro Mini dot sight — Just when we thought that the UTG Micro Reflex dot sight was as small as they could go, they brought out this little guy. It's wee-teeny and yet gets the same 30,000+ hours of battery life that the Micro Reflex gets.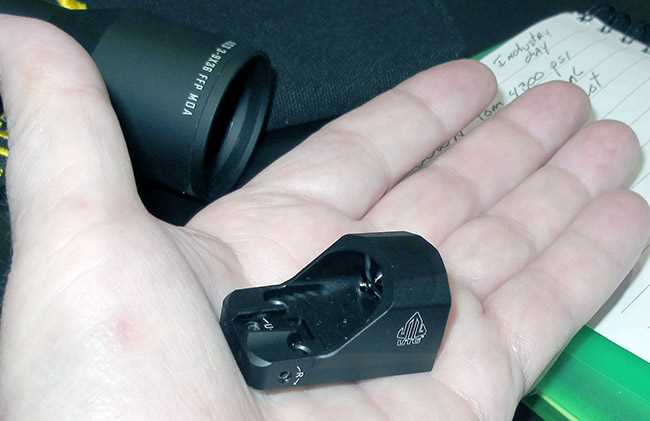 The new UTG Micro Mini dot sight. It's made for specialized mounting adaptors for firearm pistols, but Leapers says they are working on an 11mm adapter.
Evanix
Evanix Rex Ibex — The Rex Ibex comes in .177, .22, .25, .30, .35, .45 and .50 calibers. I suppose when an ICBM becomes available for airguns Evanix will also add that to the list. Cowabunga!


Evanix Rex Ibex.
Evanix Rex Ibex — this was new last year, but BB didn't cover it yet, so it's on the list for this year.
Survival Airguns
AEA Defender 2 — This is a two-shot pistol. Survival calls it a semiautomatic on their website, but with two barrels and each holding only one shot, BB calls it a double barrel. It comes in .35 and .45 calibers. The .35 is supposed to be good for 45 foot-pounds and the .45 is supposed to be good for 50. I say "supposed to" for a couple reasons. First — I haven't tested either pistol, but I intend to. Second, these pistols shoot from an air cartridge/reservoir that's filled to 5,000 psi and I'm not yet certain that I can do that. I think I can, but we shall see.
Now, is 45 to 50 foot-pounds good enough for defense? Well, ask yourself this — would you shoot a bad guy with a .22 short standard speed? They generate 65 foot pounds or more and are generally not looked upon for the role of defense. Some will say shooting with anything is better than having nothing to shoot. Others will say you are escalating a bad situation. I think both statements are correct and that it is situationally dependent.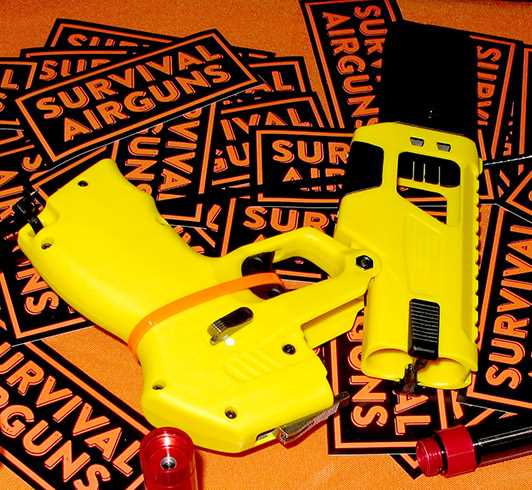 Survival Airguns AEA Defender 2 pistol.
Bug-A-Salt
I stopped by the Bug-A-Salt booth, just to tell them how much I like their products. I mentioned that I had written several blogs on the Bug-A-Salt Shredder and before that on the Bug-A-Salt 2.0. And, lest we forget, there was An unexpected expedition. I was just at their booth to compliment them on their products and was genuinely surprised when I was handed a Bug-A-Salt 3.0! I really was. I wasn't there to schmooze them. I even told them I was working on getting Pyramyd Air to carry their products –which I think they should — hint, hint!
So BB has this Bug-A-Salt 3.0. Whatever will he do? Yepper — it's coming, guys.
Summary
There was a lot more at the show than what I have shown in these four reports. I have seen enough to know that 2023 is going to be a good year for airguns and that we are going to have some fun!