Today reader 45Bravo whose name is Ian does an interesting test for us with a high-end and low-end PCP shooting the new JTS .22 caliber pellets.
If you'd like to write a guest post for this blog, please email me at blogger@pyramydair.com.
Take it away, Ian.
Testing the JTS Dead Center .22 caliber 18.1gr. pellets
by Ian McKee
This report covers:
Blurring the line
The test
Start with the star
How we test
25 yards
50 yards
The nitty gritty
Today I will begin testing the .22-caliber JTS pellets provided by JTS Airguns.
I have JTS pellets in both .22 and .25 caliber, they are marked as 18.1 grains, and 25.39 grains respectively, so I will be comparing them directly to their JSB counterparts of the same weights. Following Tom's style, I will be doing a High/Low review style, meaning I will test the .22-caliber pellets in what is considered by many to be a high-end gun, and a low-end gun.
Blurring the line
Historically, there has always been a distinct line between expensive guns, and budget priced guns, with the emphasis being the fit/finish, build quality and accuracy. But in recent years, that line has been blurring, especially in the accuracy department, with more and more companies stepping across that line into the realm of the big boys, but still at a budget price.
The test
Today's test will be using a JTS Airacuda standard in .22 caliber, against a Daystate Wolverine B in .22 caliber. Both guns are unregulated, and shoot at similar velocities.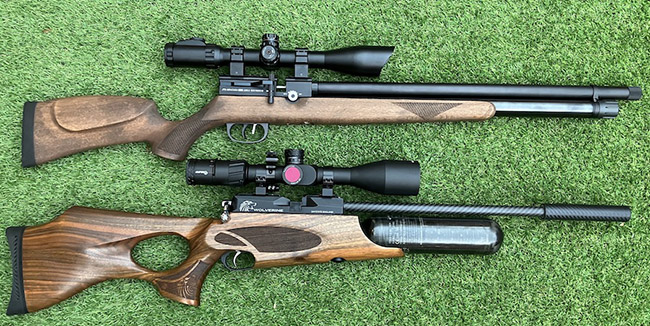 Today's test will be between two precharged pneumatic air rifles at opposite ends of the price scale. JTS Airacuda on top and Daystate Wolverine below
So today you will get a three-for-one deal (a threefer?), a mini review of two rifles you haven't seen in this blog, and a review of the JTS pellets in both guns.
The Airacuda retails for $319 US dollars, and when last sold, the Daystate was $1695 US dollars. But is there a $1376 difference between the guns? I have been shooting these guns against each other for the last few months, and the answer to that question is surprising.
Start with the star
Let's start with the star of today's show, the pellets. The .22 caliber Dead Center pellets I received are in a screw top metal tin with 250 pellets per tin. There is a foam layer in the top of the tin, and surprisingly, a foam layer in the bottom of the tin as well!
I weighed ten pellets at random from the tin, and my results were in line with Tom's experience, with nine pellets weighing 18.1-grains, and one pellet weighed 18.0-grains.
Using the Pelletgage, I had eight pellets measure 5.53mm, and two measured 5.52
The pellets are very clean, with only ONE tiny lead particle in the tin, I poured them out onto a white paper towel and checked the tin, and, after rolling the pellets around on the towel, found no other lead particles. So I feel safe to say at this point in time that JTS is serious about the quality of their pellets!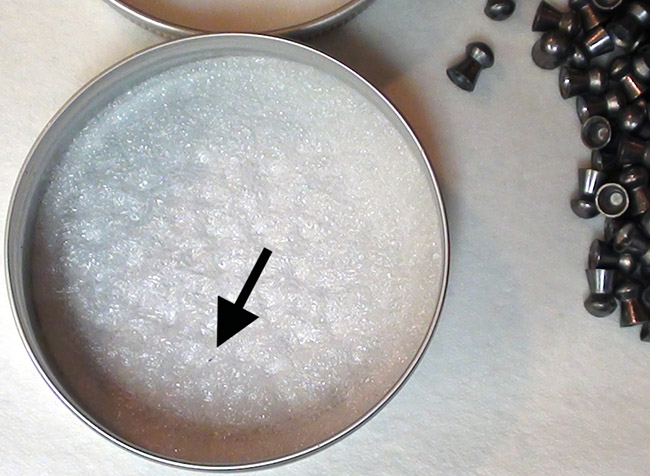 Only one tiny spec of lead in the entire tin!
How we test
With the gains in accuracy budget PCP rifles have been making in the last few years, 25 yards is the new ten yards.
Typically you would start at ten yards with airguns, and move out further as you learn the abilities of the rifle/pellet combination until you reach a distance where the accuracy no longer meets your standards. (Everyone has their own definition of accuracy, some people are thrilled with "minute of soda can" across the back yard, and others are not happy until several .177 caliber pellets go through a .178 diameter hole.)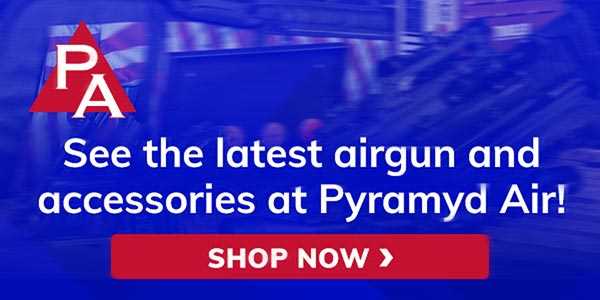 25 yards
But today I will start at 25, then go out to 50 yards. I cleaned the barrels of both rifles, then fired ten pellets in each rifle to re-season the bores. The groups were shot indoors in a climate controlled storage facility, from a sandbag rest in which the entire gun rested. 


The JTS Airacuda in its sandbag rest.
It is no secret I like to shoot steel or reaction targets more than paper because when shooting from a bench for group size I have a tendency to cant the gun sometimes, causing fliers from my error. To prevent that today I hung a string with a weight across the face of the target to help me concentrate on keeping the rifle vertical for every shot.
Ten shots from the JTS Airacuda went into a 0.235-inch group at 25 yards. We were off to a good start!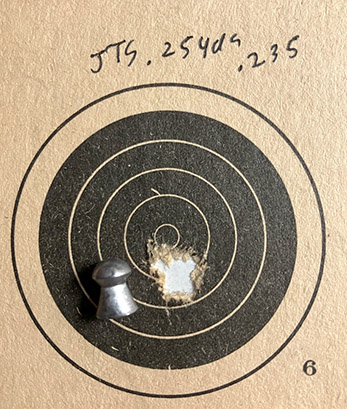 Ten shots from the JTS Airacuda shooting JTS Dead center pellets at 25 yards. The group measures 0.235-inches between centers.
Switching rifles, the Wolverine put ten shots with .22-caliber JTS Dead Center pellets into a 0.234-inch group at 25 yards. So score one point for the Daystate, but not by much. I will call it a tie, as that difference in size can be from my measuring. look at the photos and you decide.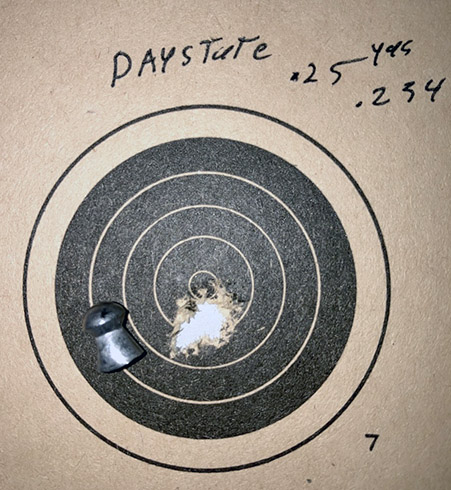 At 25 yards the Daystate Wolverine put 10 JTS Dead Center pellets into a 0.234-inch group.
50 yards
Moving back to 50 yards, I held one ring high on the target, as both guns are zeroed at 50 yards. Again, ten shots from the JTS Airacuda, taking my time. At 50 yards I was able to put ten pellets into a 0.306-inch group, sub MOA. I was so thrilled.

The Aracuda put 10 JTS Dead Center pellets into as 0.306-inch group at 50 yards.
Switching to the Daystate Wolverine, I was concentrating on trying to do everything just right. My first shot went high and left. I was wondering what had happened. I know the Daystate is a one hole gun at 50 yards, but it wasn't until after shot number four that I remembered the string….. I had forgotten and was canting the rifle without thinking.
Since I had already fired four shots, I kept my same aimpoint and canted angle of the rifle and scope. I finished the group, and the hole never got much larger. Ten shots from the Daystate went into a .341 hole, with my aiming errors.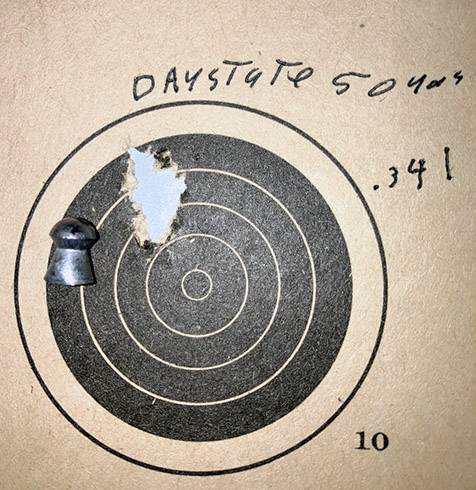 Despite me canting the rifle, the Daystate Wolverine put 10 JTS pellets into 0.341-inches at 50 yards.
I went back to the bench, and shot another ten JTS pellets from the Daystate — this time paying attention to the vertical string. Those ten pellets went into a single hole that measured 0.310-inches between centers, at 50 yards.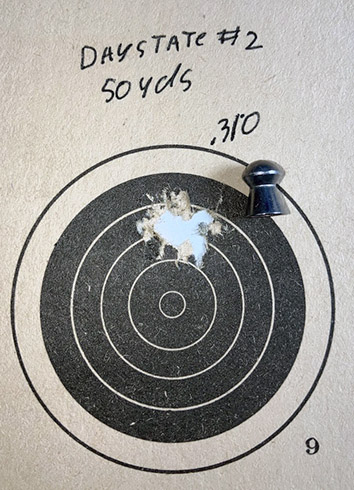 My second group with the Wolverine at 50 yards, paying attention to the vertical string, is 10 pellets in 0.310-inches between centers.
There again, my measurements could be off, I don't normally shoot paper for score. But with the size of the group visually, not by the numbers, there isn't much difference
As Paul Harrell on Youtube says, there's not enough of a difference to make a difference. You be the judge!
The nitty gritty
I have been shooting these guns side-by-side every time I have gone shooting over the last four months. I have well over 1000 rounds through each, mostly at steel targets ranging from 15 yards out to over 100 yards.
The JTS Standard Airacuda has many features that are shared with the Airacuda Max I reviewed a few months ago, other than not being regulated. The Standard rifle also has a five position transfer port adjustment that the regulated Max does not have. 
The velocities with JSB 18.1 pellets in this rifle range from an average of 435fps on the lowest setting, all the way up to an average of 940fps on the highest setting. This Airacuda likes to be filled to about 2900psi. More than that and it gets a slight valve lock for the first few shots. With the factory settings my rifle likes position four, at about 910 f.p.s., and that will carry me out to just over 100 yards accurately.
We don't know who makes the barrel, but they have a winner!
This Daystate Wolverine B model was made back in 2015, it is unregulated, and shoots 18.1 JSB pellets at about 890 f.p.s. It has a Lothar Walther polygonal barrel that's been sleeved in carbon fiber. If I fill it to the green on the gauge it has a slight valve lock for the first few shots as well. But if I only fill to the middle of the yellow, it's in its "sweet spot" and is a tack driver.
* The JTS retails for $319; this model Daystate Wolverine last sold for $1695 on clearance price. 
* The JTS is a side lever action, it is smooth, but not "silky" smooth. 
* The JTS magazines are all metal, and retail for $25. 
* The current production Daystate magazine is also full metal and has a quick loading feature, but retails for $120.
Yes the Daystate has a better trigger; yes the Daystate has a nicer finish on the stock, and the action is much smoother. The Daystate will not let you fire the gun unless the bolt is completely closed, and the original factory magazine the rifle shipped with would not index to the next round unless you fired the gun, so you can not load 2 pellets into the barrel accidentally (the new production magazine does not have this feature).
So, is it worth the price difference? That's something only YOU can decide.
For me, it can be steel, paper or live game, the target doesn't care if it's been shot with a $320 rifle or a $1700 rifle. It's still got a hole in it right where you were aiming….…
Shoot safe, and have FUN.
Ian