This report covers:
Lewis and Clark
The truth
Longer barrel accuracy
The truth
CO2 leaks
The truth
Another leak trick
Another way to end CO2 leaks
Summary
Today I want to have some fun. Here are some hypothetical events that mimic reality. I'll use them to illustrate my points.
Lewis and Clark
We know that explorers Lewis and Clark carried a repeating airgun on their Voyage of Discovery that began in 1804 and lasted until 1806. The late Dr. Robert Beeman identified several parts in his Girardoni repeating air rifle that correspond with entries about repairs made to the airgun in the Lewis and Clark journal. They show that his rifle, now donated to the Army War College, is possibly the very air rifle they carried. If so that would make it the most valuable rifle in the world, because that repeating rifle so shocked the Indians they met along the way that the explorers were left alone. Could the Indians have wondered whether all the expedition's arms were repeaters? Possibly. At any rate, the explorers lived to return home.


Lewis and Clark may have carried a Girardoni air rifle on their expedition.
What Lewis and Clark did not know was there were two Indians who witnessed an early airgun demonstration and had thoughts about it. Chief Pardonmy Wind and his son, Shuffleoffto Buffalo, talked about how to get more power from the air rifle. Of course all that follows is an English paraphrase, as I don't speak Indian.
"You hear-em little ringy-dingy after magic rifle fire?"
"Don't talk silly, dad; I speak Indian. Are you referring to the ping at the end of the shot?"
"Yeah! What if we could build a de-pinger and install it inside the magic gun's valve?"
"That could work. We could pick up perhaps 50 to 75 f.p.s."
"What-em f.p.s.?"
"Dad, stop it! An f.p.s. refers to the little spirits that ride on the bullet after it leaves the muzzle. Oh, look! They just bounced a bullet off that tree and dropped my squaw, Seeing Stars. Well, at least tonight the headache will be real!"
The truth
The truth is, or seems to be, that de-pingers not only do not work; they actually increase the size of the pings after the striker opens the valve to fire the airgun! How do I know? I know because I saw evidence of it for myself at AirForce Airguns a few weeks ago.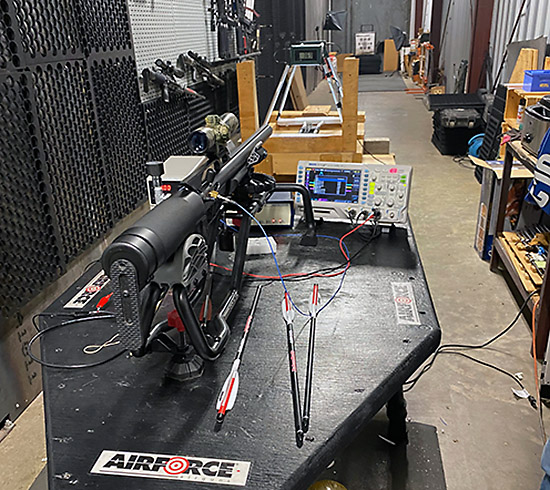 Part of the test instrumentation AirForce has set up to monitor the performance of their new arrow shooter. While testing this way AirForce discovered that depingers usually increase the magnitude of the pings! They didn't test just one airgun; they tested several!
We know that airgunners develop all sorts of gizmos to "improve" the performance of their airguns. I once had to rebuild the valve of an AirForce rifle that "Mr. Condor" had destroyed with his new and improved striker hammer. He was on the forums telling everyone what we had missed when designing our rifle, as he was rapidly hammering his into a pile of junk! He brought it to us in a couple paper bags and the frame had been hammered so much we couldn't repair it. We fixed the rifle and sent him home with it working, but he could never again use his "improved" striker, because it had hammered one of his frame holes oblong.
AirForce is one of the few airgun manufacturers that actually conducts tests on their products. They don't wear white lab coats like everyone expects because Ton Jones, who does a lot of the testing, doesn't want to cover his tats. But the testing is genuine. That's how they get 800+ foot-pounds from a big bore filled to 3600 psi, while their competition fills to 4,500 to do the same.
Longer barrel accuracy
Everyone "knows" that longer barrels are more accurate than short ones. They have to be, don't they? I mean they control the pellet or bullet for a longer time, and control is the name of the game. Right?
The truth
A barrel does not "control" a pellet in the same sense that a dog trainer controls a dog. Once the pellet leaves the muzzle, it doesn't matter whether it has been in the barrel for 10 inches or 30; it is now a ballistic missile and subject to the same physical laws.
AirForce Airguns states that their Talon SS with a 12-inch barrel can shoot one-inch groups at 50 yards. They say the same for their 24-inch barreled Condor. Once again, this is from actual testing on real airguns, and in this instance I did the testing.
A spring gun gets all of its "push" in the first few inches of the barrel. Gerald Cardew pointed out in his book, The Airgun from Trigger to Target, that only the first six inches of the barrel are needed for a spring gun to achieve maximum velocity. His experiments were conducted in the mid-1970s. Although springer technology has advanced since then, today's spring-piston guns probably don't use more than the first 10 inches of barrel for top velocity.
After that, the pellet coasts the rest of the way. Yes, friction with the bore slows the pellet somewhat, but the amount is so small that it doesn't amount to anything. Spring-gun barrels are made longer than 10 inches because they are used as levers, as in breakbarrels. And, on all rifles, a shorter barrel just doesn't look right. That's why the underlever TX 200 from Air Arms hides its nine-inch barrel inside a longer shroud that also muffles the sound of the shot.
Elmer Keith demonstrated to the U.S. Army that an arms-room M1911A1 (in other words, a loosey-goosey semiauto pistol) was accurate enough to hit a man-sized silhouette at 200 yards every time. And I demonstrated in Germany that I could hit an American football-sized dirt clod at 50 yards when shooting a snubnosed Colt Agent revolver, when I used Keith's method of holding the firearm.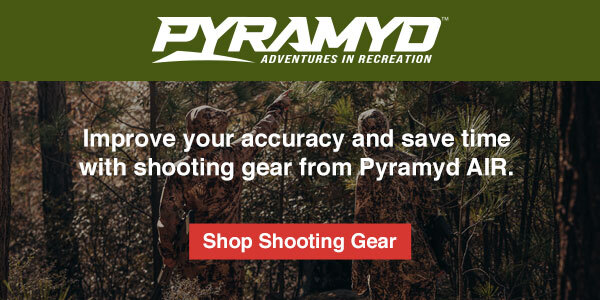 CO2 leaks
"All CO2 guns leak." says your shooting buddy, authoritatively. "I should know. I have ten of them and every one leaks."
So you ask him when he last put a drop of Crosman Pellgunoil on the tip of a fresh cartridge before piercing it.
"Crosman whaaaaat?"
The truth
All CO2 guns do not leak. But all of them can easily be turned into leakers. Just fail to add that drop of Crosman Pellgunoil to the tip of each new powerlet and watch what happens. In fact, here is a cheap tip.
How to pay bottom dollar for used CO2 guns
A trick that experienced airgun collectors use to pay less for CO2 guns is to look for leakers at gun shows and garage sales. They carry several CO2 powerlets with them. When the owner says he doesn't know if the gun holds gas, they can slip a powerlet into the gun then and there! When the inevitable leak turns up, the price reduction for a leaking gun can be very dramatic!
Sometimes, oil will not fix a leaker. In those instances, resealing the gun is the answer. But, you'll still get a price reduction when you try this trick. Use Pellgunoil when you've gotten the gun home to see if that's all it takes to seal it up tight again.
Another leak trick
Many CO2 guns have face seals that the small flat tip of the cartridge sits against. This soft ring seals the gas that flows from the cartridge into the gun's valve. People screw their cartridge in too hard, thinking that force makes the seal, when a combination of the soft face seal and Pellegunoil are what does it. Screwing in the cartridge too hard and leaving the cartridge screwed in for a long time work to squash the face seal so it can't seal properly. That is one common way for leaks to begin.
One more way to end CO2 leaks
I've said this many times, but it's still true. Use automatic transmission stop leak oil instead of Pellgunoil. I have "fixed" 50 percent of the leakers this has been used on — both CO2 and pneumatics.
Now, I use a product called Bar's Leaks, but all products made for this job should work.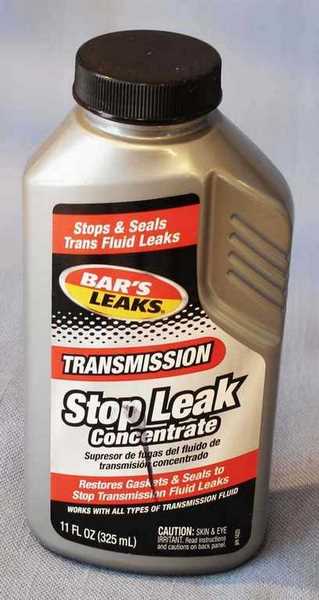 Automatic transmission sealant works to stop slow gas leaks in CO2 guns.
Summary
There. I had a little fun and possibly somebody learned something today. I had a new reader comment a couple weeks ago that I should address fundamental airgun issues like this. Well, over the course of 18 years I have — many times. But it's helpful to come back to the basics now and again.