This report covers:
Depends on what?
How long can CO2 be stored?
Crosman 111
Bulk-fill
CO2 Powerlets
Times and designs change
SAFETY
Summary
Today's report is an answer to a question asked recently about how long CO2 can remain in an airgun. The answer isn't straightforward. The correct answer is, "It depends…".
Depends on what?
Before we go there, how long can you store gasoline (petrol for the UK, benzene for Russia etc.)?
Store it? In what? And that is the answer. How you "store" gasoline determines, to a great extent, the length of time it can be stored. Store it in a styrofoam cup and it will last only a matter of minutes because styrofoam breaks down in the presence of gasoline. The gasoline will soon leak out of the cup and either run away or evaporate.
Store gasoline in a sealed container like a gas tank and it can be stored for 2 to 3 months. If there is no ethanol in it (rare these days) it can last up to 6 months. It will eventually break down and the rate depends on several things with oxygen being the number one problem. Now let's switch to CO2.
How long can CO2 be stored?
CO2 can be stored for decades, depending on the container. For example, consider fire extinguishers that hold CO2. They can be stored for decades with just inspections to ensure they remain sealed. But what's that got to do with airguns? A lot, as it turns out. You see, some CO2 guns store the gas just like fire extinguishers.
Crosman 111
It was sometime in the middle 1990s when I bought a Crosman 111 CO2 pistol at a flea market. The lady I bought it from didn't know how long it had been in the family. She said she found it in a drawer and I think she said it belonged to her late father. As far as she knew it hadn't been touched in at least 20 years. It was in the original box and came with the manual and the model 197 ten-ounce gas tank.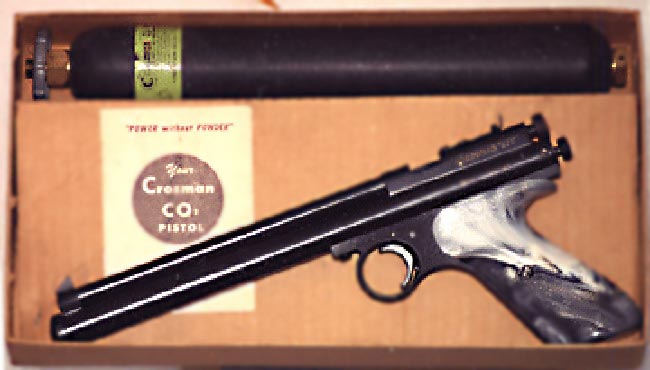 A boxed Crosman model 111 gas pistol with the refill tank. This gem was found at a local flea market for $30!
I took it home and went to my basement range where I immediately dry-fired it to see if there was any gas left. There was so I loaded .177-caliber pellets and shot about 30 shots. Then I refilled the gun from the tank that came with it. In all I fired several thousand shots before needing to get the 10-ounce tank refilled. The pistol got about 70 shots per fill, so it was about half-filled when I got it — after at least 20 years.
Bulk-fill
The Crosman 111 is an example of a bulk-fill CO2 gun. Bulk-fill guns are like fire extinguishers; fill them and then let them sit for as long as necessary. Unless they develop leaks they will hold the gas forever.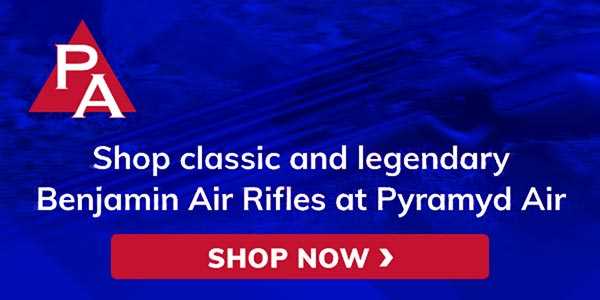 CO2 Powerlets
First off, I call these 12-gram CO2 cartridges "powerlets" because Crosman called them that when they first started making airguns that used them, back in the early 1950s. Benjamin, which was a separate company back then, used 8.5-grain Sparklets, which is what the seltzer bottle companies called their cartridges. Benjamin made no attempt to brand those cartridges as their own. They just used them. Crosman, on the other hand, took an off-the-shelf 12-gram cartridge and made it their own. They made powerlets and sold them under that name and they are still called that today.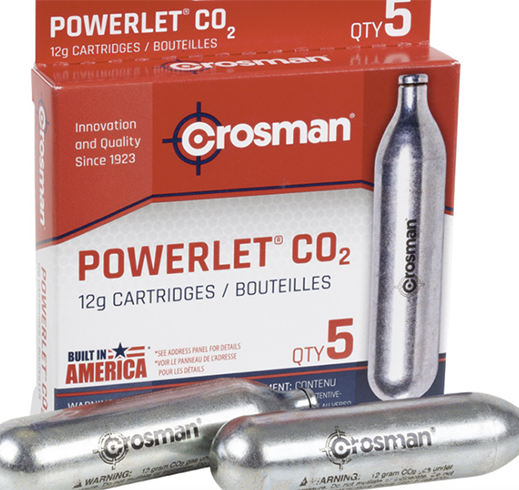 Crosman powerlets have carried that name ever since they were created in the 1950s.
So, why do companies warn us to not store our gas guns with CO2 powerlets? Let's fast-forward to the 1960s. Crosman was making lookalike gas guns like the 38 C and T and the Marks I and II. The way they were made often required a short pipe to conduct the gas from the piercing screw to the firing valve. This pipe had two ends that were prone to leak.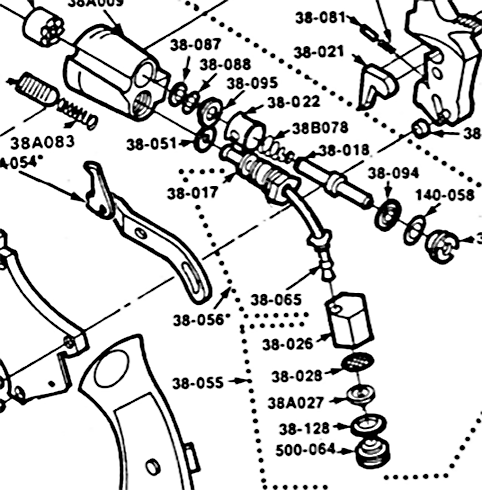 This Crosman schematic of a 38C/T valve shows the pipe mentioned above. It's part 38-065.
Gas guns of this era had pipes like you see in the image above. Those pipes could leak if left pressurized for long periods. At least that's what Rick Willnecker of Precision Pellet told me. So those guns should be stored without a cartridge in them — except for one reason. Many of them use the cartridge to hold one of their grip scales. The 38T is an example of that. What I do on the 38 T is exhaust all the gas and turn the piercing screw out so the tip of the powerlet just touches the face seal inside the grip frame. There is no pressure on the face seaL and the grip panels are still held in place.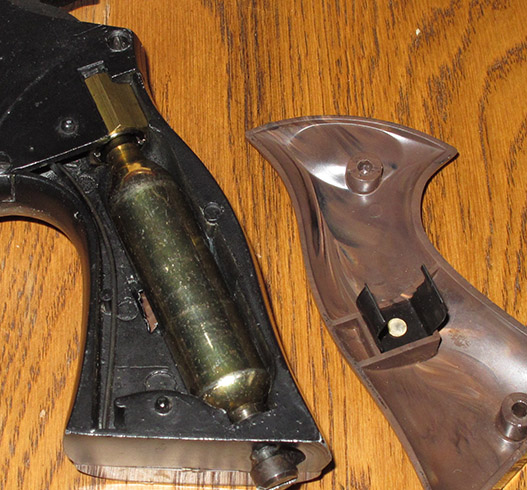 By leaving the empty CO2 cartridge in the grip, the left grip panel has something to grab. But the piercing screw is backed out to provide just enough tension to hold the cartridge in place.
Times and designs change
Today most CO2 valves incorporate the piercing pin within their body. Pipes aren't as necessary as they once were. Leaving the cartridge installed isn't the problem for such guns. However, leaving a cartridge installed with pressure against the face seal will flatten that seal over time and eventually make it leak. That's a good reason to not leave a CO2 cartridge installed in the gun. But it's not the biggest one.
SAFETY
Safety is the number one reason to not leave a CO2 gun charged when it isn't in use. You see, if a gas gun is charged it will shoot anything that's put down the barrel. You don't have to load it; just drop something down the barrel. That's an extremely unsafe way to store an airgun.
Folks who don't know about gun safety may think the gun is unloaded and pull the trigger to see. If there is something down the barrel, it becomes a missile.
Kids may horse around and pull the trigger, thinking they are being funny. If there is something inside the barrel, it comes out with force and the "joke" is over. There are no second chances.
Anyone who is familiar with gun safety and practices it all the time won't have a problem with a gas gun that's charged. But there are more people who don't know better than there are those who do.
Summary
So, what's the answer? Can you leave a CO2 gun charged all the time? The answers are, "it depends" and "sometimes."