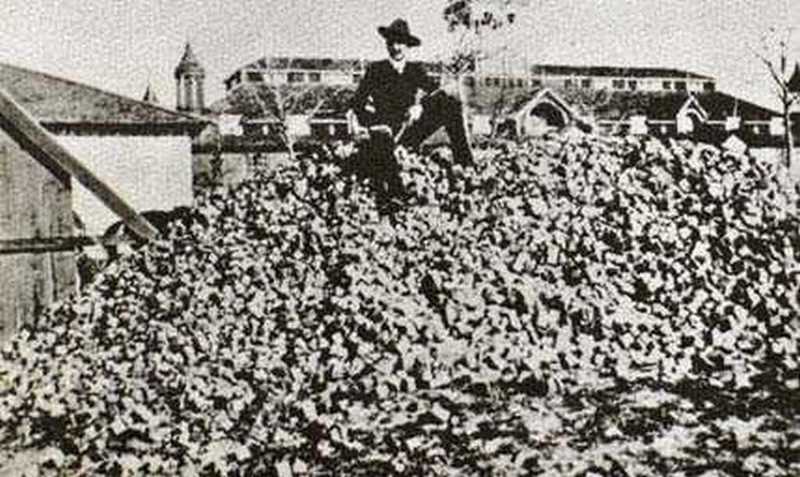 Ad (Adolph) Topperwein sits atop 72,491 wooden target blocks he hit as they were thrown in the air. He missed 9.
This report covers:
Playing cards
Splitting a lead bullet
Aerial targets
Archery too?
Summary
Today you're gonna get a whole weekend of topics to talk about. Trick shots. Who made them and what were they? And have you made any?
Annie Oakley
Phoebe Ann Mosey (often spelled Moses) was born in rural Ohio in 1860. By the age of 8 she was hunting for her family and also selling the game to raise money. Her first shot was a head shot on a squirrel to preserve the meat. When she was 15 she competed against and defeated marksman Frank Butler, who soon after married her and became her manager. If you can't beat em…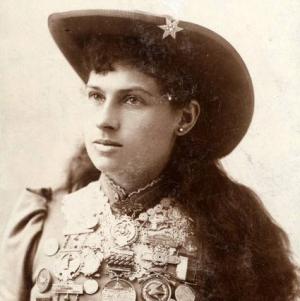 Annie Oakley.
Playing cards
Annie shot holes in playing cards held up by attendees of her trick-shooting show, gaining them free admission to the show. She even did this from horseback while riding in an arena. The name "Annie Oakley" became synonymous with a free ticket to any show if a hole was punched in. A genuine card shot by Annie now brings several thousand dollars at auction.
She split playing cards at 30 paces (90 feet) with bullets. Want to see what that looks like? Let's watch Kirsten Weiss do it!
I have seen both Ray Apelles and his father, Hans, (I think — I mean Hans is Ray's father for sure, I just think I remember him making this same trick shot) split playing cards with a pellet rifle from 10 meters. I've also seen Ray snuff a burning candle from 10 meters without touching the wick. To the best of my recollection these shots were taken with a 10-meter target rifle.
To warm up on that day Ray shot the heads off stalks of tall grass at about 20 yards outdoors. The wind moved the stalks, making the shot more challenging. This he did with a Benjamin Discovery. Then we started shooting for real
I saw Ray hit and drop a field target with a one-inch kill zone from 104 yards on a windy day. He shot across Paul Capello's brother's pond in the Catskills. We filmed this for the first season of American Airgunner. We started at 66 yards, which was across the widest part of the pond, but Ray never missed. It looked too easy, so we switched to lengthways where we got 104 yards. The day was windy and Ray took 11 shots to connect, but he finally did and dropped the target.
Splitting a lead bullet
At the last airgun show held at the Damascus Isaac Walton League in Maryland we had a big bore shoot and one of the shots was a trick shot where the shooter hit the edge of a double-edged axe to split the bullet. We started setting up that shot by placing balloons on either side of the axe blade so we could see when the bullet split, A couple shooters did break both balloons but the most common result was one balloon popped and the other one didn't. Then we used clay pigeons that lasted longer because when they were hit the pieces fell apart but remained where they were placed. But I must confess — that was the worst trick shot I have ever seen.
Aerial targets
One trick shot that's very popular is when a shooter hits a target that's thrown into the air. Lucky McDaniel used to toss smaller and smaller targets until his students could hit a BB thrown in the air with another BB they shot.
In the movie Winchester '73 actor Jimmy Stewart is supposed to have hit a coin tossed up with the rifle that's the title of the show. Trick shooter Herb Parsons stood next to Stewart and actually made the shots. After hitting the coin Stewart asked for it to be thrown up again. When it was he shot and the coin never moved. He said he guessed he shot through the hole. When the crown laughed he asked for a postage stamp to be placed over the hole and the coin thrown again. When they picked it up the stamp had a hole in it. That shot was one of Herb Parsons' stock tricks and he actually did it in the movie in one take for each shot.
Parsons learned from Adolph (Ad) Toepperwein (Americanized to Topperwein), the man shown at the top of this article. On December 22, 1907, in San Antonio, Texas, Topperwein shot at 72,500 small wood blocks that were hand-thrown into the air over 68-1/2 hours straight. He missed nine, setting a record that stood for many decades.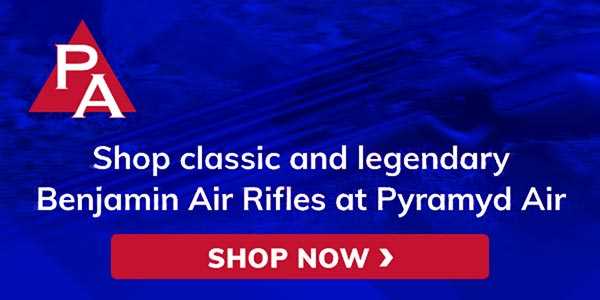 Archery too?
The best trick shot I ever saw was made by archer Byron Ferguson who shot an arrow through a diamond ring. You can see this shot done live on the Super People television show in Tokyo in 2007. Byron wasn't told about this shot until he got on the show, yet he did it perfectly.
Summary
Airguns make the perfect tools for trick shooting, as they are cheap and safer than firearms. These are just a few of the trick shots I have seen and read about. I have made a few myself, but they were due to dumb luck more than skill.
How about you? Tell us the impossible shots you have made.