This report covers:
Stock car racing
Carryover to airguns
Free pistol
10-meter air pistol
Field target
Bottom line?
Extreme Benchrest
Why care?
As I shot my first 10-meter scores yesterday I reflected on the sport of 10-meter target pistol and on other "sports" I have seen. Is 10-meter pistol an equipment race, or is it a true test of shooting skill?
Stock car racing
To set the tone for today's report, I ask you to consider stock car racing. In the 1930s when formalized races for stock cars began, the cars were more or less what could be bought. They were "stock" cars. In 1948 when the National Association for Stock Car Auto Racing (NASCAR) was formed, the cars were supposed to be built from parts the general public could buy. Theoretically, anyone could build a car and race. How true that ever was remains shrouded in history, but I seriously doubt it ever happened quite so purely.
Today a stock car is anything but. They are highly specialized for doing one thing — going around a racetrack in one direction very fast, as safely as possible. Stock car racing has become an equipment race, and a big-money game. However, I must acknowledge that the drivers of stock cars are very skilled at what they do. It takes both humans and technology to win.
Carryover to airguns
As I shot my 10-meter target pistol I wondered just how much of that equipment-race mindset has carried over to the shooting sports, and specifically to the airgun shooting sports. To address that I pondered the sport of free pistol, where the rules are quite minimal by comparison to 10-meter air pistol. Like 10-meter air pistol, free pistol is also a bullseye target sport where a pistol chambered for .22 long rifle cartridges is fired at a target 50 meters distant. The pistol is also held in one hand, so there are similarities. Let's look at the pistols that shoot in that sport first and then I will contrast it to 10-meter pistol competition.
Free pistol
It's called a free pistol, so why do they cost over $1,000, and often over $2,000? There's nothing free about that! The word free refers to the design parameters of the pistol. The pistol must be held in one hand, only, and no other body part may touch it while shooting. The design of the grips is unrestricted, other than they cannot extend back beyond the hand. They can wrap around your hand and hold you so securely that you have to shake hands with the pistol to get into the grip. The sights must be non-optical and lasers are not permitted. Other than that, these guns are fairly free from restrictions.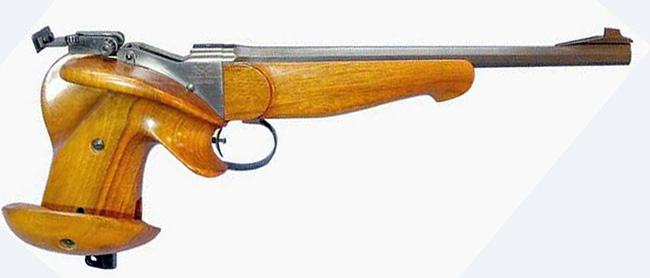 Hammerli 100 free pistol. This is one of the first, though target pistols similar existed from several decades before 1948 when this guy came out.

This is how the Soviets sold their TOZ-35M free pistol. You are looking at the rear in this photo. The buyer was supposed to carve the grips himself. He could even carve them to wrap completely around his shooting hand.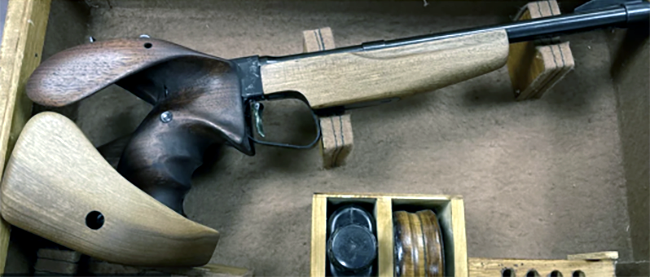 This is what one owner did with that raw grip. Since this is a free pistol everything seen here is legal in a match.
The barrel length is unrestricted. The barrel on my free pistol is 11-1/8-inches long and is octagonal. They did come in other lengths, but each length has a different weight associated with it and a different balance. The weight of the gun is unrestricted. The trigger pull is unrestricted. This is a pistol designed for just one purpose — shooting the highest score in a 60-shot offhand match at 50 meters in two hours. Compared to a free pistol a 10-meter air pistol has a greater number of restrictions that limit the design.
10-meter air pistol
By comparison a 10-meter target air pistol must fit inside a box that measures 42 by 50 by 5 centimeters (17 by 8 by 2 inches) on the inside. The trigger pull must be no lighter than 500 grams (1 pound 1.6 ounces). The pistol may not weigh more than 1.5 kilograms (3.31 pounds). The shooter may not wear clothing that restricts joint movement. Where a 10-meter target rifle competitor wears a leather jacket and trowsers that fit like a straight-jacket, a 10-meter air pistol shooter shows up in jeans and a tee shirt.
I will say that the majority of world cup and Olympic matches are shot with precharged pneumatic pistols. There are a very few holdouts who shoot single-stroke pneumatics. Nobody competes with a CO2 pistol at the national level or beyond for the reason I told you about yesterday (the CO2 gas running out unexpectedly in the middle of a match).
As far as target pistols go the free pistol matches and air pistol matches are more of a skill match. The world's finest target air pistol or free pistol can be purchased by a beginning shooter and no amount of match-permitted modification (there isn't much!) can be done to override shooting skill.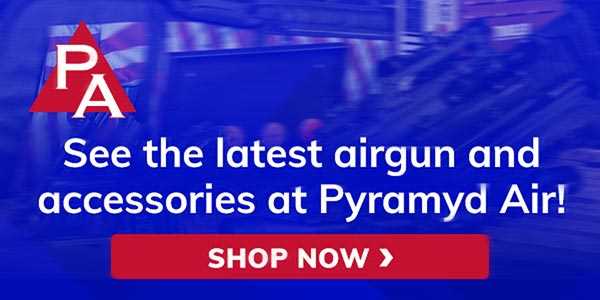 Field target
When I started competing in field target in the mid '90s the equipment race was already on. The race centered on the air rifle, the clothing and rests that were permitted and the scopes.
Field target WAS NOT started as a hunting simulation, despite what you may have heard! I know because I talked with the guys in the UK who started it. The original field targets didn't have kill zones — their paddles that knocked down the target protruded above the animal silhouette. The kill zone was a later creation, though it did happen pretty soon after the sport began.
When the kill zone came into being the distance to the target became critical, because of the negative-scoring effect of the kill zone (a pellet that hits the edge of the kill zone before passing through can lock the target from falling, robbing you of a "kill") and, since rangefinders were not permitted, we learned how to determine ranges with our scopes through parallax adjustment. Well, this spun off and some shooters started spending huge money of the finest scopes and mounts — just for greater precision determining ranges, while others just kept shooting and improving their skills.
The clothing that was permitted also evolved over time and special harnesses that held the shooter in position while seated were permitted. Rifle supports were permitted as long as no part of them touched the ground. When the World Field Target Federation (WFTF) rules came about harnesses went away, but were partially replaced by special shooting jackets.
Bottom line?
The bottom line, in BB Pelletier's personal opinion, is that field target is still a sport that's based on skill. It does take a certain level of equipment to compete, but after that it's all skill. I contend that all shooters can be told the distances to the targets and the scores will remain the same.
Extreme Benchrest
Theoretically the "sport" of Extreme Benchrest is shooting at targets at some distance from the firing line. The distance will vary as will the name of the competition, based on who is conducting the match.
This "sport" has grown up around a large infusion of prize money. The "rules" have been kept flexible to favor certain brands of airguns, and they have been changed with little or no notice. So Extreme Benchrest is a definite equipment race and also quite often a brand-favored race, depending on where it is conducted and by whom. Even the title of the competition will change, from place to place.
I put quotes around the word sport because this one has the attributes of a high-level marketing campaign, depending on how it's run. The competition is real enough, though, and the shooting does take great skill.
The things that have come out of Extreme Benchrest and similar competitions, are more favor for .30-caliber and larger pellet rifles and rotary magazines with greater capacity. Like free pistols, though, the rifles that people desire for this competition have little additional uses.


The .35-caliber FX Impact is an example of a purpose-built air rifle.
Why care?
Why did I write this report? I wrote it because shooters who are new to our hobby can get sidetracked by these activities quite easily. They hear that airguns are accurate and they start researching them online, running into things like 60-power scopes and .35-caliber pellet rifles. They see those things and wonder what the world of airguns is all about, while the readers of this blog know all too well that there are a great many more things that are down to earth and less restrictive.
I think about that guy in Keokuk, Iowa, who saves up to buy one airgun. He reads online reports and I don't want him wandering off the path into the rough until he knows what's out there.