FWB P44.
Today's report covers:
The bench
It's not the gun
FWB P44
How to proceed
Feet placement
Dry fire
Vogel pellets
Target one
Target two
Shazbat!
Next
Summary
Today's report is one I felt I needed to do. And then reader shootski mentioned it in the comments to last Friday's report and I knew it was time. Here is what he said.
"B.B. is (was) a pretty good pistol shot. A few months ago he talked about increasing his practice to see how much of it he could get back."

"What do you think? Sounds like an interesting blog series to me! B.B.'s Pistol Comeback Attempt."
So I let him name the series. He's right in saying that I did mention that I was going to practice with my 10-meter pistol more and see if I could get back some of my former glory with enough practice. But it wasn't shootski who pushed me over the line. It was that beautiful young woman shooter, Kirsten Joy Weiss. After seeing her break an egg at 300 yards, using a .22 rimfire she shot offhand I wondered what I was doing, always shooting from the bench!
The bench
Of course I know full well why I shoot from the bench. It's because nobody cares how well I can shoot; we all want to know about the airguns I test. I'm right there with all of you readers on that. So I have created an established test regimen that keeps the tests as fair and equal as possible for all airguns.
But seeing that long range trick shot — one that I could never hope to do on the best day of my life — energized me to stand on my hind legs again. I toyed with picking up my Diana 35 breakbarrel rifle and shooting offhand from 10 meters. I gotta start somewhere.
Then shootski said what he said and pushed me over the line. I had to see how bad I had become and what it takes to come back. And he gave me this great title.
Can I come back all the way? I pride myself on showing you all the airguns I test, both the good and the bad. Now it is time for me to show you (and me) myself. I may still try the Diana 35 as well, but this series will be about me shooting a 10-meter target pistol
I will narrate every step of the way, because that is the story we are all interested in. Nobody cares how good a shot I am but what it takes to get me back to where I once was, which is an average of 535 points out of 600 at 10 meters. That's shooting at the 10-meter air pistol target.
It's not the gun
So many times, as I test airguns, I have mentioned that it's not the gun as much as it is the shooter. Well, now we are going to see that played out. When I shot in national air pistol matches I shot a Chameleon CO2 target pistol. When I competed years ago my Chameleon target pistol was adequately accurate, but not much more than me. Its trigger was mediocre for a ten-meter target trigger. I had it adjusted down to 518 grams (500 grams is the lightest a 10-meter pistol can be adjusted for a match), but it was very creepy in stage 2. Yet when I stopped competing I was poised to become an expert in the national standings, which starts at an average threshold of 545 points out of 600. I think they use the average of your previous three competition scores to compute the average.
FWB P44
Many years ago I allowed myself to be enabled into purchasing an FWB P44 target pistol. I had tested it for you and couldn't bring myself to send it back. It is the pistol shown above. It is light years more refined than my old Chameleon and it has a killer trigger. Talk about a glass rod breaking! And it has every adjustment one could hope for. In just a bit I will describe a trigger adjustment that had to be made, so we're not done with the trigger just yet. I adjusted the pistol grip for my hand when I received it seven years ago and it still fits me perfectly. So that work doesn't have to be done again.
How to proceed
I'm about 30 years older than when I competed, so I'm not starting at 10 meters today. And this is where I am drawing on one of the reports that I linked to last week. I tell you guys this because I am taking my own advice. Remember my report titled, Converting an anti-gunner AND teaching a person to shoot 10-meter pistol? That was where I taught my former father-in-law how to shoot a 10-meter pistol. I started him at 5 feet from the target. I stood 12 feet from the target today. That's because I've done this before and also because I know what I'm doing.
Because of starting so close I shot at a 15-foot BB gun bullseye target instead of a 10-meter air pistol target. As luck would have it, that turned out to be perfect!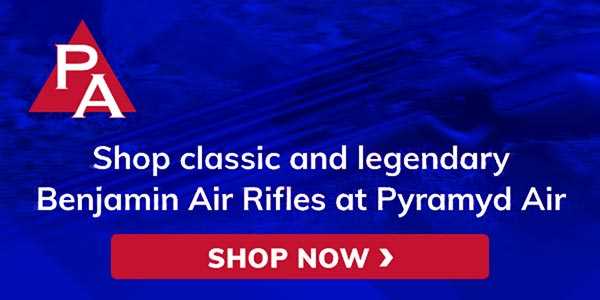 Feet placement
How my feet are placed determines within a couple inches of where I will hit the target, so I spend no small amount of time getting them placed. The final test is for me to close my eyes and raise my shooting hand with my trigger finger pointing to where I think the target is. If it's to either side of the target when I open my eyes I make small corrections to the feet and do the test again.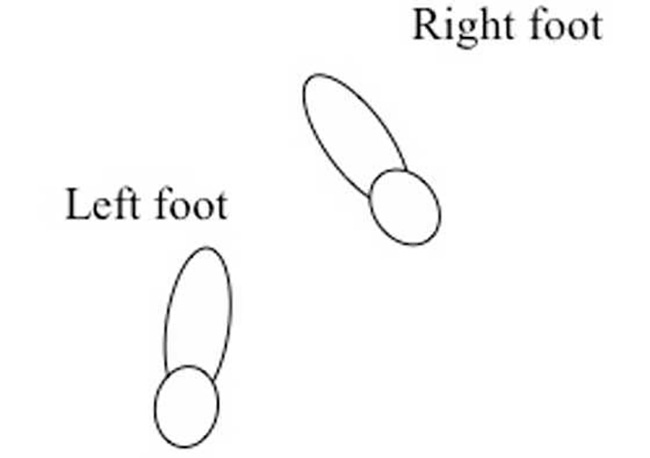 Feet placement.
Where your feet are placed determines where you naturally point. That determines where you will shoot within a couple inches, left or right, at 10 meters.
Dry fire
Once I was in position at 12 feet I started dry-firing at the target. And from that point until I changed targets I never moved my feet again. Oh, but I am a shaky old man!
If I was shooting at 10 meters I would have a table upon which to rest my pistol between shots. But where I stood there is no convenient way to place a table in front of me.
In fact, that was my one critical observation when I watched Kirsten Joy Weiss shoot that egg at 300 yards. She held the rifle too long in my opinion. However, she hit the egg, where I would still be waiting for it to explode from internal gasses after rotting over the many days I stood there missing.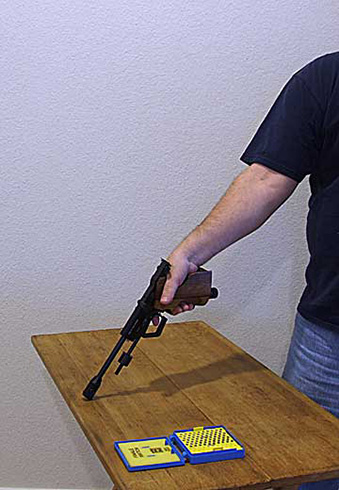 I rest the pistol between shots.
When I compete in air pistol, though, I do rest the pistol between every shot. In fact all 10-meter pistol shooters do. I have 90 seconds to take each shot and, because the matches are held indoors, there is no wind to wait out. So I rest my pistol for 20-30 seconds between every shot and I only hold on target 3 seconds or less. That's when I am trained up. Today I held on target for five seconds because I am a shaky old man!
Vogel pellets
After reviewing my past reports on the FWB P44 I discovered that the Vogel target pellet is the best. A few years ago I bought 5,500 Vogel target pellets for the bargain price of $55.00. Buying them one tin at a time would cost many times that amount. But these pellets are unsorted for head size and range from 4.49 to 4.53mm across the heads. At present I am not accurate enough to make those differences matter, but if I stick with this I will be. There was a time when I kept better than 89 percent of my shots on a pencil eraser at 10 meters. When I get that good again (hopefully), the head size of the pellet will matter.
What I have with the differing head sizes is a test within a test. Once I become a good enough shot I will start measuring the head sizes and sorting the pellets to find which one works the best in this pistol.
Target one
I shot about 10 shots dry-fire before shooting the first pellet. That got me comfortable with the trigger and also showed me what a shaky old man I have become. The first target then had a group of five shots that went into 1.079-inches at 12 feet. One of those shots went high and right and was a called pull. It was really a sniped shot when I pulled the trigger because I was holding on target too long.
Three pellets landed in the 10-ring in a group that measured 0.062-inches between centers. Back when I competed my five-shot groups at 10 meters were just a little larger than that.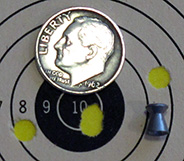 The first five shots went into 1.062 inches at 12 feet. There are three pellets in the 10-ring below the dime.
Target two
I shot target two right after shooting target one. I shot about 10 more dry-fires before starting to shoot live. Because I didn't have a table to rest the gun on I was getting tired at this point. So I stopped shooting.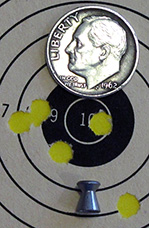 The second five shots went into 0.997-inches at 12 feet.
Shazbat!
Only after all shooting was completed this day did I measure the trigger pull. It was set by the factory and has remained that way since I received the gun back in April of 2016. It measured 446 grams on my electronic trigger pull scale. That's far too light to compete, so I spent 30 minutes adjusting it back to break at an average of 536 grams. The first stage pull is now around 408 grams.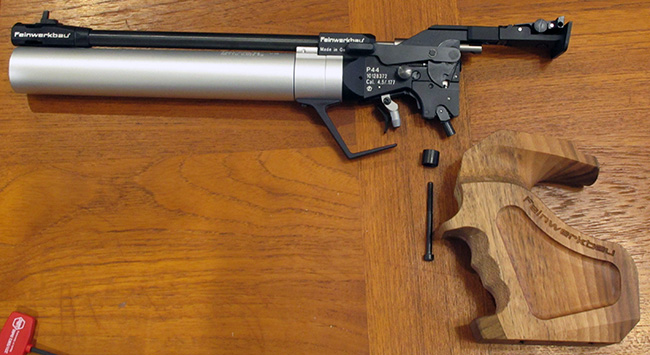 To adjust the P44's trigger the grip has to come off the gun.
The "after" trigger-pull numbers sound high if you are just reading them with no 10-meter target pistol trigger experience. But my trigger finger cannot tell the difference between 446 and 539 grams. And in national competitions they don't use electronic scales. Your cocked pistol trigger has to pick a 500-gram weight up from a table without the pistol firing. Believe me — this test is not easy to pass and nobody adjusts their trigger down to 500 grams. I have seen as low as 510 grams once on someone else's pistol.
Next
I plan to fire no less than 25 dry-fire shots each day. At least a week will pass before I shoot pellets again, so I should be slightly better, but we'll see.
My next distance to the target will be the full 10 meters, but I won't go there until I know I can do it. I remember enough about this sport that I don't need any intermediate steps. I just need to get the basics under my belt.
Summary
I was guilted into this report but not by you readers. It was after watching that young lady break an egg at 300 yards with a .22 long rifle. I may be old and decrepit, but I should still be able to hold a 10 when I have to.