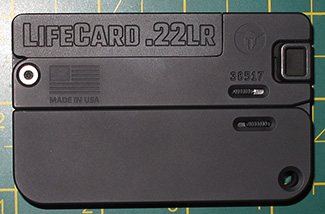 The LifeCard is a single-shot .22 long rifle derringer.
This report covers:
You Tube
Why?
Yeah, but why?
How does it work?
Firing
Chronograph
Are Stangers really that bad?
Accuracy?
Only one shot?
Summary
Today is Memorial Day in the United States. It is our day to honor our fallen troops from all wars and military actions.
I will tell you now about a hideout firearm that is unique. Let me introduce you to my little friend — the LifeCard.
Today's report was inspired by the 2023 SHOT Show and the Ounce pistol I saw there. I was amazed at the ingenuity of that little firearm and wanted to buy one, but there was a problem, and there may still be — which is the problem. I simply don't know. The pistol is/was ingenious. But their website sucks! I have "registered" with them online more than 10 times since the SHOT Show and I get nothing. I don't know if they are still in business, or if the owner has passed away. They provide zero updates. I don't even know if I'm on their list — assuming there still is a list! So, away with them!
You Tube
Looking on YouTube for more great videos of shooting to use for this blog I became aware of two other concealed firearms — a 2-shot .380 ACP that looks like a cell phone and the LifeCard shown at the top of this report. The 2-shot cell phone gun has gone out of business and the remaining guns are now being sold at ridiculous prices. But the company that makes LifeCard, Trailblazer Firearms, is in business, answers emails, and responds to phone calls. In 3 days I purchased a LifeCard legally through a local gun dealer.
Why?
What good is a firearm like this? Well, for starters it's the size of a credit card until it's deployed, so I can carry it everywhere that it's legal to carry a firearm. I live in Texas, so, except for government buildings and schools, that's almost everywhere.
The LifeCard is heavier than a credit card, of course. It weighs 7 ounces. It's also thicker, at a half inch (12.7mm).
Yeah, but why?
Why do I carry a gun at all? Well I am on my church's security team called the Watchmen, and we are encouraged to carry there. I have reported on that several times in past years. The Sig P365 9mm pistol that I carry can be drawn and two shots can be fired into a bad guy in three seconds. It's a recognized concealed carry gun. But what is the LifeCard?
The LifeCard is a legal way to carry almost all the time. It isn't as fast to deploy as a conventional firearm, but at least you have it. I can think of several reasons I may want a firearm. If you can too, this could be for you.
How does it work?
To use the gun it must first be deployed. It is carried with a round in the chamber and on safe. It cannot be fired in the carry state.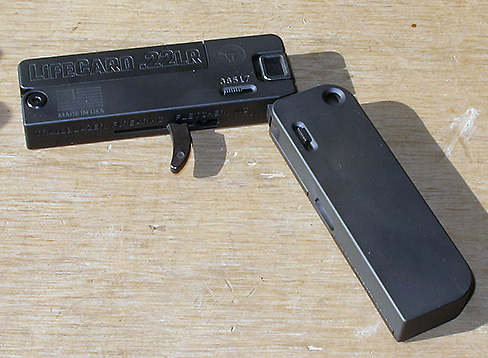 To deploy it the handle is first unlocked and rotated down until it locks in place.
To load the gun the barrel is flipped up at the rear.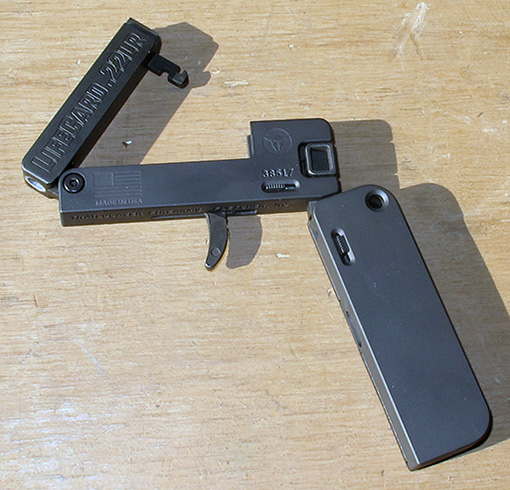 Flip up the barrel to load.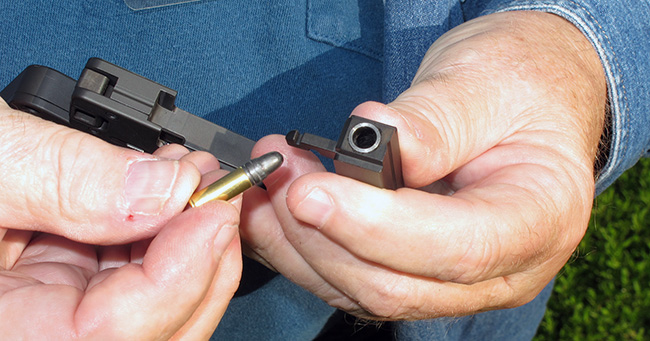 Load one round into the chamber and close the breech.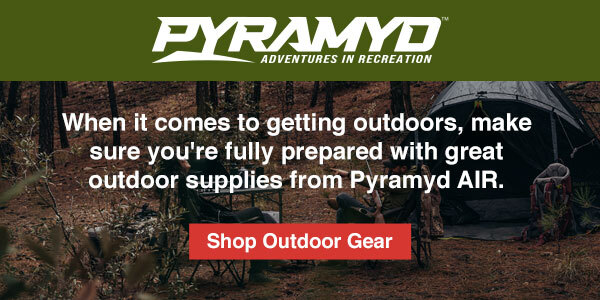 Firing
Okay, here is where today's test could have become squirrelly. I thought that this little pistol was going to kick like crazy, as small and light as it is. I took CCI standard speed cartridges to the range, plus I also bought a box of CCI Stanger rounds whose 32-grain bullet goes out of a rifle muzzle at 1,640 f.p.s. I was told by the gun store owner who sold them to me that the LifeCard would have a huge fireball in front of the muzzle and would kick like a .380 ACP.
After loading the pistol you pull back the spring-loaded bolt to cock the pistol. The spring is heavy, so you must be deliberate. The pistol is carried with the bolt in the half-cock position, which is a safety notch from with the pistol cannot be fired.
Chronograph
The 32-grain Stanger bullet went out the muzzle of the LifeCard at 1,026 f.p.s. That's a muzzle energy of 74.82 foot pounds. The 40-grain standard speed bullet went out at 774 f.p.s. That's a muzzle energy of 53.22 foot pounds.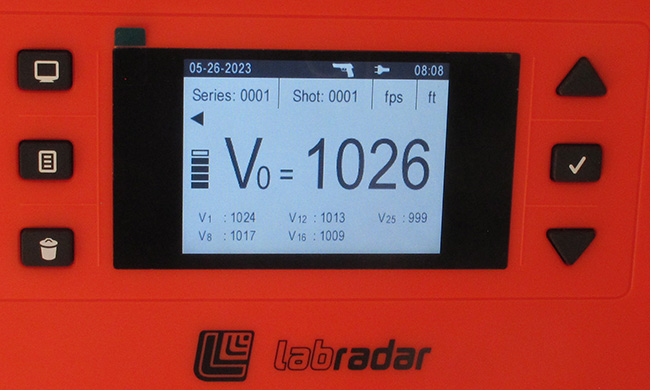 Stanger bullet went out of the LifeCard at 1,026 f.p.s.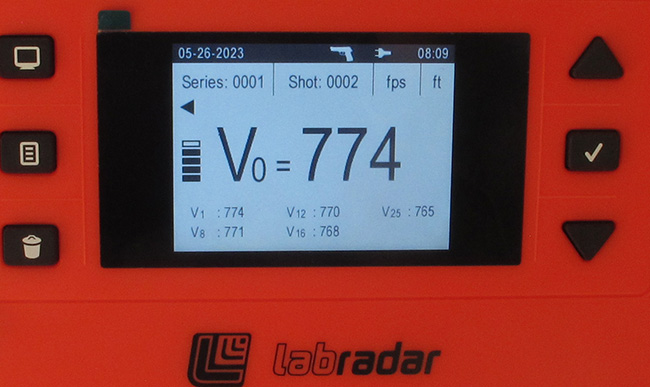 CCI standard speed bullet went out at 774 f.p.s.
Are Stangers really that bad?
Do Stangers have a heavy recoil? Not at all. It was difficult to tell the difference in recoil and muzzle blast between the Stangers and the standard speed cartridges. Given the chronograph results, though, the Stangers are my choice. But they aren't for plinking. A box of 100 cartridges costs between about $13 and $22, depending on where you buy them.
The LifeCard's recoil is quite manageable. It's nothing like a .380 ACP. It's more than a heavy .22-caliber revolver or semiautomatic, but still quite manageable. I could detect a slight difference between the standard speed cartridges and the Stangers, but both were mild and were equally accurate.
Accuracy?
Can something so small and simple be accurate? Well, let's just say I'm not going to choose the LifeCard for competition in the Olympics. But yes, it is accurate.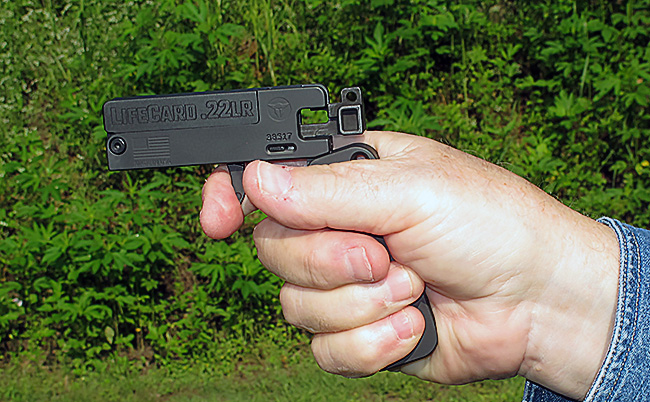 I found the LifeCard easy to shoot. Notice that the bolt has been pulled back in this image.
The LifeCard has rudimentary sights. They consist of a groove running along the top of the top section that contains the barrel. At ten feet I was able to put 7 shots into about 5 inches on an 8-inch Shoot-N-C target that covered the face of a life-sized human silhouette target.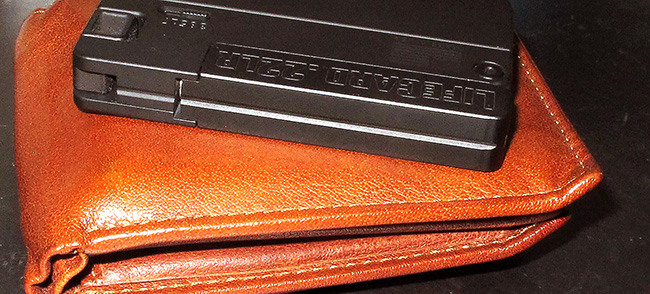 The LifeCard laying on my wallet shows the sighting groove along the top of the barrel.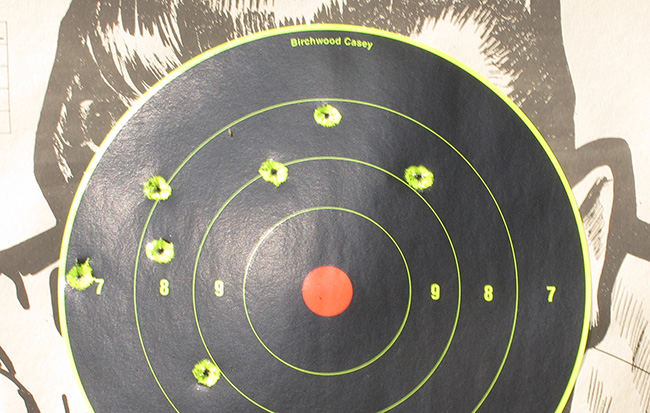 From 10 feet I put 7 rounds into an 8-inch Shoot-N-C target. The group is slightly smaller than 5 inches between centers.
Only one shot?
The LifeCard is a single shot pistol that requires deliberate loading and cocking, but it has onboard storage for three additional cartridges. It is not a fast pistol, but it is one you will find convenient and easy to carry.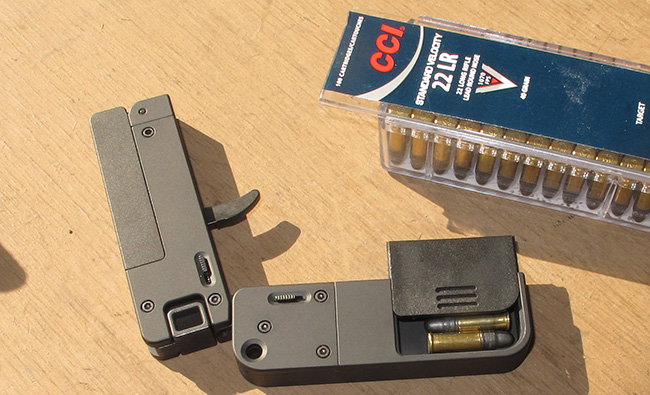 There's onboard storage for three additional cartridges.
Summary
Today was different, just for fun. The LifeCard is a unique firearm that has no competition. It is small, simple and yet convenient. If you need one, you know why. If not, you have just seen a curiosity.