Gun-only compressors like the Air Venturi RovAir are changing the face of precharged airguns.
This report covers:
Pressure levels
Volume
Automobile gas tank
Tradeoffs
Compromise
Discussion
Summary
Wow! Yesterday I said sometimes the topics for blog reports knock me down and beat me over the head. And you readers responded like my words were a command!
I thought all you were up on the technology of precharged pneumatics, or PCPs as we call them. But the questions that were asked on the first report of the RovAir portable air compressor showed me there was a lot more you wanted/needed to know.
I had planned to shoot the AirForce MicroHunter with the Lucid P8 scope today, and I will do that, but before I do, let's review or learn about some fundamentals of compressed air, as airgunners use it. Like all reports, this one is not for everybody. But there are those who need it. If you are already well-versed in precharged operations, please help me in the comments because I think there is a host of readers who need this. And please bear in mind that there might be only 30 active readers who comment on the blog and perhaps one hundred more who sometimes say something, but for each comment there are at least 250 people who don't comment yet want to know the same thing.
Pressure levels
To the best of my knowledge, PCP fill pressure levels run from around 1,500 psi (for a USFT rifle) to 4,500 psi for the Umarex Hammer. Many of them lie between 3,000 and 4,350 psi. Those are the pressures our compressors need to supply. There are boutique PCPs that operate on lower air pressure, but they are uncommon by definition.
Volume
The capacity of PCP reservoirs runs from the 100 cc Ataman BP-17 to the giant Hatsan 1,000 cc Hercules. Most airgun reservoirs hover between 200cc and 500cc. This is what you are trying to fill.
Imagine you are asked to blow up a balloon. They range in size, but unless it's a weather balloon, it's doable. Now imagine you are asked to blow up an air mattress that's 10-inches thick, five feet wide and 6-1/2-feet long. For that you need a pump (a compressor) and an electric one if at all possible. Same thing for PCPs.
So, what's best to get? Well, what are you trying to do?
Automobile gas tank
If an automobile gets 25 miles to the gallon and has a 20 gallon tank, the driver knows he has a maximum theoretical driving range of 500 miles on one tank of gas. The Indianpolis 500 is a race that goes 500 miles. With a 20 gallon tank that car could theoretically run the entire race and never need to stop for fuel. But it has a top speed of 83 miles per hour and the race would have been over a long time when it crossed the finish line.
An Indy racer that can go 240 mph gets around 4 miles per gallon. So that car would need to carry 125 gallons onboard to make it to the finish without refueling. One gallon of gas weighs about six pounds so 125 gallons weighs 750 lbs. That's way too much to carry in a race and Indy cars have to use special fuel cells that hold 18.5 gallons. That's 74 miles between fuel stops.
Tradeoffs
Obviously I'm talking about tradeoffs. Let's consider airguns. The USFT rifle I own has a maximum useful fill pressure of 1,500 psi. With that it gets 59 shots of .177-caliber JSB Exact Heavys going out at around 885 f.p.s. with 30 f.p.s. variation. That is enough velocity to kill a squirrel reliably out to at least 50 yards (and beyond for an accomplished shot). BUT — would you ever hunt squirrels with a USFT? That would be like going grocery shopping in an Indy racer.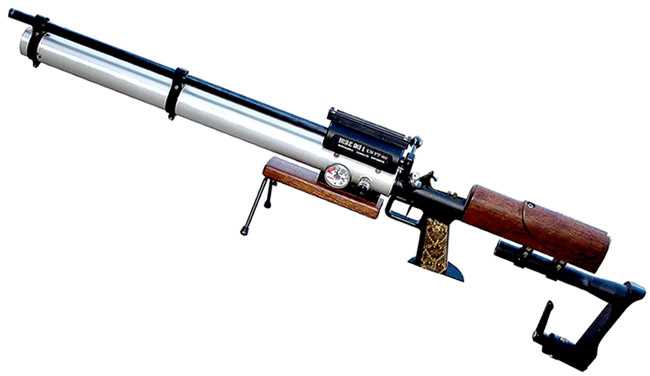 USFT isn't the rifle to hunt squirrels.
On the other hand, the Benjamin Discovery only fills to 2,000 psi and makes a great squirrel gun. And, for the guy who gets to fill it, stopping where it does is a blessing. The RovAir can do it and never break a sweat. And you get at least 20 good shots before refilling. Is it a good squirrel hunting rifle? Yes, if you want to hunt for 2-3 hours; no, if you plan to stay in the woods all week without an air supply. Tradeoffs.


Benjamin Discovery.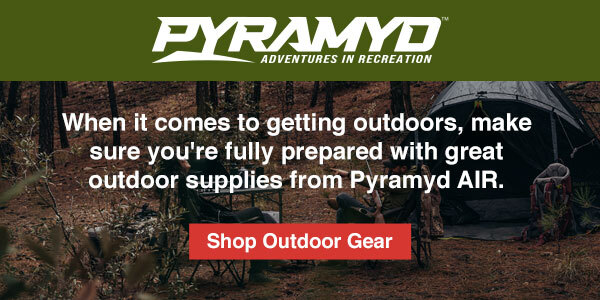 Compromise
An AirVenturi Avenger could be a nice PCP in the middle. It's powerful enough for squirrels, and accurate enough for field target. In .22 caliber I got 50 shots at 36+ foot pounds and the rifle sells for $350.
Now, put a RovAir compressor into the mix and you have what for some could be an ideal combination. And Yogi, at $500, the RoveAir costs less than the carbon fiber air tank that, "… all the guys at your gun club say is necessary."
Discussion
Getting into PCPs is a matter of determining:
What's available.
What you can afford.
How you want to operate.
You DON'T have to buy carbon fiber air tanks, even though they are handy. Today, because reliable gun-only air compressors that can be taken most places abound, it's less expensive to go that route. People who do so are not interested in filling large carbon fiber air tanks. They have eliminated that step and go straight from the compressor to the airgun.
When you buy an airgun of course you want accuracy, reliability, a good trigger and, most often, repeatability. Add to that how the airgun will interact with your filling solution(s), be they hand pumps, gun-only compressors or the whole ball of wax — CF tank and large compressor to fill it.
Summary
This was a quick update on the compressed air situation that exists at the end of 2023. A new technology — gun-only air compressors — is changing the landscape for the PCP.