by Tom Gaylord, a.k.a. B.B. Pelletier
Here's our second look at what's new in airguns for 2014. Last February, while I was having dinner with Hans Wonish of Umarex, he told me about the upcoming Broomhandle Mauser I'm now testing. After we discussed that for a bit, Herr Wonish asked me if there were any other handgun models that I though might be well-received by airgunners. Several crossed my mind, but the one that really stuck out was the Colt Python! This year, I saw that revolver in the Umarex booth!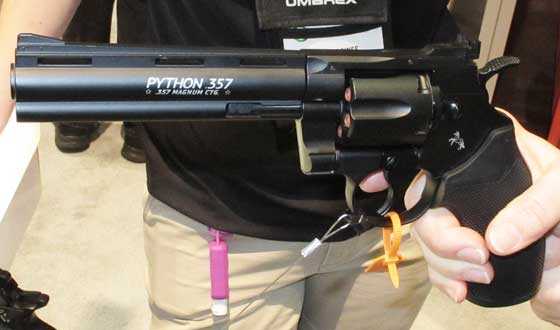 BB gun shooters are going to love the new Colt Python .357 from Umarex. It uses real shells to hold the BBs!
Another new rifle from Umarex is going to have a lot of hunters excited because it offers something they've been requesting for a long time. The new Umarex Fuel breakbarrel spring rifle (with Reaxis gas piston and SilenceAir technology) has a bipod built right into the stock! That's right — there's nothing more to buy. Just pull the legs apart and rotate them down to make a solid field stand. Or flip them back up, and they're just part of the stock.