by Tom Gaylord
Writing as B.B. Pelletier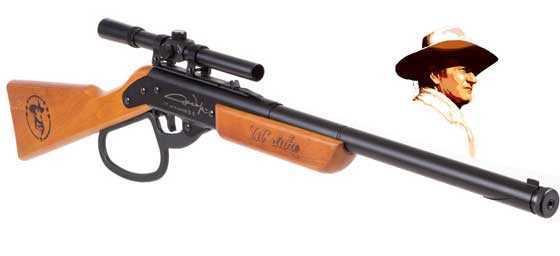 John Wayne Lil' Duke BB gun with scope.
This report covers:
Thanks!
Stagecoach
Another thing
And finally
Back to our regular program
Dust Devils
Daisy Premium Grade BBs
Smart Shot
Cocking effort
It can be uncocked
Summary
Okay, today is the day we discover whether the Lil' Duke can really shoot 350 f.p.s. or not.
Thanks!
Thanks to all the killjoy comments (RidgeRunner, Kenholmz, and Yogi) that said kids today don't know who John Wayne is and essentially wouldn't care to see him in a movie. The fact that you are right doesn't lessen the pain! And thanks, Mike Ogden, for trying to stick up for the American Dream!
Stagecoach
And Michael, Wayne didn't say, "Hodad" when he spin-cocked his rifle in the movie. He said, "Hold it!" to stop the stagecoach so he could board. I had never seen the movie Stagecoach, so that was my assignment last Friday evening! While it was good, especially for a 1939 movie, I didn't think it was great. Wayne was a lot thinner in those days — but weren't we all? read more