by Tom Gaylord
Writing as B.B. Pelletier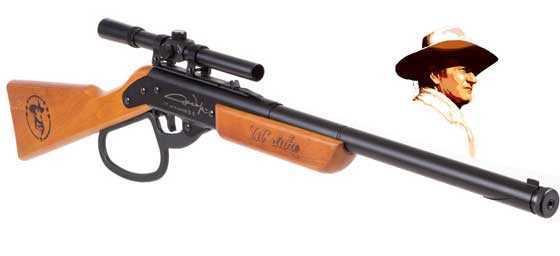 John Wayne Lil' Duke BB gun with scope.
This report covers:
The scope base
Mount the scope
The test
Sight in
Air Venturi Steel BBs
Hornady Black Diamond BBs|
Avanti Match Grade Precision Ground Shot
Smart Shot
Old Dust Devils
Dust Devil Mark 2
Discussion
Oh, fudge!
Summary
Today I mounted the scope on the Lil' Duke BB gun and tested the gun for accuracy a second time. This was an interesting test! Read all of it before you form any lasting impressions, because there is a surprise coming at the end.
The scope base
The scope base comes in the box with the Lil' Duke. It's in a plastic bag and the instructions how to attach it to the BB gun are in the owner's manual. I have used BB-gun scope bases like this before so the the job went quick.
The base itself is plastic and attaches to the gun with a screw in the back and by fitting the front end under the rear sight. The screw comes out from the top of the pistol grip. Remove it, attach the mount and screw it back into the hole. It has machine threads and I could never get it tight with the mount installed. read more