Mossberg

Like all of its other product lines, Cybergun's officially licensed Mossberg airsoft replicas are designed to accurately replicate the powder burners they simulate. With realistic scale and controls, these airsoft guns provide shooters with affordable, reliable options for getting into the action without breaking the bank.
Mossberg's contributions to the firearms market are many and proliferate throughout other manufacturers' products. In fact, the North Haven, Connecticut-based manufacturer on its website affirms: "Since 1919, Mossberg has been the leader in introducing important design breakthroughs to the firearm industry. Many product features pioneered by Mossberg are now the standards by which all modern firearms are judged."
It continues: "Our design and innovative edge is truly changing the way shooters use shotguns and rifles. We are particularly proud that our Mossberg pump shotguns are the only shotguns purchased by the U.S. Government that meet or exceed Mil-S-3443 specifications. It is this basis of unquestionable quality that drives Mossberg to bring reliable, well-built shooting systems to you at an affordable price."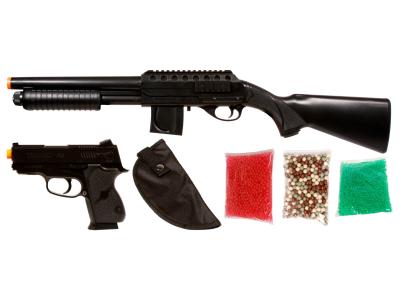 4.0
(1 review)
Add to Cart
In-stock
Mossberg Tactical Airsoft Shotgun Kit, Full Stock
Shotgun and Pistol Spring-powered kit
$47.99
| | | | | |
| --- | --- | --- | --- | --- |
| Sort by: | | Featured | | -19-0 of 1 Items |