Each year, crossbows seem to get lighter, faster, and more compact. Manufacturers such as Ravin are pushing the 500 fps mark, while companies like Excalibur are redefining the follow-up shot. With all this impressive innovation, hunters and shooters are overwhelmed with options.
Crossbows are perfect for:
Recreational shooting at the range
Hunting whitetails and other game
Individuals with injuries or physical challenges
New hunters and shooters
Kids who want to hunt but can't draw enough weight with a compound
Whatever your crossbow wants, Pyramyd AIR has you covered with a wide selection of the best archery equipment on the market.
Best Crossbows
As you decide which specs and features are the most important to you, these are some of the best crossbows for 2023:
Best Hunting Crossbow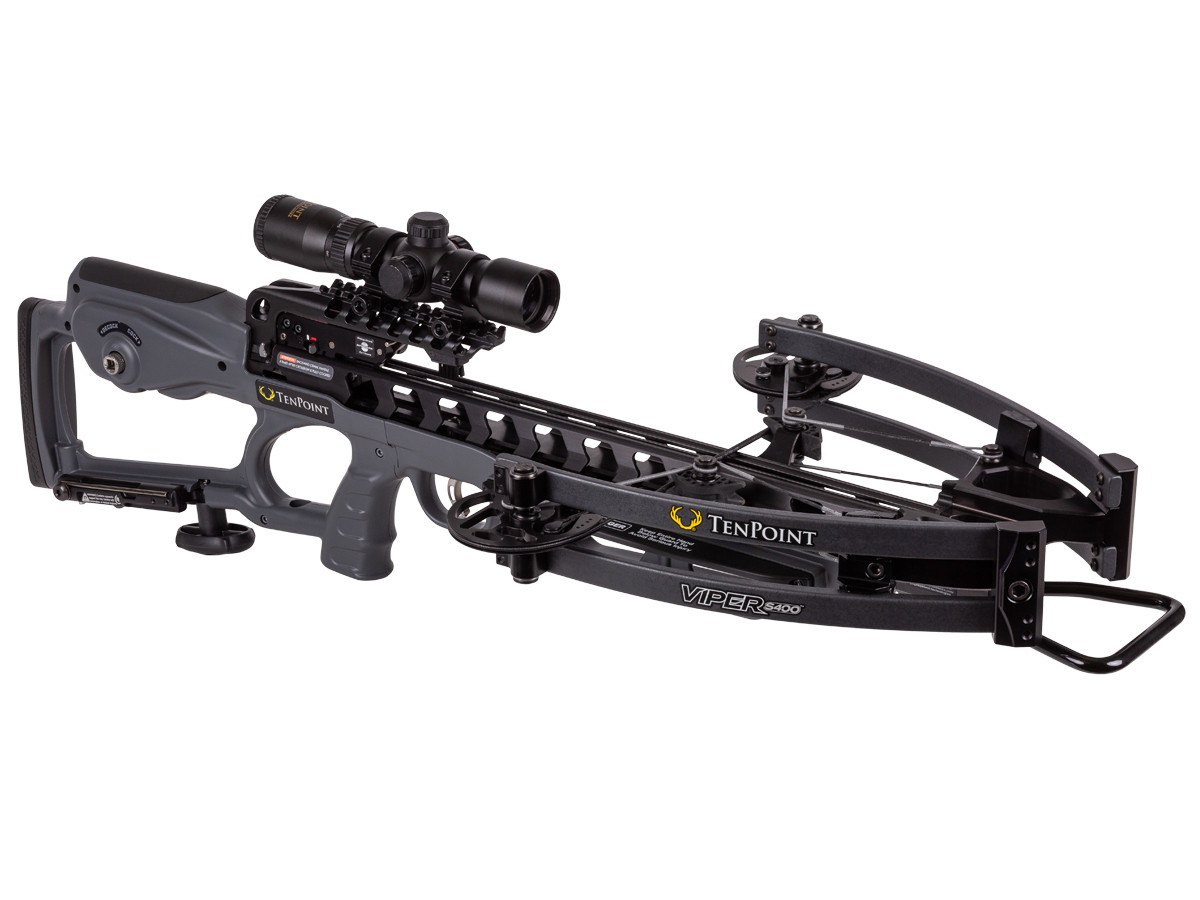 Product Details
The best crossbows for bowhunting, strike the perfect balance of performance, speed, and maneuverability without sacrificing safety. One great option which comfortably fits all of these requirements is the TenPoint Viper S400. Equipped with TenPoint's Micro-Trac Barrel and zero-creep S1 trigger, this crossbow boasts impressive downrange accuracy. It's incredibly compact and lightweight but still manages to generate speeds of up to 400 fps. The ACUslide cocking system, dry fire inhibitor, and safety wings ensure safe operation.
Why We Like It
At just 32 inches long and 7.2 inches axle to axle when cocked, the Viper S400 is TenPoint's shortest forward-draw hunting crossbow ever. It tips the scales at 7.5 pounds, making it a great choice for mobile hunting or maneuvering in a ground blind. The Viper S400 features TenPoint's ACUslide system for safe, silent cocking and decocking in the field as well as the RangeMaster Pro Scope for optimal precision in low-light conditions. It can reach speeds of up to 400 fps with repeatable accuracy. And it achieves all this at a reasonable price point.
Things to Consider
While 400 fps and 135 foot-pounds of kinetic energy is plenty to take down most game, the Viper S400 isn't TenPoint's fastest or most powerful crossbow. There are also more compact, lightweight options on the market if you're smaller framed or have trouble shouldering a crossbow. As with any compound crossbow, there are lots of moving parts. So if you're looking for an easy-to-use, maintenance-free option, you might be better suited for a recurve crossbow. The Viper S400 falls in the mid-range price-wise - it's not strictly a bargain find.
Best Crossbow for the Money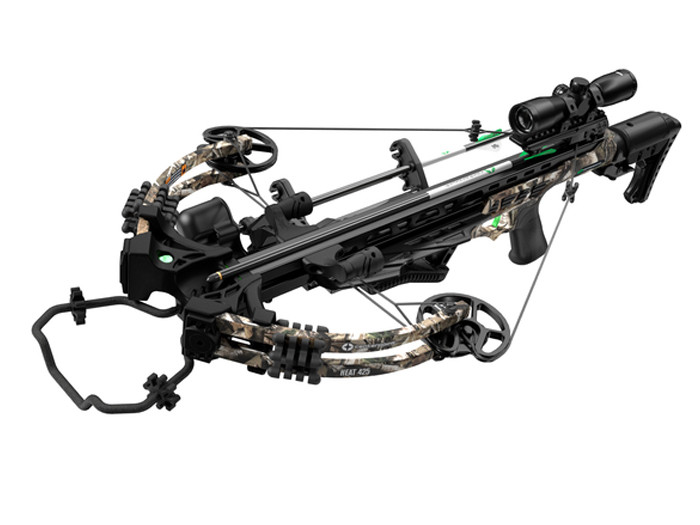 Product Details
While you could splurge for all the bells and whistles, a quality, affordable crossbow can still get the job done. If you've got a tight budget and want a performance crossbow at a bargain price, the CenterPoint Heat 425 just might be the best value.
Featuring CenterPoint's Whisper Silencing System for reduced vibration and noise, the Heat 425 provides deadly stealth with speeds of up to 425 fps. This versatile crossbow can provide a customized fit for any shooter with an adjustable foregrip, cheekpiece, and MIL-SPEC AR-style buttstock. It weighs in at 8 pounds and measures 12 inches wide when fully cocked.
Why We Like It
Devastating speeds above the 400 fps threshold are almost unheard of at its price point. The Heat 425's full-bearing cam system not only allows for impressive velocity but a smooth draw cycle as well. Equipped with adjustability, safety features, and near-silent performance, this relatively compact crossbow is a great fit for just about any hunter or shooter.
Things to Consider
While the Heat 425 package comes with a rope cocker, upgrading to the Power Draw package for a 70% easier draw will add a bit more to the purchase. At 8 pounds, 36 inches long, and 15.75 inches wide uncocked, this crossbow is middle of the road on weight and overall footprint, so you could find something more maneuverable if that's a priority for you.
Best Crossbow for Firearm Enthusiasts
Product Details
If you're a firearm fan ready to dip your toes in the crossbow waters, check out the Ravin R29X Sniper Package. While some crossbows lack the narrow footprint and balance of a rifle, the Ravin R29X is a compact 6 inches cocked and easy to maneuver at just 6.75 pounds. The ergonomic grip makes this crossbow comfortable to handle, while the integrated Silent Cocking System eliminates the loud, difficult draw. Firearm enthusiasts will also appreciate the tactical crossbow scope mounted on the lightning-fast Ravin R29X in the Sniper Package.
Why We Like It
The Ravin R29X is lightweight, compact, and fast with speeds reaching up to 450 fps. The Sniper Package makes the perfect fit for firearm enthusiasts, with a tactical scope on a jack plate elevation mount for easy adjustments from 20-200 yards with impressive accuracy.
Things to Consider
If you're used to the unmatched speeds of firearms, even 450 fps can seem slow and you might want to choose one of the fastest rigs which can reach 500 fps. The Ravin R29X doesn't offer the adjustability or trigger upgrades of some other crossbows, so firearm enthusiasts might prefer a rig with an adjustable stock or precision trigger.
Common Questions
What is a good cheap crossbow?
Current crossbow offerings run the gamut from baseline models under $200 to top-of-the-line rigs outfitted with high-tech accessories topping $4,000.
If you're in the market for an affordable entry-level crossbow that's ready to hunt right out of the box, check out the Killer Instinct Lethal 405. At under $300, this crossbow still generates speeds topping 400 fps at 14.75 inches wide when fully cocked.
At just $419, the Whitetail Hunter STR features Barnett's Step-Through Riser technology, delivers a crisp shot via the TriggerTech trigger, and reaches speeds of 475 fps.
The Wicked Ridge Invader 400 tips the scales at a streamlined 6 pounds and reaches speeds of up to 400 fps with an affordable price tag of $569. Even with the optional built-in cocking mechanism, you can score this hard-hitting crossbow for $679.
How much power does a crossbow generate?
Just as each rig and overall setup can create different speeds, the total power can vary widely too. Manufacturers list the kinetic energy --- or total force exerted on your target --- for each crossbow. Mass and velocity both factor into this figure, so the size and weight of your bolt as well as speed will affect this number. Especially when shooting at longer distances, kinetic energy decreases as the bolt reaches its target.
The average crossbow will generate a minimum of 80-100 foot-pounds of kinetic energy. But with today's lightning-fast crossbows pushing the 500 fps barrier, some of the fastest setups advertise initial kinetic energy approaching 200 foot-pounds. For the majority of North American big game, experts recommend 60 foot-pounds of kinetic energy, so most current crossbows marketed for hunters will provide plenty of power.
Do you need a license for a crossbow?
While you don't need a license to own a crossbow, be sure to check your state's current regulations if you plan to hunt with one. Some states allow anyone to hunt with a crossbow in archery seasons, while others limit them to firearms seasons or hunters over a certain age or with physical challenges. Crossbows are currently not legal hunting equipment in the state of Oregon.
Even in states where crossbows are permitted in archery season, you may need to obtain a crossbow stamp or permit. Additional regulations may apply to crossbow scopes, draw weights, triggers, and more. Contact your state agency for the most up-to-date information.
Recurve vs. Compound Crossbows?
If you're in the market for a new crossbow, sifting through all the specs and features can be a bit overwhelming and confusing. To help you narrow down your options, determine what type of crossbow will best suit your needs.
While recurve and compound crossbows operate similarly, each has key differentiators and advantages.
Recurve Crossbows
With fewer moving parts and a simple design, recurve crossbows are easier to restring, consistently ultra-accurate, more affordable, and the overall lower-maintenance option. They're more lightweight than compounds and make less noise drawing and shooting. Their larger footprints, however, can make them tough to maneuver in tight spaces. Without the complex cocking systems of compounds, recurves are also more difficult to draw and produce less power and speed.
Compound Crossbows
Powerful and compact, compound crossbows can generate lightning-fast speeds approaching 500 fps while remaining simple to operate in close quarters. They're easier to draw than recurves, and cocking aids can make the process butter-smooth. But all the added moving parts mean more weight to wield, more time-intensive maintenance, and the potential for problems that could affect accuracy. They're also louder than recurves at the shot. Because of the complex designs constantly pushing the envelope, compound crossbows are usually more of an investment.
Both recurve and compound crossbows are a blast to shoot in the woods or on the range and have plenty of buck-stopping power. Browse our full lineup of crossbows at Pyramyd AIR to find the right fit for you.
Shop Crossbows