Walther Airguns
Walther firearms have long been the weapon of choice for everyone from government operatives to Olympic athletes. In World War I, German officers were equipped with Walther pistols, the first German self-loading pistol. The business remained in the Walther family until it merged with Umarex in 1993. In the world of Airsoft, the Walther name is just as legendary.
Walther offers several fully trademarked Airsoft guns, complete with the Walther logo, for you to enjoy. At Pyramyd Air, we're proud to offer these licensed pistols at truly low prices. Check out the Airsoft version of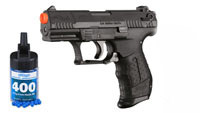 Walther's classic P22, a spring-operated pistol capable of firing 20 rounds before reloading. If you like, you can even accessorize with a laser for greatly improved accuracy.
You can also find an Airsoft version of the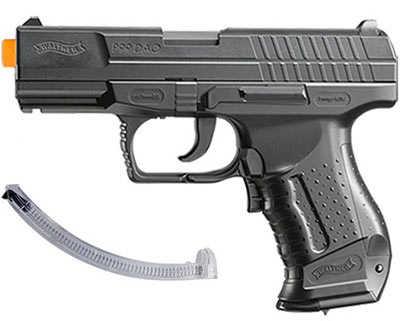 P99 here at Pyramyd Air. This P99 is an electric version with an actual blow-back action (slide goes back with each shot!). These are excellent beginner's guns since their low price and ease of use lend themselves to learning. When you're more comfortable with your skills, consider moving up to a semi-automatic pistol or even a machine gun.
Feel free to look around the site and familiarize yourself with the full range of Walther products. We're Airsoft enthusiasts ourselves and can answer just about any question you'll have for us. If you aren't sure which gun is right for you, tell us what you're looking for and we can make recommendations. We're always happy to assist you throughout the process, so don't hesitate to make contact if you have any questions whatsoever.