King Arms
King Arms
The mission of King Arms is to "ensure optimum customer satisfaction by providing them high quality and reliable airsoft products and outstanding services." The company was founded in 2004 and moved its operations to Taiwan in 2015 and specializes in airsoft replicas, airsoft ammunition and accessories. King Arms works closely with firearms manufacturers to replicate various popular weapons platforms.
Shop by Product Type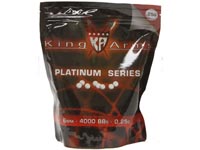 King Arms 6mm Platinum Series BBs, 0.25g, 4,000...
$22.95$14.29