Steyr Arms

Austrian firearms manufacturer Steyr Arms originated in 1864 with the production of Josef Werndl's breech-loading rifle system. His patented firearm was renowned for its quality and unique lock system. It was so popular that the demand for it spread quickly around the world. Before long, this company - the forerunner to Steyr Arms - was turning out 8,000 rifles per week.
As the years progressed, Steyr conquered many challenges and produced goods for a host of different markets - including its contributions to the bicycling and automotive industries - all the while adhering to Josef Werndl's motivation to make the most reliable products available. Today, Steyr Arms USA carries on that same tradition.
From Steyr's website: "We manufacture top-of-the-line guns, like the Steyr AUG, proudly at our American headquarters in Bessemer, Alabama. Our weapons are distinguished as accurate, proven and engineered for precision. In the 21st Century, we at Steyr Arms USA continue to build our legendary reputation by delivering the best out of the box firearm to you."
With its partnership with Steyr Arms, ASG manufactures officially licensed Steyr Arms replica airguns. With similar sizes, weights and actions as employed in the firearms Steyr produces, these ASG replicas work well as trainers, fun backyard and basement plinkers and, for airsoft enthusiasts, there is a complete line of ASG Steyr-inspired airsoft replicas, as well.

Shop by Product Type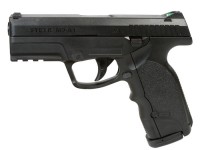 Steyr M9-A1 CO2 BB Pistol
4.58 reviews
$59.95$44.95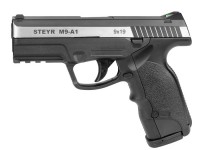 Steyr M9-A1 Dual-Tone CO2 Pistol
4.05 reviews
$99.95$64.95
Steyr M9-A1 CO2 BB Pistol Kit
4.02 reviews
$59.99 $49.99