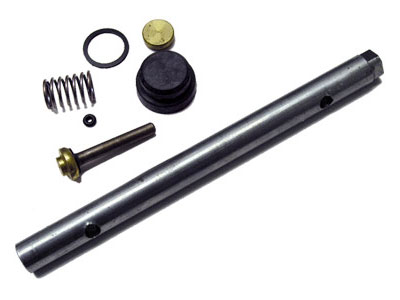 Create an online review   and share your thoughts with other customers
The most helpful favorable review
1 of 1 people found the following review helpful:
By ryn0909 from USA on 2007-09-24 13:42:34
Things I liked: Fits both .177 and .22 cal rifles. Pretty easy to install for the mechanically inclined
Things I would have changed: Nothing
What others should know: Clean the air chamber (where the piston slides in and out ) thoroughly, make sure there are no nics or burrs. Apply a thin coat of grease to all parts (rubber and metal) during assembly.
The most helpful critical review
0 of 0 people found the following review helpful:
By Richard from USA on 2016-09-26 00:39:42
Things I liked: The tool worked great.
Things I would have changed: I can't recommend this kit. The pump piston cup was the wrong one for my old 317. Pyramid sent another. The Teflon check valve button is junk. The split washer that replaces the lead washer is useless. When you are attempting to insert the "loaded" valve assembly into the valve body the split washer expands due to the beveled cut on the nut's face. The split washer catches on the lip of the valve body preventing the nut from contacting the threads. I tried for hours and finally gave up. I was going to cut out a lead washer but decided to try a well greased "O" ring. The valve body went in place on the first attempt. However, the Teflon check valve leaked and it would lose the entire charge. My old original check valve looked ok so I reinstalled it. It is now holding a charge. I pumped it three times and let it sit for two days... it was still charged. There is a kit on eBay that has the original type check valve and lead washers. I would recommend buying one of those kits instead.