Customer Reviews for Type 96 Tri-Rail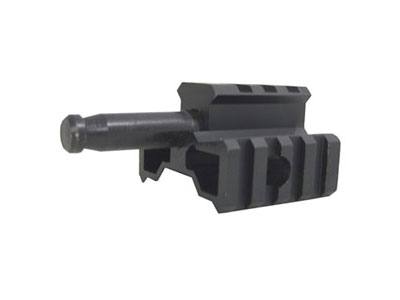 Create an online review   and share your thoughts with other customers
The most helpful favorable review
0 of 0 people found the following review helpful:
By Barry from USA on 2011-01-09 21:37:29
Things I liked: I have searched for several years for the pin , by it self , found one on a Hong Kong site and they wanted $40.oo plus shipping ! I bought a UTG Shadow ops from Pyramyd a few years ago and shortly after a Tanaka 700 gas rifle with no bi-pod . I had a bi-pod , but no pin , two weeks ago I go on Pyramyd's site and here is the whole adapter for less than $20.oo shipped !! It pays to shop around on our USA sites before over paying over seas, Shalom , signman .
The most helpful critical review
0 of 0 people found the following review helpful:
By Rob Reiten from USA on 2011-04-07 16:52:38
Things I liked: Fits my AGM l96 spring sniper with some work. It does not fit it right away so i had to file off the part where the bottom rail meets the gun for like half an hour. If then fit well bit stll another problem. The pin was to skinny so i had to wrap in in some painters tape. Now it fits perfectly
Things I would have changed: specify that it does not fit an AGM l96
What others should know: Dont use it wth an AGM l96 unless you have a file and some tape