Colt 1911 CO2 Pistol 17 Reviews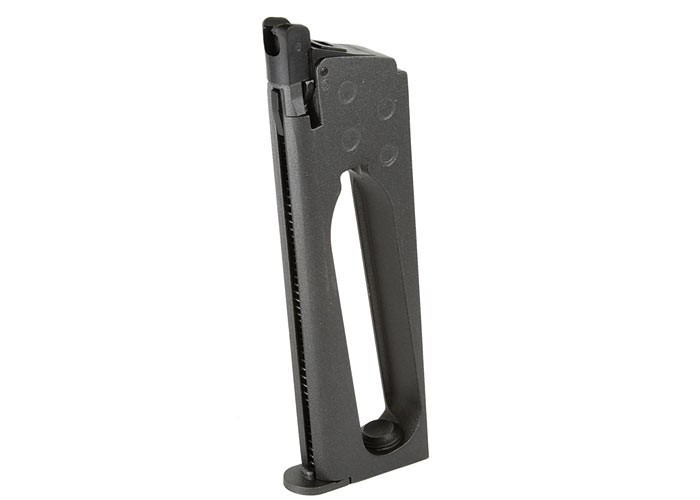 Average Customer Review
4.0
(12 reviews)
Add to Cart
Only 4 left in stock
Create an online review   and share your thoughts with other customers
The most helpful favorable review
1 of 1 people found the following review helpful:
By tom from USA on 2014-10-10 14:42:57
Things I liked:
Works perfectly with my Red Jacket 1911. I bought 3 Mags and with each they gave me the allen wrench, great extras.
Things I would have changed:
Nothing. Except possibly selling the allen plug at the bottom of mag in case someone should lose it. But the Quality of the mags and the seal is top notch.
What others should know:
I can't even tell what the original mag is for my Red Jacket 1911 these extra mags are that good.
The most helpful critical review
0 of 0 people found the following review helpful:
By Anthony from USA on 2018-12-07 12:50:26
Things I liked:
The quality and build are excellent. Great value for the money if it had a better place to put your thumb on to push back the spring. Spring is very powerful and very hard to push back and hold back. It wants to forcefully snap forward. Very hard to hold it back since there is not enough surface on the retainer to put your finger nail in to hold it back.
Things I would have changed:
The design of the spring holder and the powerful spring ( should not be so strong)does not give you a sold way of easily pushing the spring back to load in the BBs.
What others should know:
The magazine is horrible to load. Very difficult. I chipped off tip of my left thumb nail trying to hold the spring device back to load the BBs. There is hardly anything to put your finger in (its flush with magazine) to push spring back. Spring is supper strong, too strong, and you have to really put a lot of pressure on the guide to push it down, back and hold it open while you struggle to get the BBs in. Others here have said it was difficult to load. That's an understatement. I had to have my daughter pour in the BBs while I struggled to get my thumb nail into the tiny groove many times and tried with force to hold it back.