Hawke Vantage 6-24x44 AO Rifle Reviews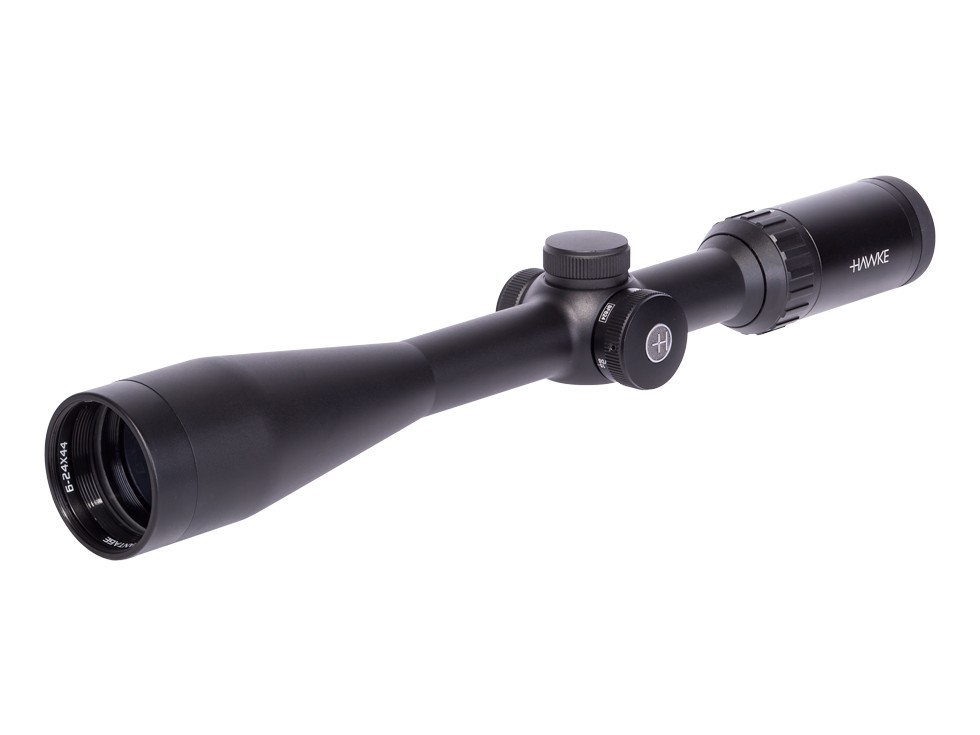 Hawke Sport Optics Hawke Vantage 6-24x44 Review
4.5
(30 reviews)
Create an online review   and share your thoughts with other customers
The most helpful favorable review
1 of 1 people found the following review helpful:
By John from USA on 2014-06-27 22:15:32
Things I liked:
Lightweight, very very clear and sharp. Mildot reticle is a bit cluttered but useful with 1/2 dots. Great glass all the way to 24X ! The range markings on the sidewheel are actually accurate ! Lens covers are clear and it's shootable with the far one on (objective) and the near one is quick to flip up.
Things I would have changed:
Turrets, I would prefer taller ones that would accept a tape but that's a personal preference. Lens covers don't fold all the way back to flat, which means they stick up like almost every other cover, which means it won't last long. Ocular / Eyepiece lens does not have a stop to secure it and keep it from moving. Turrets are not resettable to zero.
What others should know:
This is the clearest scope I've owned and it stays sharp all the way to 24X. It is equal to my Mueller and better than my AEON, Hawke Sidewinder 8-32x56, and my Hawke 6.5-20. I bought it because it's light and spring rated. Great glass and it passed my "box" test, although the clicks aren't as well defined as a sidewinder or my Mueller. Great simple scope, especially so as it's springer rated.
The most helpful critical review
0 of 1 people found the following review helpful:
By Richard from USA on 2014-03-07 15:32:45
Things I liked:
The low weight, short length, side focus and mil-dot reticle.
Things I would have changed:
The glass (plastic?) is from Korea. They need to use better quality.
What others should know:
This scope had all of the right features I wanted. It was a shame that the clarity was pretty bad. Unusable at full power, like looking thru the bottom of a Coke bottle. To confirm what I thought, I handed it to a friend shooting right next to me and asked his opinion of my new scope without giving mine. I knew he'd be honest. He took about 3 shots, handed it back and said "this is the worst scope I've ever looked through". And he's right. It gets a little clearer at lower powers, around 14x, but then why pay for the extra magnification if it's unusable? Last Hawke scope I will ever buy, as none of them have impressed me with their optics, including the expensive side focus models.