Leapers Accushot SWAT Compact 3-12X44 Reviews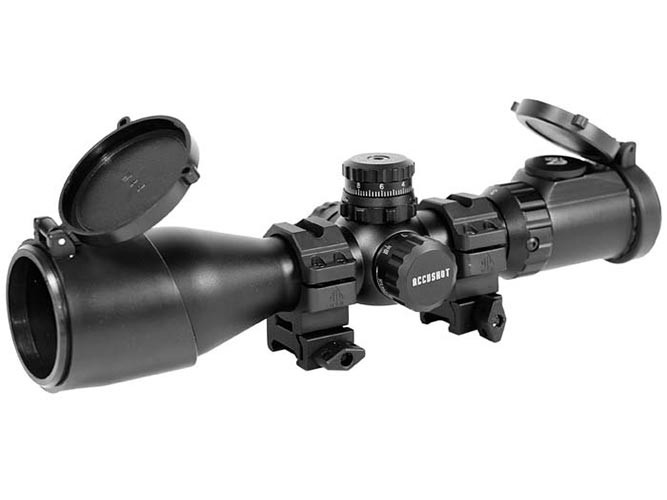 UTG Leapers Accushot SWAT Review
4.5
(59 reviews)
Create an online review   and share your thoughts with other customers
The most helpful favorable review
3 of 3 people found the following review helpful:
5.0 5.0
5.0 5.0
By Paul from USA on 2016-07-03 09:23:56
Things I liked:
I really like this scope. Very bright and sharp. Very little movement to focus which would help in hunting situation. Small profile and weight, excellent if the loading port was covered by a long profile scope, this won't happen. Low weight nice for smaller airguns. I'll be ordering more of them.
Things I would have changed:
Realize you get little adjustment actually sliding scope in rings especially double screw rings so you will rely on scope mount to move for eye relief. This was no problem for me it lined up well without any adjustment. I wished this was offered in a 3x16 or 4x16. Wish Leeper would quit supplying rings for Weaver mount, just leave them off and let us order what we want.
What others should know:
Probably the brightest Leeper scope. 30mm tube is a better way to go. Definitely a must for under levers with a breech loading port that gets covered by a longer scope. Perfect hunters scope. Wish they would offer it with higher magnification.
The most helpful critical review
0 of 0 people found the following review helpful:
1.0 1.0
2.0 2.0
By Thomas from USA on 2021-03-30 08:35:54
Things I liked:
Nice compact design and just the right amount of magnification for my Hatsan BT65 Elite.......if it would only hold a zero!
Things I would have changed:
Quality control, perhaps I got a bad one. Image clarity around the edges is pretty bad
What others should know:
I'm finally giving up on this scope. I can sight in and be dead zero for hours, days or even weeks. But invariably, the day will come where the POI is way left, so I'll re-zero and be good for awhile. Most of the time the POI shifts left, but every once in a while it will go way back to the right. Not good for a hunting airgun. Everything is tight, and when it's zeroed, it's dead on and an awesome combination. But the urge to remove it from my airgun and toss it into the woods has become to much!