Sportsmatch 30mm Rings, High, Adjustable Reviews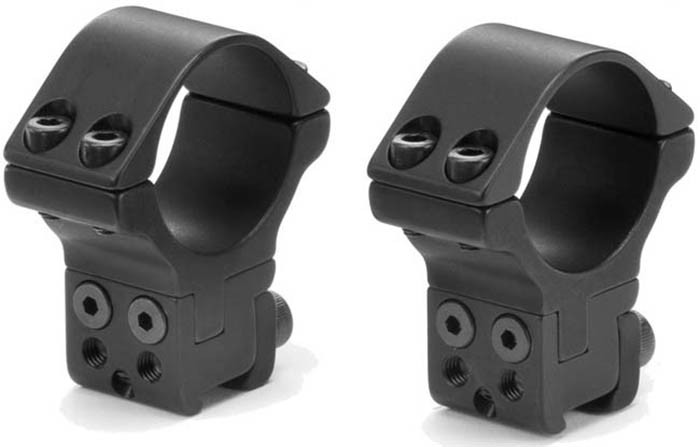 Average Customer Review
4.5
(23 reviews)
Create an online review   and share your thoughts with other customers
The most helpful favorable review
1 of 1 people found the following review helpful:
By RONALD from USA on 2016-02-08 10:52:07
Things I liked:
These rings come with clear instructions for what can sometimes be a baffling installation and adjustment procedure. I am using them on .22 LR target rifle and getting superb accuracy at 50 yards--the best testimonial to their stability there can be, I believe! (smile)
Things I would have changed:
Maybe charge a little less; however for what they do, they're still an excellent value.
What others should know:
I've got these mounts installed on an old Winchester Model 52 rifle shooting .22 LR subsonic ammo, which produces comparable recoil to that of some spring-piston air rifles I have owned. At 50 yards yesterday I put 5 shots cleanly into the dime-size 10-ring of an NRA A-27 target using a heavy 30 mm scope with a 44 mm objective. Such results would have been impossible without rock-solid scope mounts.
The most helpful critical review
0 of 0 people found the following review helpful:
By Travis from USA on 2021-12-12 19:24:21
Things I liked:
They rings feel like they are high quality and I wish I never bought them.
Things I would have changed:
For the price they are packaged quite cheap, thin saran wrap type plastic against a piece of cardboard that has instructions on the back. Packaged like something you would buy at the gas station hanging near the cash register.
What others should know:
DO NOT BUY THESE FOR A SPRINGER. I put these on my 300s and after a few shots the shots seemed to slowly walk their way down the reticle. It is because the screws cannot hold against the recoil, no matter how tight you make them they will move with the recoil. I should not have bought these. I won't make the mistake of multipiece mounts again, that just introduces more variables and weak points to something that needs to be as solid as possible.