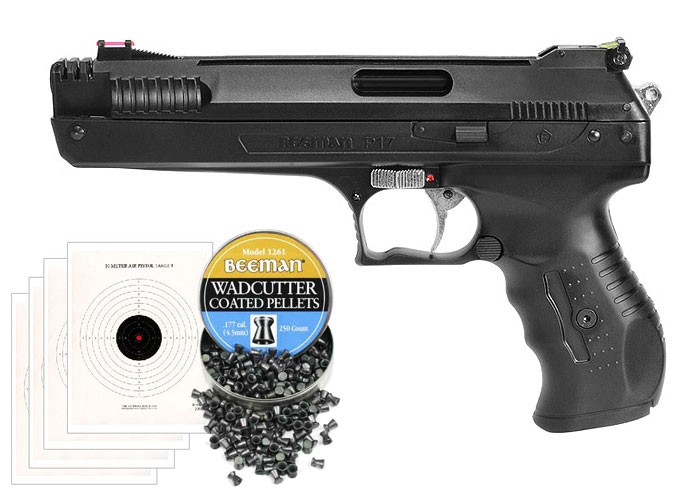 Create an online review   and share your thoughts with other customers
The most helpful favorable review
3 of 3 people found the following review helpful:
By Moe from USA on 2017-04-01 17:39:59
Things I liked: This is a great little plinker , what I liked most was the trigger it surprised me the first time I fired it . It is as nice as some found on much more expensive guns . This gun is quiet and accurate and at a price point that anyone could afford . The grips are ambidextrous so you lefties can shoot it as well . What else can I say but if your looking for a great little plinker that is accurate and quiet you need to check this one out you will not be disappointed ...
Things I would have changed: It's a little tough to load , if you have big fingers they could have given you a bit more room . But with a little practice it gets easier .
What others should know: Buy this one you won't want to put it down , so quiet you can shoot it indoors
The most helpful critical review
0 of 0 people found the following review helpful:
By David from USA on 2015-11-21 19:14:44
Things I liked: Great trigger. Very good accuracy. Good feel in your hand. Love the fiber optic sights. When it's shooting as designed it's a great fun gun.
Things I would have changed: Put just a little more champher in the end of the barrel to aid loading pellets. Increase the reliability.
What others should know: I have had my gun for about 3 weeks and have put about 200+ shots through it. I wanted something I could use at the range at our once a month 25 YD Bullseye fun match ( OK choice ) and our once a month Silhouette match ( not a good choice ) As stated in many reviews loading can be a challenge especially when trying to shoot 5 little metal critters off a stand in 2.5 min. At todays meet ( Silhouette ) my gun mal-functioned ! THE TRIGGER PULLED BUT WOULD NOT FIRE THE PELLET ! Either the gun is jammed or there is a safety built in to prevent opening the top so the pellet can be removed. I ended up transporting home a CHARGED gun with a pellet in the chamber. NOT GOOD ! It has been 8 hours and I thought the air charge may have bled off, NO JOY ! I will contact Pyramyd Air on monday and discuss returning this gun and upgrading to a better one. I read MANY reviews , pro and con and decided to "roll the dice" I got a bad one. I can't live with a gun that forces you into unsafe conditions.