Beretta 92FS Nickel & Black Grips Reviews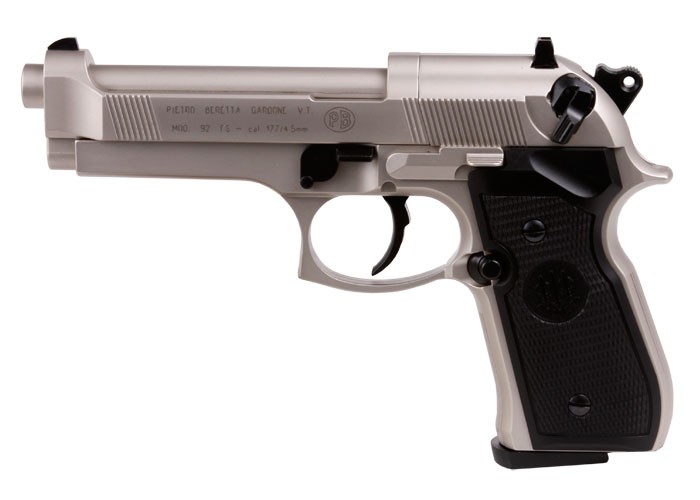 Average Customer Review
4.5
(25 reviews)
Create an online review   and share your thoughts with other customers
The most helpful favorable review
4 of 4 people found the following review helpful:
By Kenneth from USA on 2010-06-07 17:56:37
Things I liked:
Beautiful pistol, accurate to ten meters. Use it to make soda cans dance around the yard and some ten meter target shooting. Good feel in the hand.
Things I would have changed:
Weight seems to be a bit heavy. Price seems a bit high.
What others should know:
Buy extra magazines, I find that it will shoot eight magazines with good power and accuracy. The gun comes with two magazines
The most helpful critical review
0 of 0 people found the following review helpful:
By Jeremiah from USA on 2017-01-07 11:26:55
Things I liked:
I like this product because it has a very real feel to it. I think it's a good choice because it's relatively simple to have nothing toooooo complicated.
Things I would have changed:
I would change the way the CO2 is loading system
What others should know:
Personally I don't like the CO2 loading system because when I got the gun, I loaded CO2 to shoot. I may have shot 40-50 shots then put the gun away for the next day and when I went to shoot I noticed the pellets weren't traveling as far. So I took out the CO2 and the little bit of gas that was left in the cartridge was released and then I pitched it. Then I tried to load in a new cartridge which didn't work well at all. After I finally got the cartdrige in (or so I thought) I pulled the trigger to see if the cartridge was loaded in to see if CO2 would shoot out of the gun. It did, so then I pull the trigger again and it makes a click noise as if there's no CO2 so I continue to push the trigger multiple times because of a CO2 discharge half the time and a click half the time when the trigger BREAKS. !!! I then sent it back to the company and they sent me a replacement within a 3 week time period.