CZ 75 P-07 Dual-Tone Reviews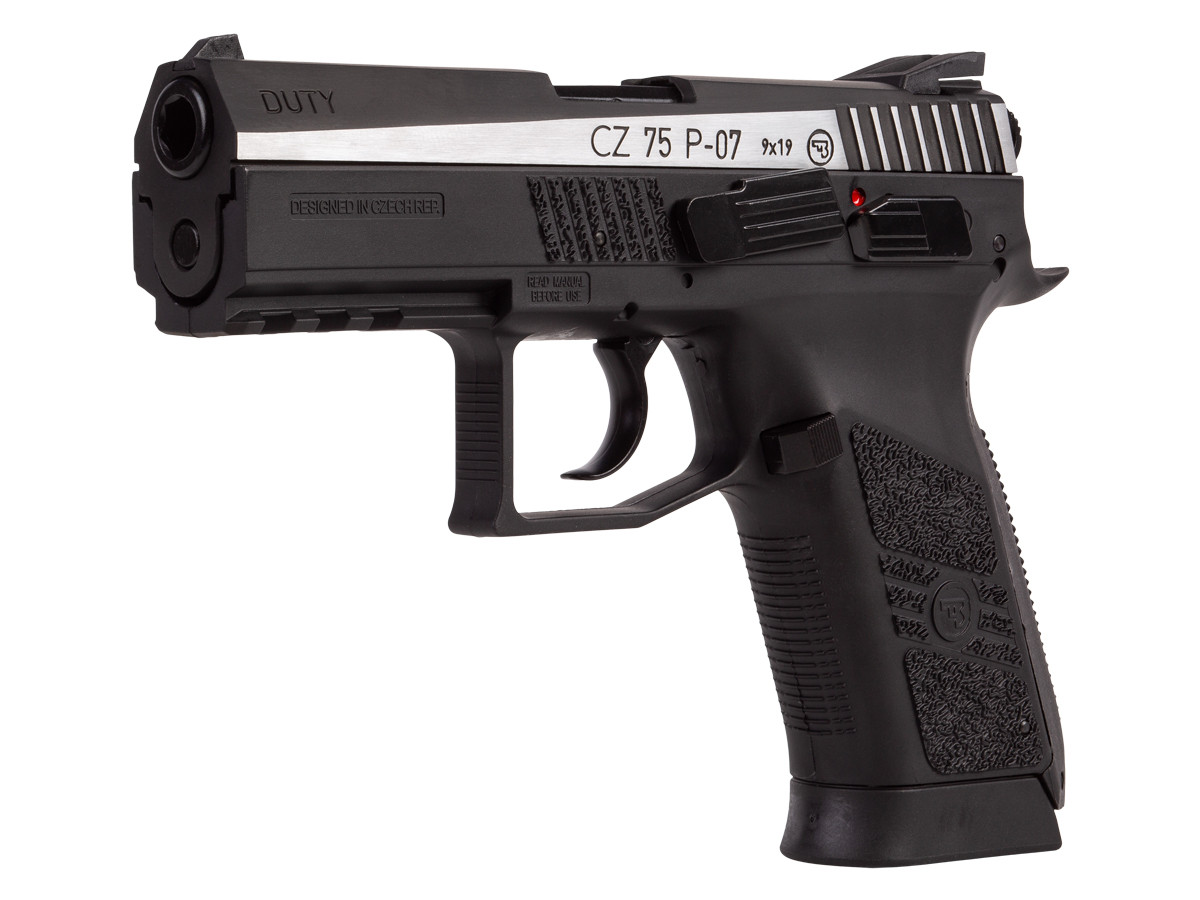 Average Customer Review
4.5
(26 reviews)
Add to Cart
Only 2 left in stock
Create an online review   and share your thoughts with other customers
The most helpful favorable review
2 of 2 people found the following review helpful:
By Clifford from USA on 2013-10-22 05:06:26
Things I liked:
Authentic feel and look. The steel slide is light and smooth. Feels good to hold gun as well as shoot, a natural. It's as close to real as you can get. Magazine drops pronto. Commander style hammer, nice beavertail, great feel in the textured grip as it fills your hand. Accessory rail perfect for my UTG laser/flashlight combo. Ejection port, recessed bb barrel gives outer barrel a 9mm look. Natural rapid fire shooter. So far no problems with gun or performance. Highly recommended if looking for a blowback pistol in the 9mm Glock style.
Things I would have changed:
Be nice if it had double action capability. Trigger travel to me seems long for a single action only gun. Trigger fairly smooth and progressive in feel without a loaded magazine in gun. With loaded magazine the trigger pull loses its smoothness and gets notchy. Especially noticeable when trying to shoot for accuracy by squeezing trigger slowly as opposed to quickly. I think that it's because the pistol is trying to load the bb from the magazine and into the chamber and you seem to feel that entire mechanical process through the trigger itself.
What others should know:
Magazine is rated for 20 bbs. But I find that when I load 20 the gun occasionally tries to load 2 bbs at once or allows extra bb to dribble out of the barrel whenever gun slightly pointed downward. I have better success loading just 16 or 18 bbs.
The most helpful critical review
0 of 0 people found the following review helpful:
By Mike on 2020-03-28 00:17:44
Things I liked:
lasted three months, constantly jams, something brought in the inside,trigger stopped working. loader got stuck and would not come out. not a good gun.