Daisy POWERLINE 008 Reviews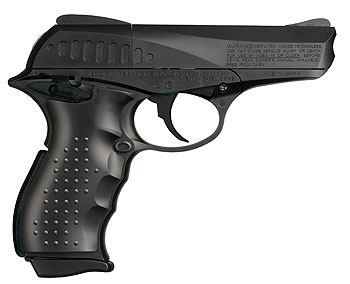 Average Customer Review
4.5
(62 reviews)
Create an online review   and share your thoughts with other customers
The most helpful favorable review
2 of 2 people found the following review helpful:
By Ray697093 from USA on 2014-08-02 21:21:38
Things I liked:
This Daisy Powerline 008 Air Gun is really something. It has a 480 FPS, it feels real comfortable in my hand, and I really like what Daisy did with the handle for the CO2 cartridge They put in a lever to install the CO2, instead of a screw type. Very easy in & out. I only wish all of my pistols were that easy to install the CO2 cartridges. It only holds 8 rounds of BB'S or pellets. The small magazine that holds the BB'S and this pellets is made out of plastic and in the middle is a magnet to keep it on the pin. I'm good with that I have read the reviews and a lot of people do not like it they want metal for the magazine but then what good is the metal one when you have a magnet in the middle. In some situations you have to give-and-take in this case you have to give because of the handle the way it's made for the CO2 cartridge and the plastic magazine holds eight rounds. Like I said it's perfect I like it. The accuracy of this Daisy is phenomenal, and the price is unbelievable.
Things I would have changed:
I WOULD CHANGE NOTHING AT ALL IT IS FINE THE WAY IT IS.
What others should know:
THE ACCURACY IS VERY, VERY GOOD. THE PRICE IS VERY, VERY REASONABLE, IT'S A GREAT DAISY AIR PISTOL IT'S COMFORTABLE IN MY HAND. IF YOU'RE LOOKING FOR SOMETHING WITH THIS MUCH POWER 480 FPS, AND I GET TO SHOOT ABOUT 55 BB'S OR PELLETS PER CO2 CARTRIDGE. GO AHEAD AND BUY ONE YOU'LL REALLY LIKE IT.
The most helpful critical review
0 of 1 people found the following review helpful:
By Dennis from USA on 2014-06-29 10:00:15
Things I liked:
This gun (when it works) was very accurate.
Things I would have changed:
Safety should be moved to left side or made ambidextrous for right hand shooters. Clips hold pellets loosely and fall out w/ the slightest bump. Sights are hard to acquire, should be white front w/ white outlined rear.
What others should know:
First of all by no fault of Pyramyd or Daisy, I should have returned the box unopened since it appeared to have been crushed by UPS. After opening, it seemed to be ok so I removed it from the package, loaded it up & began practicing. The first 50 or so rounds worked flawlessly & were surprisingly accurate after i outlined the sights. After approximately 50 rounds, the gun would no longer rotate the clip to the next position. 400+ FPS is great but worthless if the gun won't function. Sine I had modified the sights I was pretty sure I would catch flak for Daisy about the warranty so I guess I'm stuck w/ it?? $60 + S/H is a little stiff for 50 shots don't you think?