Hatsan Bullmaster Reviews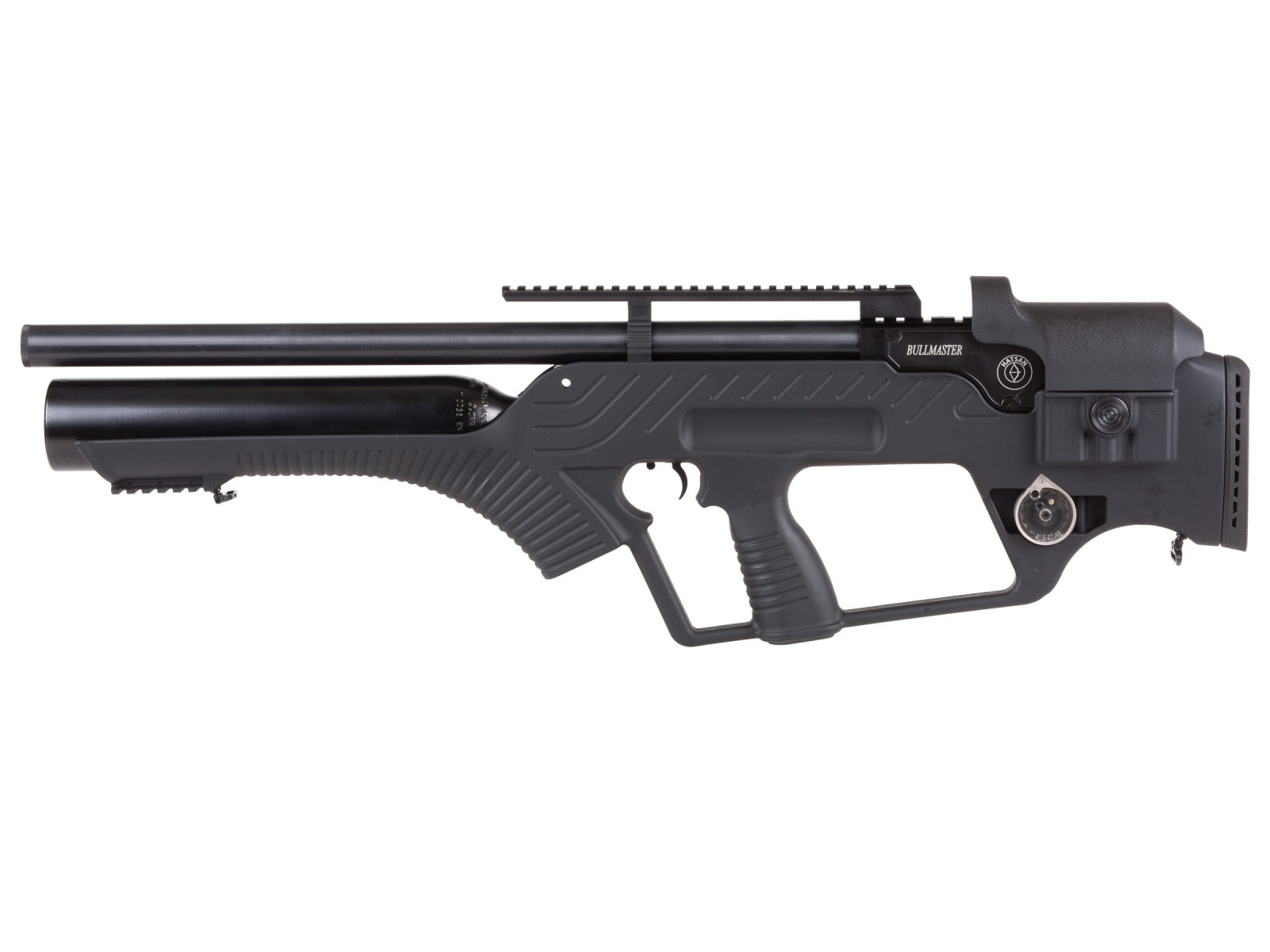 Average Customer Review
3.5
(22 reviews)
Create an online review   and share your thoughts with other customers
The most helpful favorable review
3 of 3 people found the following review helpful:
By Jeremy from USA on 2017-02-07 21:51:56
Things I liked:
12 rounds semi auto as fast as you can pull the trigger. How can you ask for more? Minute of angle accuracy in a bullpup, yes I really do think it can achieve this for a couple of strings consecutive. I initially was skeptical as I was using some garbage discount pellets, it didnt like to feed them and it was not a great. After loading up some good ammo I took it out hunting in the rain and it never failed me. Pine cones at 50 yards are a no brainer off hand. I balances perfectly so dont let the weight fool you. Trigger was a little rough but has broke in nicely after around 250 shots. Oh did I mention to say that I filled to 2600 PSI and shot 80 rounds through it before I ran out of light? The shot count appears to be around 120 at max fill pressure, possibly more. This is my new small game survival gun. My name is Jeremy James and I am a past Sniper with the 2nd Ranger Battalion and this gun kicks ass.... 41 years of age and loving the toys.
Things I would have changed:
It needs a sound moderator, its report is loud enough to scare away game for the next half hour. I would recommend hearing protection. What is this pathetic magazine round count. 12 rounds just starts getting my blood pumping, I am happy they included 3 magazines with the gun but we need a chain link style enclosed magazine to go in place with at least 30 rounds.
What others should know:
Check the online video and reviews on this precision tool. Its no joke and is the first true hunting semiauto bullpup with a real company and service behind it.
The most helpful critical review
0 of 0 people found the following review helpful:
By Hormoz from USA on 2018-11-04 15:55:20
Things I liked:
Not much
Things I would have changed:
Way too heavy. The magazine broke after 7-8 uses.
What others should know:
Returning it